1968 East Coast Trip -
Massachusetts and New Hampshire.
---
In Summer, 1968, when I was twelve, my mother decided that she needed to see her relatives in Boston and New Hampshire, and that I needed to see them as well. Dad refused to go. (He didn't like airplanes and refused to fly.) It was my first great childhood adventure - in fact, it was the first time I had been anywhere other than California or Nevada (Las Vegas). So I was definitely up for it. I considered it the reward for putting up with the insufferable Miss Johnson for two entire school years. What's more, I had read about New York City in comic books, the place was almost a supporting character in the Marvel titles, and wanted to see what the place was like.
We stayed on the east coast for about a month, as I recall. Most of the time was spent in Massachusetts or New Hampshire, but we did a couple of side trips on a Greyhound bus to New York City and Washington, D.C. It was great! I learned that there are other places to live... that Los Angeles wasn't the be-all and end-all in America. When I graduated from college in 1984 and had to decide between taking a job in Los Angeles, Western Massachusetts, Seattle, Maryland or Northern Virginia, it was an easy choice. Head East (Maryland). That way I could visit the Smithsonian whenever I wanted! (And I have.)
The following photos document the Massachusetts and New Hampshire part of the vacation.
Click here to see the New York City photos.
Click here to see the Washington, D.C. photos.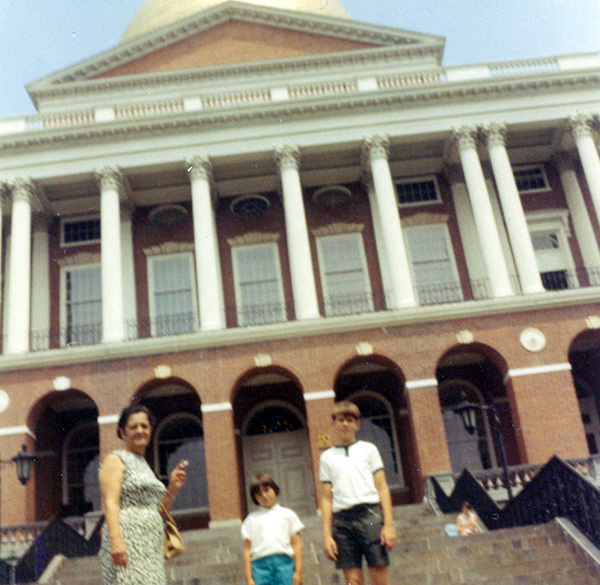 We start with a tour of downtown Boston - where better than the state Capitol? Here are three of our intrepid tourists: My aunt Doris (more about her later), her granddaughter and my first cousin once removed Dee-Dee, age eight, and yours truly, age twelve. Mom took the photo.
"Hi!" You'll see me waving "Hi!" a lot in these. It was sort of my default pose for this trip. I don't recall anything memorable about the capitol building save the gilded dome.
"Hi!" The U.S.S. Constitution in the Boston Harbor. We went aboard, but it simply made me think of the Columbia which did endless trips around Tom Sawyer Island at Disneyland. As a twelve year old I figured if you've seen one wooden tall ship you've seen 'em all. Clearly, a career in the Navy was not in the cards.
"Hi!" from aboard a replica of the Mayflower, also in Boston Harbor. Did you know the original ship may still exist, as a barn? From wikipedia: "What finally became of the Mayflower is an unsettled issue. Per Banks, an English historian of the Pilgrim ship, claims that this historic ship was finally broken up, with her timbers used in the construction of a barn at Jordans village in Buckinghamshire. At the present time, within the grounds of Old Jordan in South Buckinghamshire is what tradition calls the Mayflower Barn. In 1624 Thomas Russell supposedly added to part of a farmhouse already there with timbers from a ship, believed to be from the Pilgrim ship 'Mayflower', bought from a shipbreaker's yard in Rotherhithe. The well-preserved structure is a present-day tourist attraction, receiving visitors each year from all over the world and particularly from America."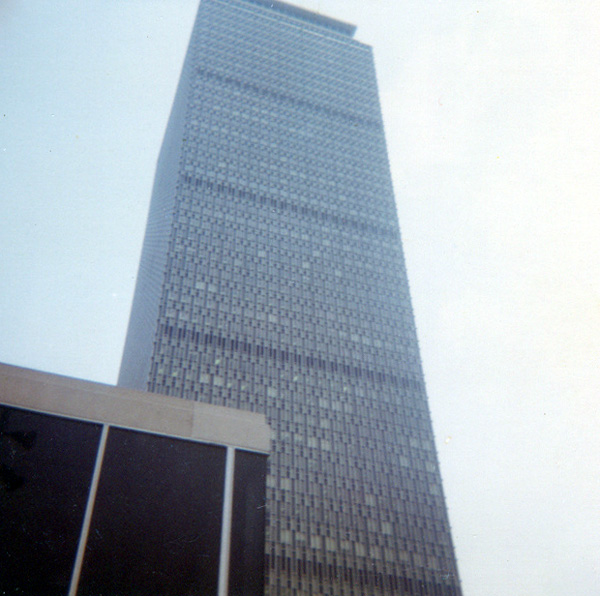 The Prudential Center, with a cool observation deck at the top.
The view therefrom. I was much impressed, and bought a Prudential Center snowglobe from the souvenir shop.

The view more recently. The red bricky-looking building in the foreground is still there, but much has changed in 45 years.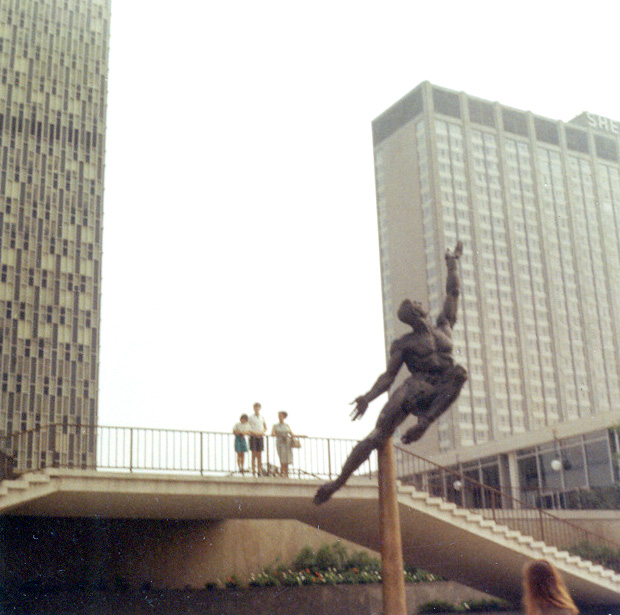 Zing! Some dude on the Prudential Center grounds flies through the air for our amusement.
The Boston Public Garden, adjacent to Boston Common.
Wes, stand in front of this fountain so I can take your picture.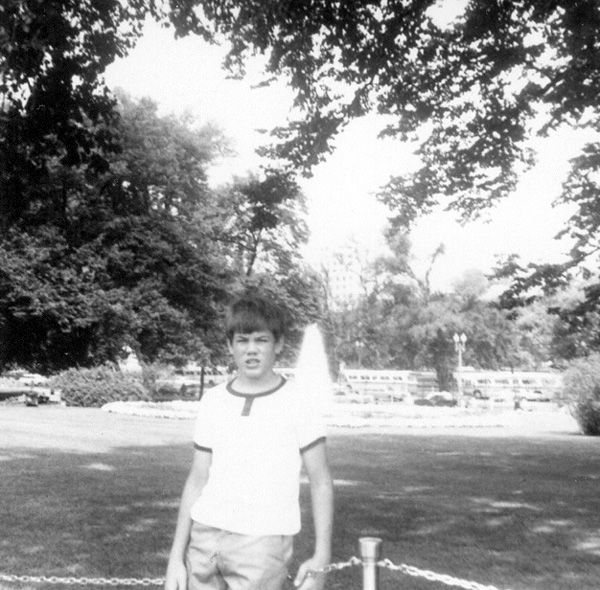 Wes, stand in front of this fountain so I can take your picture.
Mom and I. Boston Common? Boston Public Garden? I'm not sure. Comb my hair for the shot? Why would I want to do that?
Mom is wearing her utilitarian sailor dress.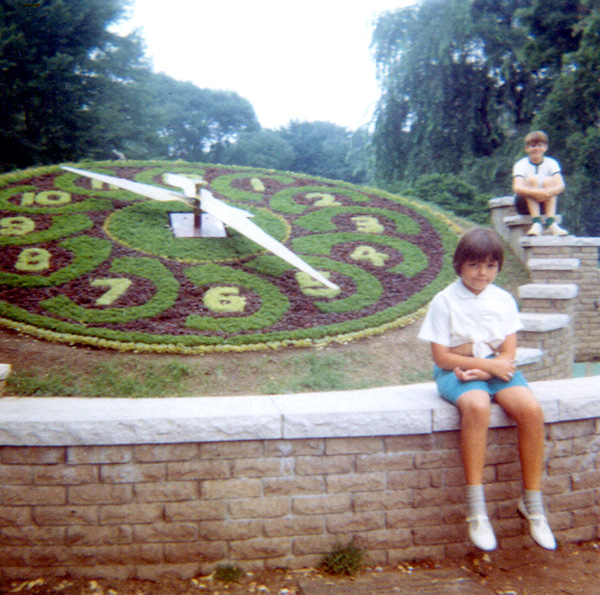 A flower clock! Liking nearly all clocks I found this interesting and was willing to pose near it smiling. Dee-Dee, not so much.
The swan boat ride. Mom thought this kid (whose job was to pedal said swan boat with his legs) was good-looking - more so than her very own son. Smitten with resentment, I still manage a half-hearted smile.
Shots like this are why you don't give Aunt Doris a camera.
This was really cool for me: An inverted world globe (the "Maparium") at the Christian Science Center which one could cross on a glass bridge. The camera, with flash, doesn't capture the fascinating glow and experience of being in here. It still exists!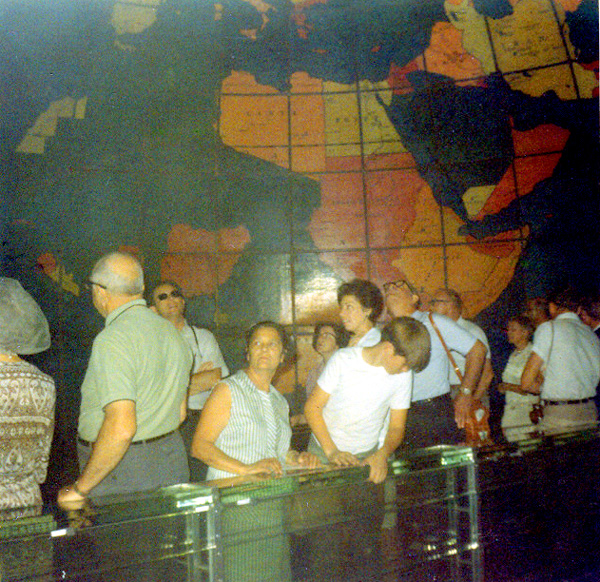 One of the highlights of tourism in Boston, to be sure.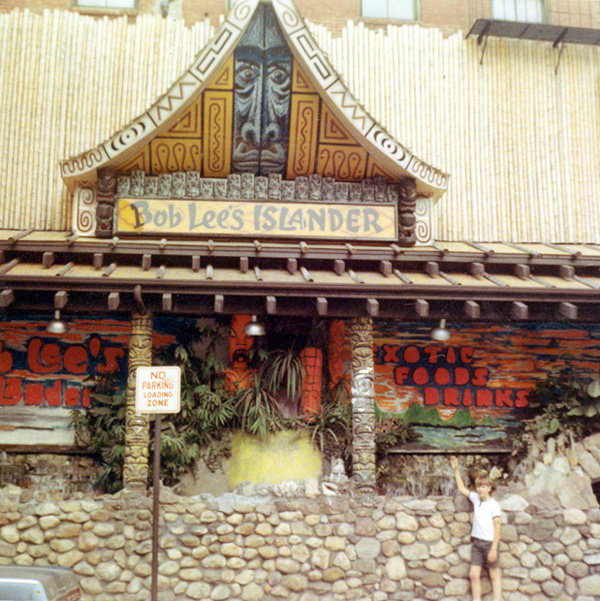 "Hi!" Thinking of Dad and his love of tiki environments, we had lunch at this place. It was dark, mysterious and lit by black lights within. SO cool. Sadly, it is long gone.
Paul Revere. I do not recall if we went in the Old North Church, but I remember seeing the famous steeple and imagining a light therein.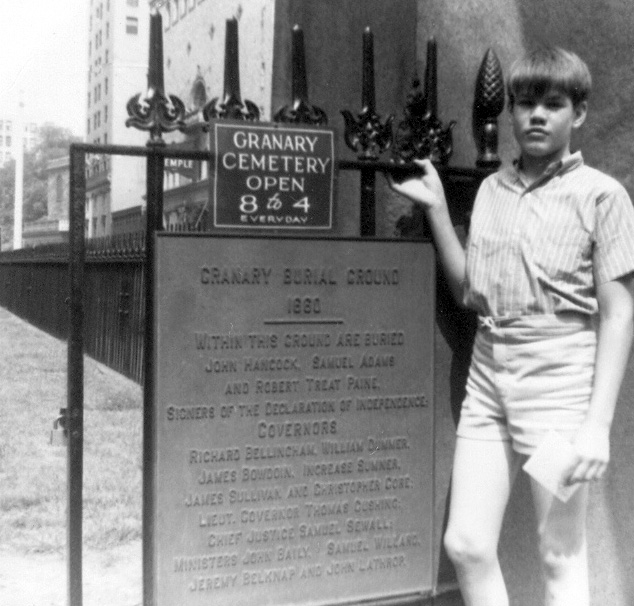 Another fun stop. I loved looking at the late 17th and early 18th century granite tombstones, the ones with the winged skulls at the top. Why can't they make those nowadays?
Mom and I supposed that this was Ben Franklin's grave marker, and for years told people this when we showed them these vacation snapshots. It's the same Franklin family, all right, but Ben is buried in Philadelphia. Oops.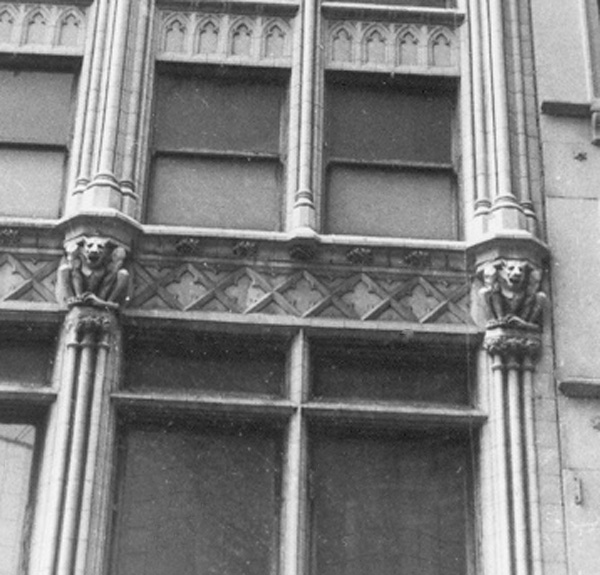 Gargolyes! I thought those were really neat, too. Didn't have any that I've ever seen in Burbank or Los Angeles.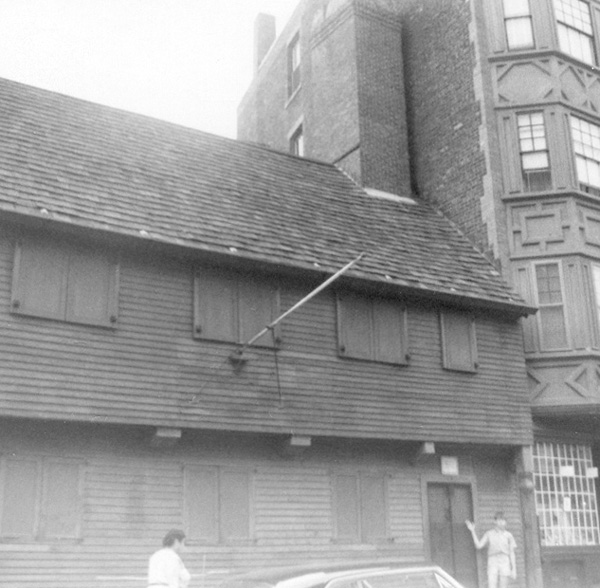 Paul Revere's House, part of the "Freedom trail" (which we didn't walk). I am doing a half "Hi!"/half gameshow display wave.
In front of Aunt Doris' apartment on Lenox Street, in Norwood, MA, across the street from the Savogran plant. This is her Ford woodie that we drove all over Massachusetts and New Hampshire. It had a hole in the floor which admitted water when it rained. No, that pose is not theatrical - I actually slammed my head into the roof when Mom snapped the photo.
The inevitable greeting from Plymouth Park in Plymouth, MA.
Dee-Dee and I pose with Cyrus Dallin's statue of Massasoit near the Plymouth Rock. The funny thing is, twelve years later, when I started attending college at Brigham Young University in Utah, I'd frequently walk by another casting of the very same statue near the library. I have also seen the third casting on the grounds of the state capitol in Salt Lake City - so that's all three Massasoits.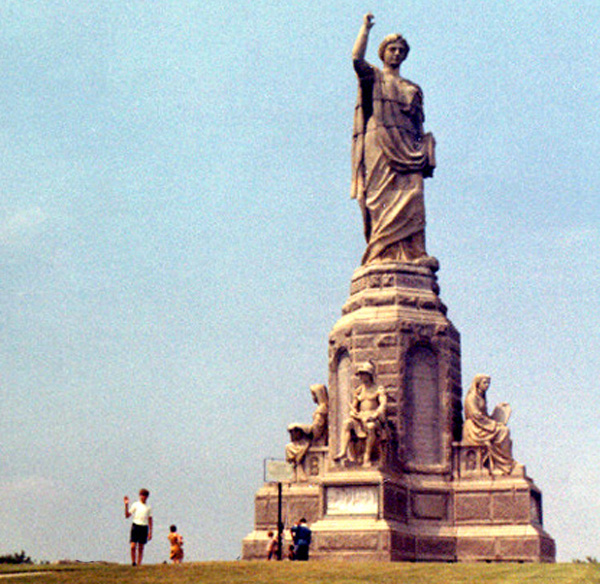 "Hi!" from the National Monument to the Forefathers at Plymouth, MA.
Greetings from the neo-classical structure which protects Plymouth Rock.
And here it is. I was very unimpressed. However, Alexis de Tocqueville's words are memorable: "This rock has become an object of veneration in the United States. I have seen bits of it carefully preserved in several towns of the Union. Does this sufficiently show how all human power and greatness are entirely in the soul? Here is a stone which the feet of a few poor fugitives pressed for an instant, and this stone becomes famous; it is treasured by a great nation, a fragment is prized as a relic. But what has become of the doorsteps of a thousand palaces? Who troubles himself about them?"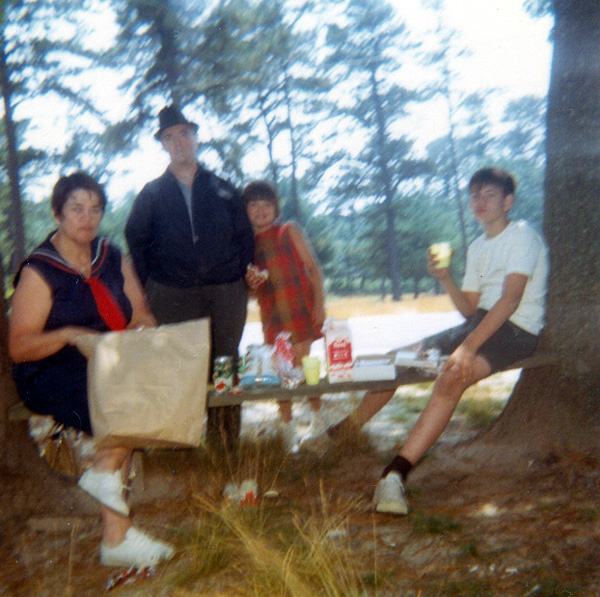 A break for lunch in a woody glade. Out of focus from left to right: Mom, Freddy (Doris' husband), Dee-Dee and yours truly, too busy with a cup of milk to wave hello.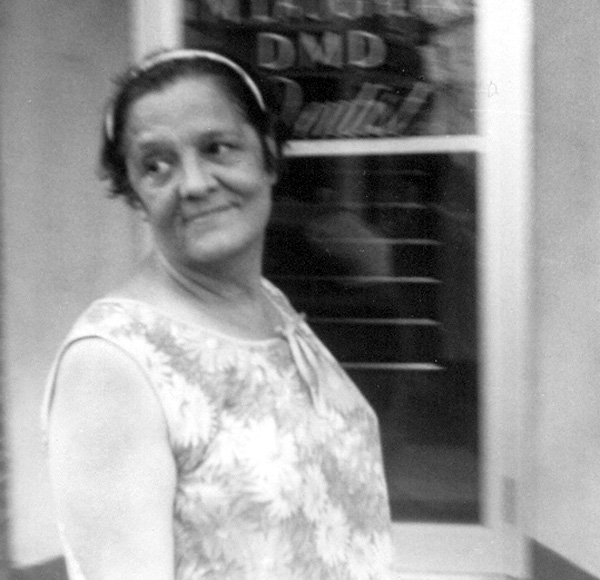 A nice study of my Aunt Doris, Mom's older sister. I liked her right away; she was a lot of fun. She looked and sounded a lot like my mother, but was less uptight and quick-tempered. She was charmingly "back east" in many ways. In 1979 we flew her to Los Angeles; she was stunned by the appearance of palm trees, which she had claimed never to have seen. We had a lot of fun with her on both occasions.
Here we are in Doris' apartment... she cut my hair (which as you can see from the photos, badly needed cutting). That red book is an old printing of The Adventures of Huckleberry Finn I found at a yard sale somewhere in Massachusetts. When I got back home I gave it to the older sister of the girl across the street, hoping to get in good with the girl across the street. It didn't work, and I later regretted giving away the book.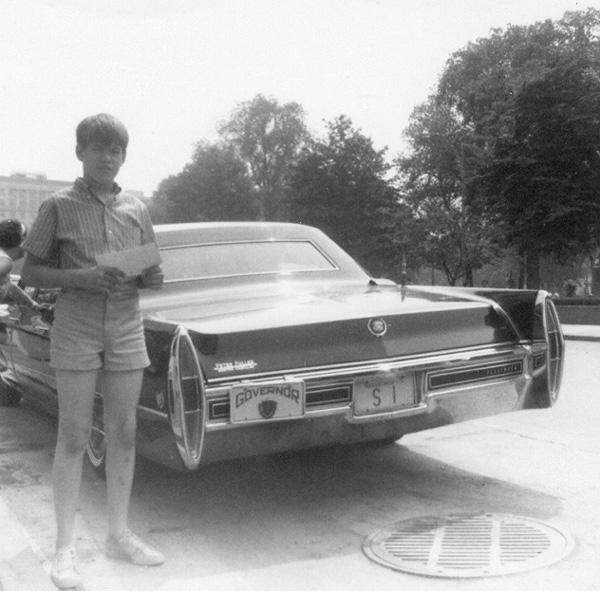 On a walking tour of Boston we stumbled across the limousine of then Gov. John A. Volpe. Doris peeks inside.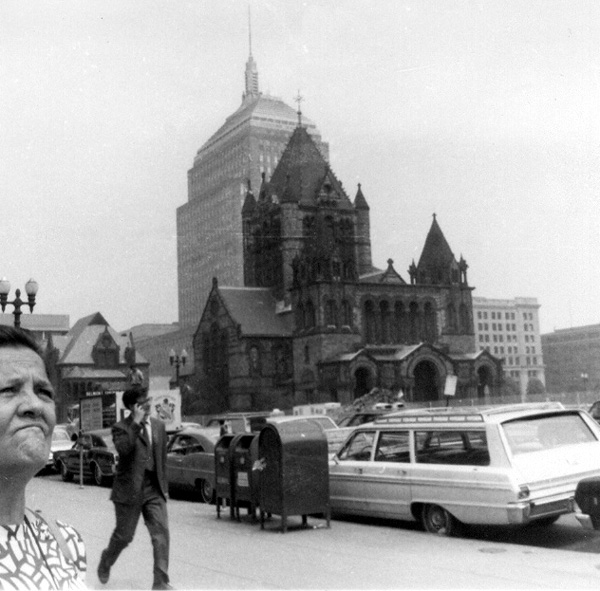 Doris muses: Yeah, well, we pretty much have seen all that we wanted to see in and around Boston. Let's take the woodie north to New Hampshire and visit relatives there.
On the road. Wes! A covered bridge! Quick! Get a photo before we drive through! Quick!
In Auburn, New Hampshire, at Aunt Shirley's farm, in front of the barn. The men are trying to figure out what the heck is wrong with Doris' Ford.
From left to right: Me, Henrietta's husband, Mom, Doris, Mom's sister Shirley, Shirley's daughter Henrietta. (Mom pronounced it "Henrietter.")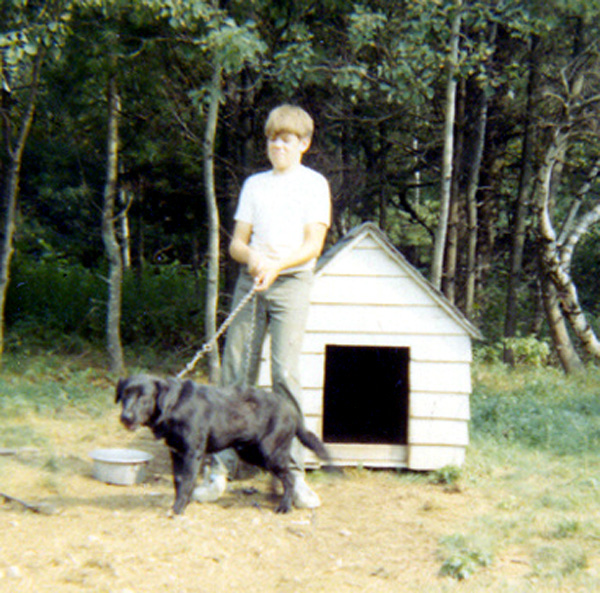 The stay at Shirley's farm was really boring. I wanted to see skyscrapers like the Prudential Center or interesting, touristy stuff like the Maparium. Instead, I spent a lot of my time with the family dog. I also did a paint-by-numbers painting...
...and dressed up in Henrietter's coat and hat.
Yawn. Hicksville, New Hampshire.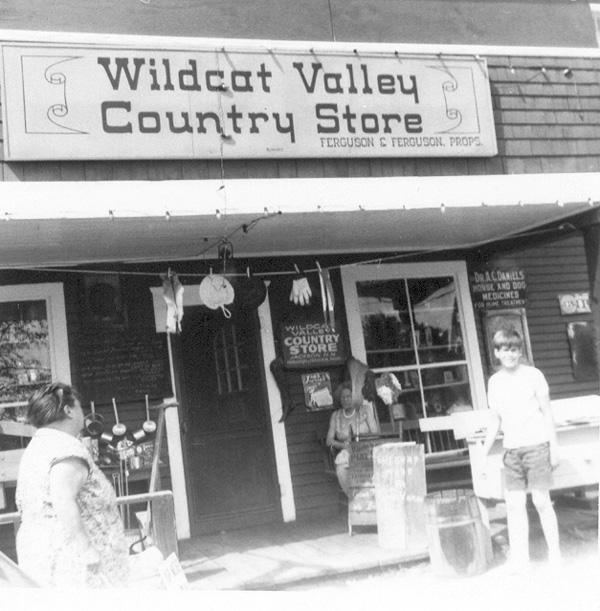 At one point, Aunt Shirley, seeing my boredom, offered to "take us shopping." The Wildcat Valley Country Store was the result. Good grief. Well, at least they sold postcards.

Can we go to New York City or Washington, D.C. now?
On the road. New Hampshire's Old Man of the Mountain, before he crumbled into shapelessness in 2003. I was impressed with it, but not at all impressed with the Instamatic's ability to take photos of far away objects.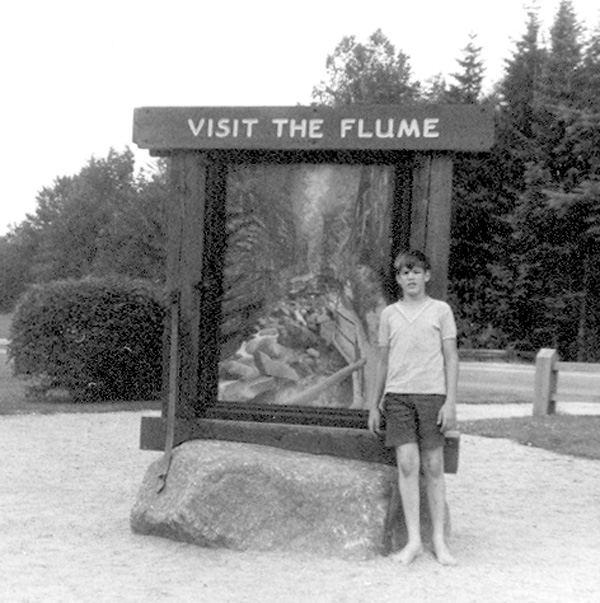 A flume. In a notch. What's that? Looks promising. And so we stopped and got out.
25,000 years ago. Okay, this beats the Wildcat Valley Store.
Wahoo! A scenic walk and cool mountain water - this is fun!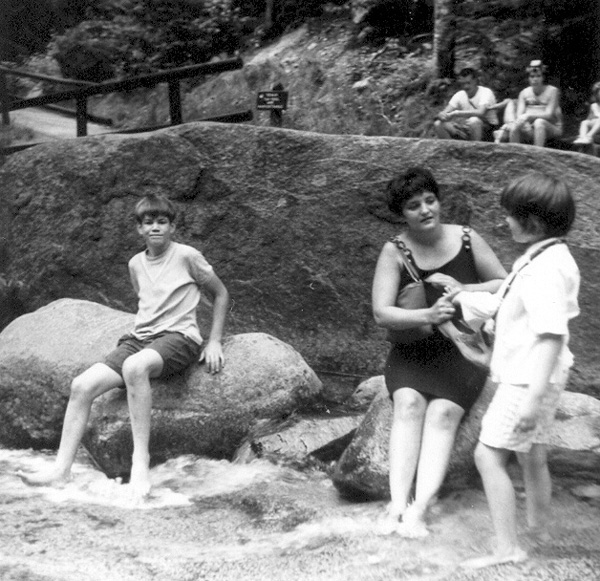 That's my cousin Beverly, Dee-Dee's mom and Doris' daughter. She was fun, too. Sort of like a big sister. Every now and then I get a phone call from her about some family matter and her voice sounds like my mother's, back from the dead.
We had a blast in the Flume. Lots of fun!
I end my photo journal walking across a log, which is, after all, one of the things twelve year old boys like to do.
---