My Bedroom - April, 1971
---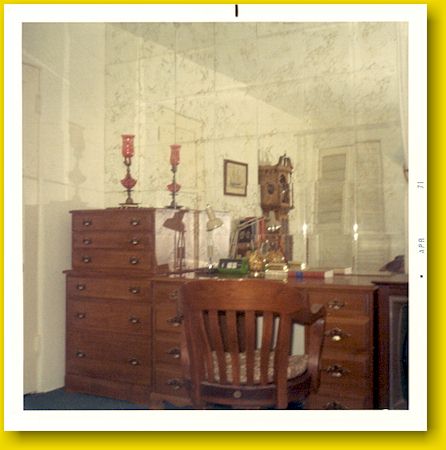 A reader of this web page, seeking to impress me with his parents' embrace of 70's decorating style, thought he'd perform some one-upmanship on me by mentioning the gold-veined mirror tiles his mother installed in a room. Well, I can match that. My mother did this as well, and this photo is proof! (Next I suppose we'll have to swap resin grapes stories.)
For a time, my parents and I switched bedrooms in the house. As I recall, this move was made a necessity by the next door neighbor and her car. She had an old Cadillac with a faulty exhaust system, and when she fired it up in the morning it woke my mother up. (The car was also notable for the Earl Scheib metallic purple paint finish.) Seeking a more interior room to avoid the noise, she and Dad moved into what was then my bedroom. So this photo shows my room at the time when I was sleeping through the din.
Actually, this photo shows the classiest any room in our house actually ever got. Sure, the mirror tiles are goofy, but they did increase the amount of light present and made the room look bigger. The furniture was newer and better than that we had in any of the other rooms, and, in fact, my wife and I now wish we had that old style desk chair visible in the foreground, having had to make do with a cheaper, plastic one. What's more, to the right of the desk is an honest-to-goodness television! In my own room! The privileges of being a fifteen year-old were heady, indeed.
Yes, that is a grandfather's clock shown reflected in the mirror tiles. At this time we had two: a big one in the living room, and this smaller one in my bedroom, less than ten feet away. (We had dueling chimes!) It belonged to Mary and Angela DeTolla. Mary was a waitress friend of my mother's (they both worked at Sargents, on Victory Boulevard.) and Angela was her daughter. After the February 1971 earthquake, Mary panicked and moved to Philadelphia, either giving us or leaving with us the grandfather clock - I was never sure. They were back a few months later, however. When they returned Mary asked for the clock, which insulted Mom in some way. From that point on, Mary, and especially Angela, who was only two years older than I, were personum non grata. So whenever I wanted to visit Angela and Mary to watch the roller derby games, I had to sneak over on my bike. (They only lived a mile or so away.)
That's a rather nice Currier and Ives sailing ship print next to the clock, and the small bookcase seen in the December 1970 photo is under the print. What's the the bookshelf? Top (with arrow bookends): Robin Hood and King Arthur books. Tarot cards are in that little cedar wood box. Top shelf: The Complete Sherlock Holmes on the far left. Hugh Lofting's Dr. Dolittle books (dust jackets removed) on the left, Dark Shadows paperback serializations on the right. Middle shelf: Funk and Wagnall's Encyclopedia. Bottom shelf: The only thing I can make out is the 1970 Information Please Almanac.
I really got wild with room decoration in 1972, when I attached foam packing shapes (the kind one finds in the cardboard boxes major appliances come in) to the mirrors. I put blinking Christmas lights behind the foam shapes, and rigged up multiple speakers throughout the room. I also put Christmas lights at the foot of my bed, near the wall, so that I could alter the lighting in the room to be blue/green or red/orange, as I wished. I regret not taking photos of my room at this time as it was all very futuristic. I was influenced by the Stanley Kubrick film "A Clockwork Orange," which, as an odd sort of rite-of-passage ceremony, my father took me to see when I turned 16. (It was X-rated in 1972, and parts of it were profoundly embarrassing to me.) Fortunately its influences on me were more related to decoration than behavior. But with all those blinking lights behind white foam packing, and all the synthesized music coming out of my room (the Clockwork soundtrack), my parents must have been very worried.
The last photo shows the window corner of the room. By the way, that television had one of those old style remote controls, that used tones. It didn't work well; shaking car keys could cause the channels to change.
You can see a lime green "digital clock" on my desk, this was the style with flipping numbers. The green sofa-bed can be seen in the mirrored wall - yet another Mary and Angela item. I would have to unfold it every night to go to bed and fold it back up in the morning. But I didn't mind as I was a pretty tidy kid and it presented a neater appearance. (I must have been impressed with this room as it was - I took three Instamatic shots of it.)
The bigger cedar wood box on top of the TV contained, yes, more tarot cards.
---
---
---