Christmas 1957
---
My first appearance at the Lockheed Employees Recreational Club (LERC) Christmas toy giveaway, held somewhere in Burbank. In this year Mom didn't take any photos at home of the tree, etc. All I have from Christmas 1957 are these.
I am one and a half years old. Dad has me in some sort of wrestling submission hold. Could it be that he and I are wearing matching coats? Sure looks like it. I've heard of mothers and daughters doing that sort of thing, but not fathers and sons. Odd. The star of the nativity beams overhead.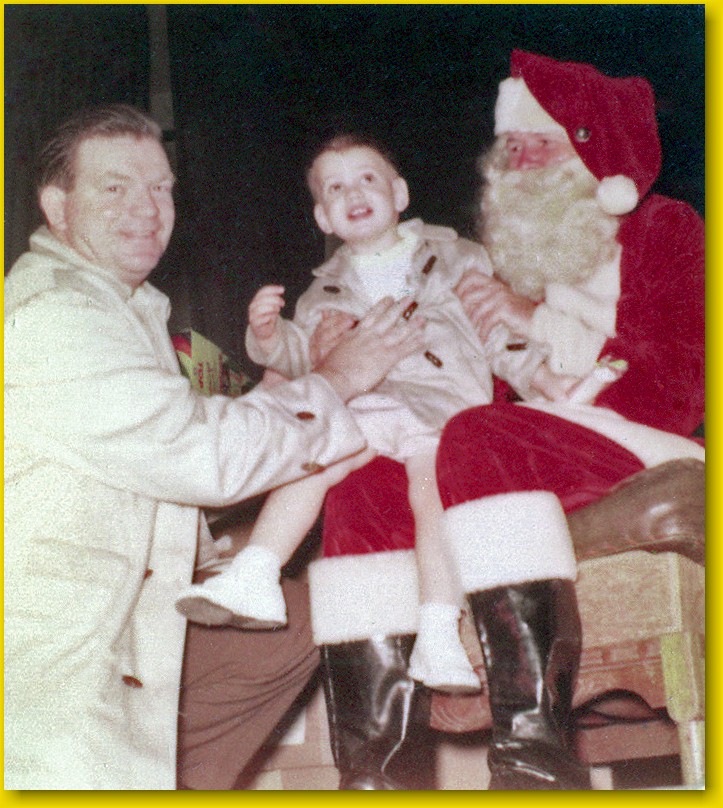 This is the initial kid deployment: Dad sticks me on Santa's lap. Freeze for the camera (presumably Mom is taking the photos).
Dad is still clutching me, and I am clutching a huge peppermint stick and inspecting it. Santa is inspecting me. That top Santa is holding is cool, one of those models with the colorful swirling gears. I like those... but I don't remember ever having one. Perhaps that's not the toy I got.
A clown - ugh. It looks like I hadn't quite developed the dislike for clowns that I would develop later on in life.
---