Christmas 1959
---
That's me in my stylish antique cars design pajamas at top. I do not know why I am covering my ears; perhaps my patience with Mom's directions regarding poses and settings has run out. I must have just emerged from the bath as my hair is wet and slicked down for photographs. It is Christmas 1959, and I am three.
These photos are evocative for me. I recall those drapes very well. They went with the Early American/Colonial theme Mom established for the living room of our Robinson Street, Los Angeles rented house. (We wouldn't move into Burbank until February, 1965.)
In the middle shot my Dad, in a mismatched pajama top and bottom, is lounging beside the tree. What a good-looking 47 year-old... not a streak of gray in his hair yet.
I do not remember a thing about that tusked elephant I am sitting upon and caressing with such love. I'm sure that's because it was inflatable, and I probably popped a hole in it on the 26th of December.
Back then we always had smallish real trees. When we moved to Burbank we started with an aluminium tree for Christmas 1965 (the year "A Charlie Brown Christmas" premiered; I was tuned in with millions of other kids), then in subsequent years we bought six foot real trees. Finally we switched to fake trees.
A few things stand out to me in these shots - in addition to Dad, of course.
I got two - two! - bikes this Christmas, such is the advantage of being an only child. That blue one at right is a police bike, and the red one is a conventional bike with a basket and training wheels. Go here to read my write-ups of them.
That present near Dad's right elbow is wrapped in a paper that I really liked. It was the first of the colors-on-a-black-background motif that would fascinate me. It still does, in fact - I am mesmerized by fireworks. We had some of that wrapping paper for years after this; I recall getting presents as late as 1964 wrapped in it. I was sorry to see it expended.
I really liked this particular ornament. Why? Because it looked like a Telstar satellite, of course. It was attractively space-aged.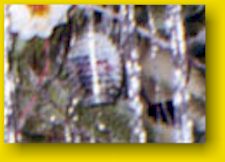 My favorite Christmas ornament was a ridged, elongated oval somewhat like a skinny pine cone, with colors painted in the grooves. An accordion or perhaps Chinese lantern design. I have never seen one like it since.
1959: A Great Christmas!
---
NOTE: Reader Jerry Gushwa has identified the ornament from an e-Bay auction. The very ones - thank you! Now to find one or two for my current tree...
---