---
Many families took home movies during the Sixties, and mine was no exception. Our equipment was a Kodak Brownie key-wound movie camera, which was popular in the Fifties and early Sixties (shown above). It seemed fascinating and high-tech to me at the time. Now it seems sadly outdated. But it's all we had.
Thanks to Avocado Memories reader Chris Chafin of Old Hickory, Tennessee, who made me a DVD of a 1987 Beta videotape of a 8 mm film transfer, I was able to make screen captures to present here. While some work with Photoshop improves the images, there's no getting around it - they are of poor quality. This is due mainly to an old-fashioned consumer-grade camera, film and a barely-running Kodak projector from the era. I think you'll admit, however, that as rough as they are, these indistinct images still have a odd charm and immediacy. In other words, they look like old home movies.
Mom was the main cameraman; she never figured out how the odd, flip-up viewfinders were supposed to work. Consequently, there are many extreme close up images of my mouth.
Watching these back in the Sixties entailed a lot more effort than simply popping a VHS tape into the player. The screen and projector had to be dragged out of the closet and set-up (I remember a horrible screech as the rod holding the top of the screen was extended). The room lights had to go out, and at the end of every reel (ten minutes or so) a rewind operation and loading a new reel onto the projector had to occur. So home movie nights were major events! What's more, there was no sound except for the noise made by the running projector. A string of narration and critical commentary was required. ("Oh, there's Del Catcher. I wonder what he's doing today. Look at your father - what a clown. Remember when we put up the pool, filled it full of water and the sides collapsed?," etc.)
Since we had an above-ground pool in the backyard - most of the movies were consequently taken in the Summer - Mom's favorite trick was to reverse the film as it played, showing me emerging out of the water and back onto the tiki house platform. Amazing! We never seemed to tire of this visual gag.
So here they are, images from forty years or more ago.
---
HOME MOVIES ON MY YOUTUBE CHANNEL
Knott's Berry Farm Visit (April, 1960)
Dad and Del/Pottery Shack (May 1960)
Santa's Village and Halloween, 1960
My Fifth Birthday Party (April 27th 1961)

My "Beatles Party" (April 27th 1964)

Me and Jimmy in 1964, part two

The Marine Corps Follies (1974-1978)
---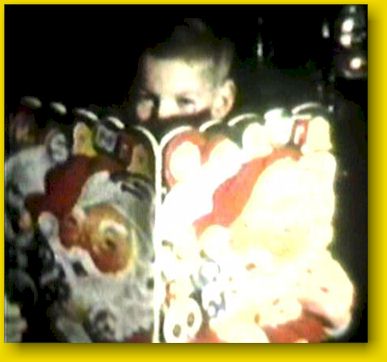 Christmas, 1960. We were living in a rented house on Robinson Street, in the Silverlake District of Los Angeles. The slow film speed of the era meant that additional light was needed for indoor shots. My parents had a handheld "sun bar" consisting of about three or four-hundred watts of flood lights. I was amazed at how much heat these produced. I suppose a good idea would have been to bounce the light off the ceiling for a softer and more natural effect, but we didn't figure that out. Instead, I was subjected to an intense flood of light. As you can see, I'm trying to hide behind an oversized Christmas book. I recall seeing the 1959 film "The Hideous Sun Demon" on TV when I was a kid, and wondering if long exposure to the sun bar would do that to me.
---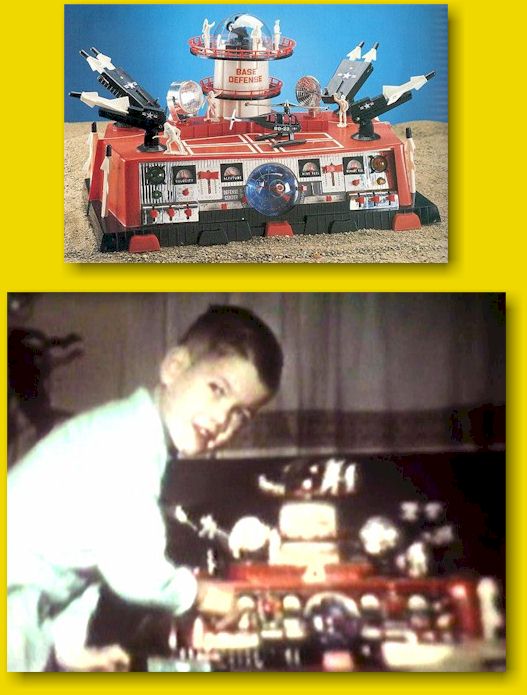 Here I am with my favorite toy from Christmas, 1960: Deluxe-Reading's Rocket Base USA. I thought that hemispherical dial in the middle was really, really cool. as I recall, it was more gratifying to shoot dad with the missiles when the rubber tips were removed.
---
Another space toy I got that Christmas was a rocket launch pad. I believe those are two bottles of pancake syrup in the foreground (must have been a gift to Mom or Dad).
---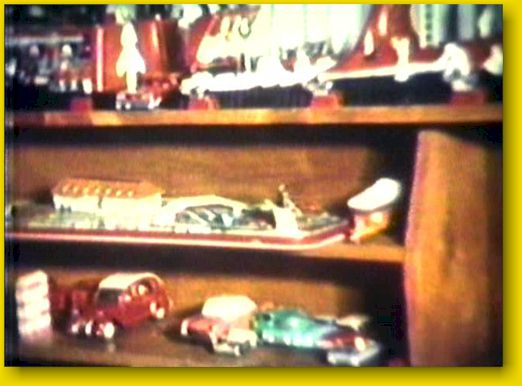 Want to look at the toys in my bedroom? My parents built shelves alongside my bed, so that access to the toys was easy - even at night, when I should have been asleep. Various metal cars are on the bottom. (Could that be a red Citroen 2CV, beloved of the French? What was I doing with one of those?) The middle shelf contains an awesome little metal race car track. I think the cars were keywound. On the top is the Deluxe Reading Rocket Base USA and, to the right, a rocket launch pad toy.
---
In my bedroom, demonstrating my new Jumbo, The Bubble-Blowing Elephant.
---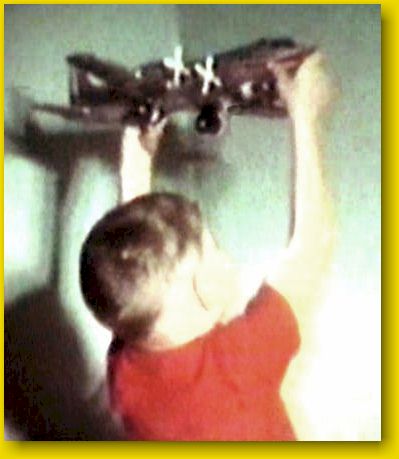 Elsewhere on the shelf is a TWA metal toy airplane. Back in the early Sixties, prop jobs were more common. The sun bar casts a mighty shadow. (Video here.)
---
Summer 1960, I think. This handsome, cleancut young man is Del Casher, who used to rent the little house in our backyard when we lived on Robinson Street. He was an L.A. session guitarist, and a neat guy. He was like a really cool older brother to me, and he tells me that my Dad was like a father to him. I recall that, upon demand, he'd show me how some of his amplification and effects equipment worked. Del was the inventor of the wah pedal and worked with Elvis, Frank Zappa, Lawrence Welk, Vic Mizzy and a host of others. A pretty amazing guy and one of the unsung innovators of the electric guitar. His website is here.
---
Dad came out with some cheese and crackers, and... what's he doing with that knife? Dad! No! (Video here.)
---
Summer, 1960. I'm four. (Video here.) This is Edith and Bob, our next door neighbors when we lived on Robinson Street. Bob is repeatedly spashing my face, the old bully. They'd have loud and angry arguments, which Bob would conclude by yelling to Edith: "Blow it out your ass!" He'd then slam the back door as he stepped into the back yard. I used to hear this rather frequently as a small child. One night, when company was present, Mom told me to go and clean up my room, and, being miffed, I repeated Bob's line to her.

I recall a stunned look on her face.
---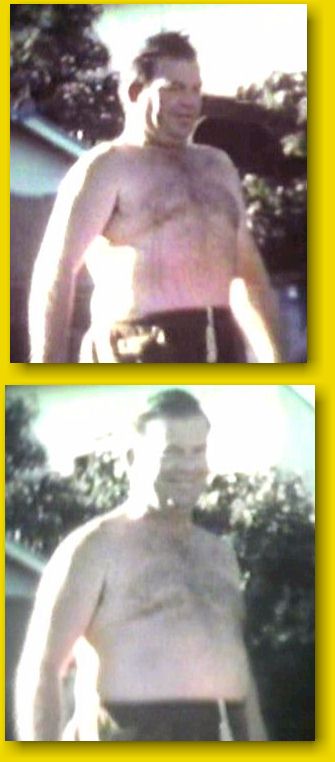 Here's Dad clowning for the camera: gut sucked in and gut hanging out. I like that Oliver Hardyesque sheepish look. Summer, 1960.
---
More clowning, this time at Knott's Berry Farm, September, 1960, with "Marilyn," one of the most photographed objects at Knott's. Some whispered sweet nothings and a knowing grin. The funny thing is, Marilyn looks somewhat like my mother! (Video here.)
---
Let's fast forward to early 1964. Oh, wait. Wrong terminology. There is no fast-forward on our film projector. Anyway, Jimmy Rutherford (the great friend of my boyhood) and I are sliding down a slide set up onto the battered and quickly-deteriorating tiki hut in a plastic boat. Jimmy was heavier than I, so he provided good ballast up front. I liked coaster rides - as you can see from the look on my face. Still do. (Video here.)
---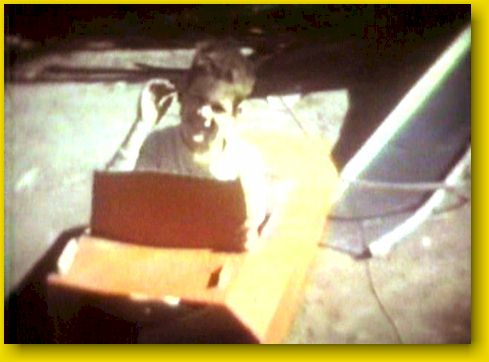 Sliding down a slide in a box. As I recall, this was meant to be a space ship of some kind, one of the many I made out of cardboard boxes. Early 1964.
---
Me and Jimmy. We were very chummy - as boys tend to be. 1964.
---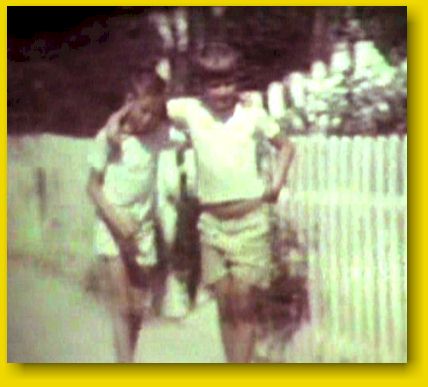 Jimmy and I. It's still 1964. Doing a difficult and sophisticated maneuver for the camera. Sort of like when people make a line of water-skiiers, except, of course, there are only two of us and we aren't water-skiing. If we look nervous, it's because we're on Roller Derby #10 skate boards, which had nasty metal wheels. The least little unevenness in the sidewalk would halt the board and throw us forward for an inevitable knee scrape. I recall having scabby knees for the entire summer of 1964. (Video here.)
---
I chance looking away from the sidewalk to perform my trademark Frankenstein monster pose (arms thrust forward), with a growl thrown in for good measure. 1964.
---
Here's the Frankenstein Walk again, this time not on a skateboard. That's Jimmy grinning in the background. The funny thing is that, after all these years, I still recall the colors on that shirt he's wearing... it's April 27, 1964, my "Beatles" birthday party. (Video here. More about the party here.)
---
This is the flaming redhead Williams Sister (I recall three) from up the street at my "Beatles" birthday party. I want to call your attention to the rollers in back. These were used by the Thrifty supermarket behind us to roll boxes of canned goods into the store from the truck. (Click here for an image of this.) When the store had a fire we, and the rest of the neighborhood, helped ourselves to them and as many canned goods as we could pilfer. Jimmy and I interconnected them and set them up onto the tiki house to the ground during the non-summer months when the pool wasn't set up. Then we'd slide down these on boxes, etc. In effect, it was a twenty-foot backyard roller coaster!

It was FUN! But then, so was my childhood and remembering it via old home movies...
---