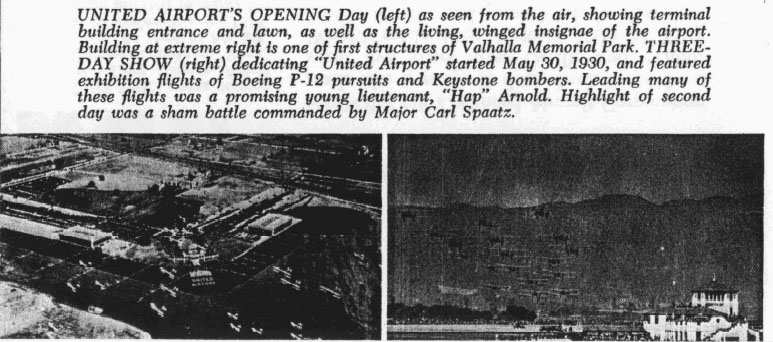 Burbank Gets a Major Airfield (1928)
From The Story of Burbank from her Eventful Pioneer Days (The Magnolia Park Chamber of Commerce, 1954)
---
In the early part of 1928 an attorney, by the name of Kenneth Humphries, confided to Burbank Chamber of Commerce Secretary C. C. Richards that the company he represented, Boeing Air Transport Corporation of Seattle, Wash., had decided to develop a major airfield in Burbank to get away from the fog and other inconveniences of Vaile Field.
Boeing executives had spent a year investigating a number of possible locations for the airfield in the Los Angeles area, to find the one most favorable from the standpoint of weather conditions, availability to a metropolitan district, and &her important requirements for a major air terminal. Weather experts had spent days and nights testing air conditions here under all possible circumstances. Burbank proved to be the most ideal in every respect!
A total of 240 acres of land made up the original purchase.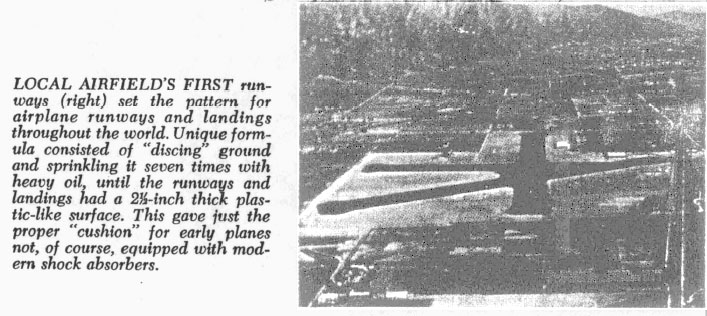 Asking price for this land, which ran into the hundreds of thousands of dollars, was paid in cash, although most of the property owners would have preferred to have had their money in deferred payments.
Burbank City Council was then requested to donate a section of Winona St. to provide required runway space (363 ft. x 300 ft.). This was gladly done. Runways put in at that time were the result of an unique experiment in paving used ever since for airplane runways throughout the world until a few years ago.
First group of buildings to make up the new Boeing Air Field included a pretentious structure that housed the executive offices as well as two hangars. A few years later, what was considered "the world's largest airplane hangar under one roof" was also constructed on the grounds. Still later, two industrial plants were added to the group – one for the Hamilton Standard Propeller plant, and the other for Northrop Aircraft Corporation.
In the meantime, name of the airfield had been changed to United Airport, and was officially opened and dedicated as such Memorial Day, 1930, with a great three-day aerial show.
Hailed then as "one of the finest airports in the world," the $1 ½ million United Airport was readied in seven months for United Airports Company of California, Ltd., a subsidiary of United Aircraft and Transportation Corporation.
The field was still a sandy loam vineyard dotted with giant oak and eucalyptus trees. It had a dry river bed running through its center.
Up until this time Pacific Air Transport was the only commercial line using the field. The company operated one flight a day on the Seattle-San Diego run, using a single-engine Boeing 40B biplane that carried four passengers and a pilot.
The 40-acre tract now occupied by Lockheed's A-1 plant was formerly Burbank's Pioneer Park. At that time, the circular area (now a parking lot) in front of the entrance to the terminal building, was a large fishpond surrounded by a lush lawn which featured a "living" winged insignae of the airport.
In 1934 the field became known as Union Air Terminal. It was in 1941 that it was re-named Lockheed Air Terminal when it was purchased by Lockheed Aircraft Corporation.
Since then it has grown from its original 240 acres to 500 acres, and from a valuation of less than $2 million to a replacement value of $40 million. With its two 6000-foot runways, Lockheed Air Terminal is today the largest privately-owned commercial airport in the world!
---