"Beautiful Downtown Burbank" (tm)
<![if !supportEmptyParas]> <![endif]>
by Wes Clark
<![if !supportEmptyParas]> <![endif]>
---
<![if !supportEmptyParas]> <![endif]>
It occurs to me that perhaps some (younger) people have heard the phrase "Beautiful Downtown Burbank" applied to Burbank, California, but aren't aware of how the phrase got started.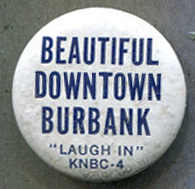 <![if !supportEmptyParas]> <![endif]>
It was first used on a television show, "Rowan and Martin's Laugh-In," which premiered in 1968 on the NBC television network. NBC is, of course, located in Burbank. Gary Owens served as the announcer for it, and coined the phrase from the beginning, so the phrase dates from 1968. (Short video here.) It soon caught on and put Burbank on the map with television viewers all across the country. It wasn't long before postcards began to be printed with this phrase.
<![if !supportEmptyParas]> <![endif]>
The joke, of course, is that beauty is in the eye of the beholder. While there are many who insist that Burbank is indeed beautiful, others, like Frank Zappa, have claimed that the San Fernando Valley is the ugliest and most charmless place in the country. Whether that is the case, you may decide.
<![if !supportEmptyParas]> <![endif]>
But that's where the phrase came from.
<![if !supportEmptyParas]> <![endif]>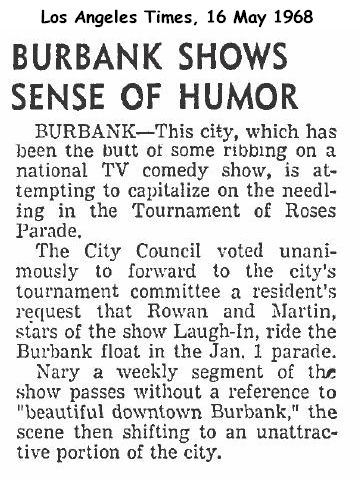 <![if !supportEmptyParas]> <![endif]>
POSTSCRIPT: While reading the City of Burbank's 100th anniversary commemorative book I noticed that the editors took pains to include a "tm" mark wherever they cited the phrase "Beautiful Downtown Burbank." "Who holds the trademark?" I wondered. So I looked it up using the Patent and Trademark Office's search tool, on their website. Here is what came up:

Word Mark BEAUTIFUL DOWNTOWN BURBANK
Goods and Services IC 035. US 100 101 102. G & S: Chamber of commerce services, namely, promoting business and tourism in the Burbank, California area.
FIRST USE: 20070927. FIRST USE IN COMMERCE: 20070927
Standard Characters Claimed
Mark Drawing Code (4) STANDARD CHARACTER MARK
Serial Number 77075884
Filing Date January 4, 2007
Current Filing Basis 1A
Original Filing Basis 1B
Published for Opposition July 10, 2007
Registration Number 3373639
Registration Date January 22, 2008
Owner (REGISTRANT) Burbank Chamber of Commerce Chamber of Commerce CALIFORNIA 200 W. Magnolia Blvd. Burbank CALIFORNIA 91502
Disclaimer NO CLAIM IS MADE TO THE EXCLUSIVE RIGHT TO USE "DOWNTOWN BURBANK" APART FROM THE MARK AS SHOWN
Type of Mark SERVICE MARK
Register PRINCIPAL
Live/Dead Indicator LIVE

Ah-ha! Since 2008 the phrase "Beautiful Downtown Burbank" has been a service mark owned by the Burbank Chamber of Commerce. Good thinking...
---
<![if !supportEmptyParas]> <![endif]>