---
(NOTE: Lots of graphics on this page - it may take some time to load.)
I flew out from my present home in the Virginia suburbs of Washington, D.C. to attend the Burbank High School 100th anniversary celebrations, and was very glad I did. It was the best trip out to my hometown, ever! In addition to the BHS 100 festivities, I was able to link up with my high school friends Mike McDaniel and Bob Avery (Bob in blue, Mike in red, Yours Truly in the middle); all three of us are from the Class of 1974 and have stayed in close touch over the years. It's true - the friends you make in high school are friends for life.
Somehow, growing up in Burbank I missed out on a number of characteristic Burbank "things," which we took care of during this trip. To wit: 1.) Eating Martino's teacakes (No, one wasn't sufficient and I learned the flavor is mostly that of maple syrup), 2.) Eating a Santoro's Meatball Sub, 3.) Visiting the Autobooks-Aerobooks store, 4.) Dining at the Bob's Big Boy on Friday night and browsing the classic car show put on by the Road Kings of Burbank, and 5.) Taking the NBC Studios tour.
This time, rather than flying in to LAX, I flew into Burbank and got some great photos from my window seat.
Burbank - You can see the two white Holiday Inn towers just left of center, a clear landmark from the air. Oddly enough, this photo is centered right on Mike's house on Elmwood Avenue!
Burbank Airport - Known formally as the Bob Hope Airport. My parents are buried at Valhalla Cemetery right next to it, near the Portal of the Folded Wings, which I can see in the shot!
Brand Library - In Glendale; I used to go there all the time. A clear landmark from the air - it's the little white apex of the vee in the center of the shot.
The Saturday morning parade was a lot of fun. I was posted on Glenoaks and took photos:
The BHS athletic field fence along Glenoaks was filled with some great banners that added to the event.
First up in the parade: a Boy Scout Color Guard.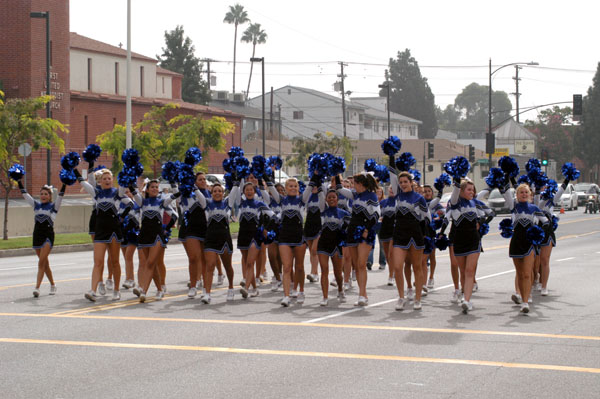 The Bulldogs Cheerleaders!
Then the BHS Marching Band.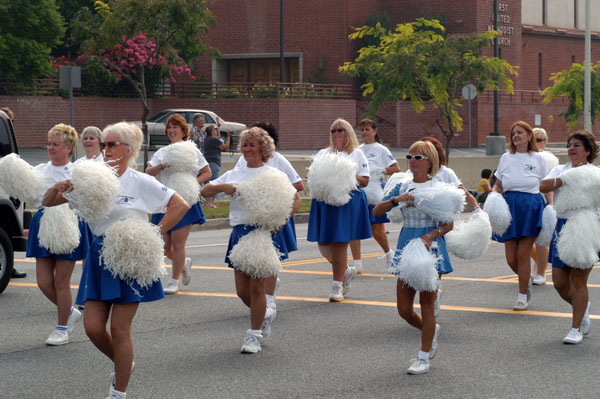 I thought the Alumni Cheerleaders were really cool.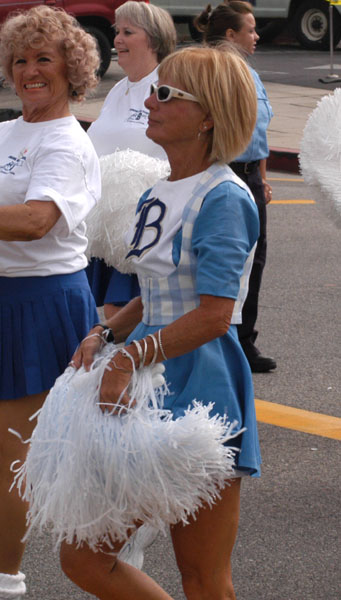 Shari Deuel Nicholls wore her original drill team uniform from 1966.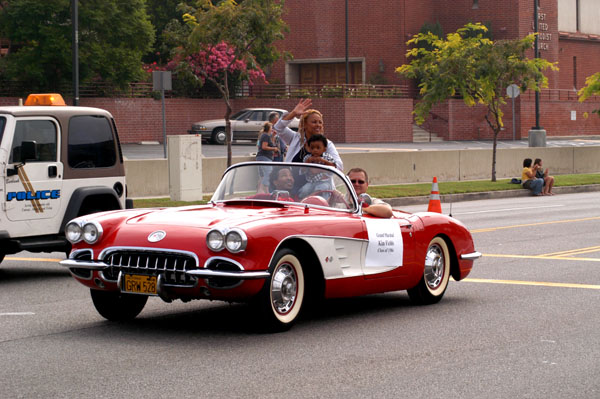 The Grand Marshal was Kim Fields (Class of 1986) of "The Facts of Life" in a very nice Corvette.
Burbank's Police Chief was in a very cool old Ford.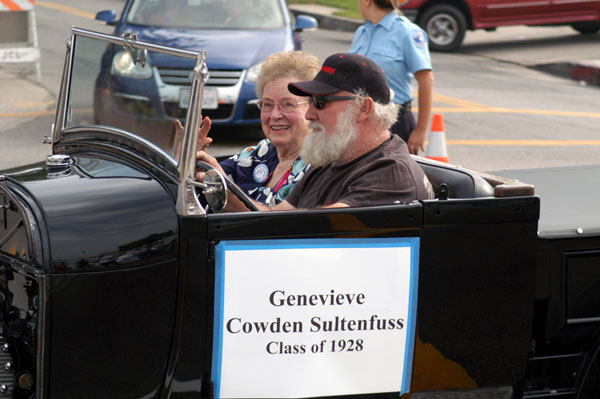 My favorite was Genevieve Cowden Sultenfuss, Class of 1928. That's 80 years ago - you do the math!
The Big Boy had to be included, of course.
Then came the Chevy Bel Airs...
Anson "Potsie" Williams (Class of 1967) of Happy Days was in an especially attractive '56 convertible.
Three alumni from 1938, 1939 and 1943.
Aloha from 1947!
Two cheerleaders from 1947.
Homecoming Queen and Princess from fifty years ago.
My own decade, the Seventies, was represented, too.
BHS Hall of Fame Athletes - that's Olympic Gold Medallist Cathy Jean Ferguson waving.
The BHS Chaincrew!
What's a parade without elected officials? His Honor Mayor Dave Golonski.
U.S. House Representative Adam Schiff of the 29th Congressional District in, yes, a Batmobile!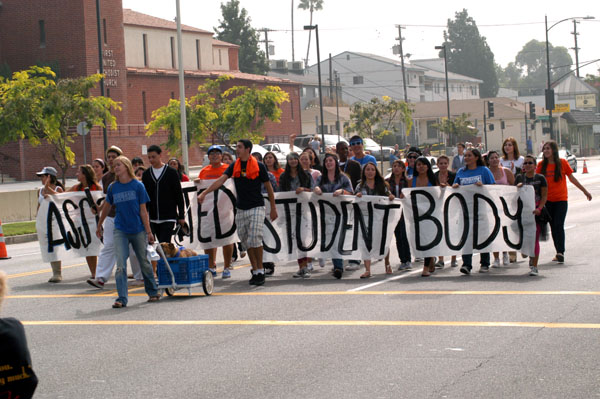 The present BHS Associated Student Body (ASB), making lots of noise.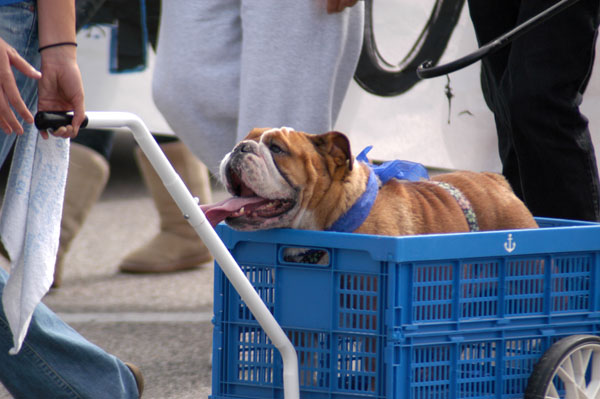 And last but certainly not least, Burbank High's panting mascot.
Later on that day Burbank High played Torrance High in a football game... Bob, Mike and I were seated in very crowded home team bleachers under a hot sun. The score? Well... let's just say that the Bulldogs faced some stiff competition and leave it at that.
The game begins with a formidable array of Bulldogs players and cheerleaders.
I liked this commemorative banner.
For the sake of the historical record, here's the Centennial Schedule and poster.
Once again, I was very happy I made the effort to fly out for this - I greatly enjoyed myself. Talking to the various alumni I bumped into, I was very much surprised at one thing I learned: Burbank may be a thoroughly modern Southern California city of over 100,000 residents, with a world-renowned media influence and aerospace history, but it is still, at heart, a small community. I kept bumping into people I was taught by while at school, or who were sisters or brothers of somebody I knew or went to school with. One woman even knew that my mother hailed from Berlin, New Hampshire! I was expecting a much higher degree of facelessness and an almost total lack of community feeling in Burbank, but no, it wasn't that way at all. It was a very gratifying experience.
As far as Burbank High School is concerned, I can end on no more an appropriate note than a sentiment I saw during the football game, painted on a banner:
My heartfelt congratulations to Burbank High School history teacher Dave Thomson and his Centennial Committee for putting on a truly once-in-a-hundred-years event!
---