Cabrini Chapel
From the relevant wikipedia article: Saint Francesa Saveria Cabrini (July 15, 1850, Sant'Angelo Lodigiano, Lombardy – December 22, 1917), also called Mother Cabrini, was the first American citizen to be canonized by the Roman Catholic Church.
The Pope sent Cabrini to New York City on March 31, 1889, to help the Italian Immigrants there "Not to the East but to the West". There, she obtained the permission of Archbishop Michael Corrigan to found an orphanage, which is located in West Park, Ulster County, New York, today and is known as Saint Cabrini Home, the first of 67 institutions she founded in New York, Chicago, Des Plaines, Seattle, New Orleans, Denver, Golden, Los Angeles, Philadelphia, and in countries throughout South America and Europe. Long after her death, the Missionary Sisters would achieve Mother Cabrini's goal of being a missionary to China. After much social and religious upheaval and only a short time, the sisters left China, and subsequently a Siberian placement.
Chicago became a major center of Mother Cabrini's work. In 1899, she opened the city's first Italian immigrant school. She also transformed a former hotel into Columbus Hospital in 1905; in 1911, she opened Columbus Extension Hospital (later renamed Saint Cabrini Hospital) in the heart of the city's Italian neighborhood on the Near West Side. Although both hospitals eventually closed near the end of the 20th century, their foundress's name lives on via Chicago's Cabrini Street. Cabrini was naturalized as a US citizen in 1909.
Mother Cabrini died of complications from dysentery at age 67 in Columbus Hospital in Chicago, Illinois, on December 22, 1917. By that time, she had founded 67 missionary institutions to serve the sick and poor and train additional nuns to carry on the work. Her body was originally interred at Saint Cabrini Home, an orphanage she founded in West Park, Ulster County, New York.
---
Articles from the Los Angeles Times.
Below: From 2 December 1957. We learn that the chapel was built in 1917 and that, in the 1950's, it was a place of special spiritual significance for area Catholics.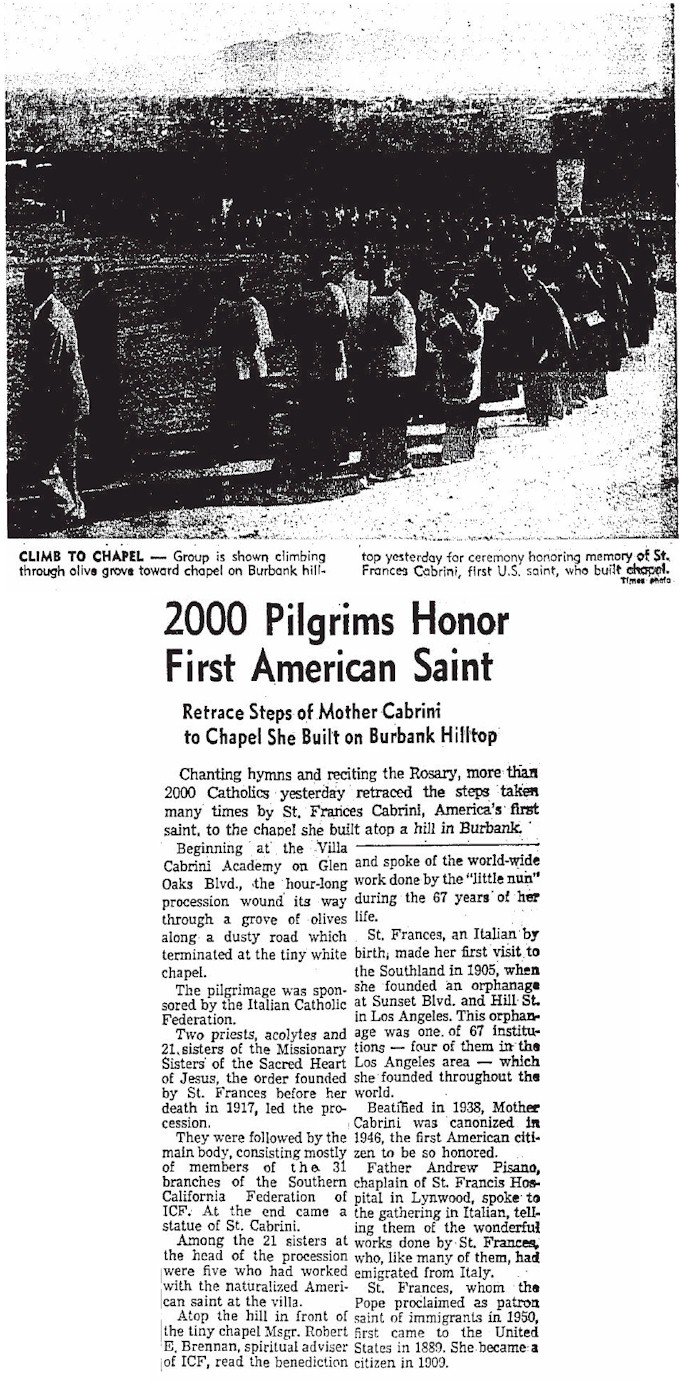 Below: From 15 May 1960. The little chapel is described by the hard-bitten newspaper editors as being "charmed."
Below: From 30 Nov 1963. A 1963 pilgrimage to the site is announced.
Below: From 30 December 1973. Ten years later the development of Cabrini Villas threatens the chapel, which is moved from the site where it stood as a mountainside landmark for 56 years.

Below: From 20 January 1974. Another article about the chapel move.
Below: Photo from 14 September 2010. The Cabrini Chapel today, with a library added to it.
Below: Photo from 14 September 2010. Mother Cabrini mosaic closeup.
---