Printed in a Burbank newspaper recently:
Amerio Corradi
November 10, 1922 - February 17, 2010
Hail to the King of Tea Cakes

Amerio Corradi, known in Burbank, for fifty years, as the King of Tea Cakes has passed away at the age of 87.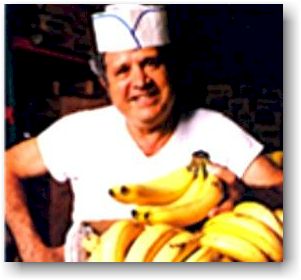 Blessed with an irrepressible lust for life he brought to generations of Angelenos the taste of pleasure and comfort which grew into the cult of the Tea Cake.

Born in 1922 to Italian immigrant parents Rudolpho and Francesca Corradi, Amerio lived and worked his entire life in Burbank. He attended Burbank High School when he met his wife Mary. In 1943 they married before he began his World War II service in the Army Corps of Engineers. Amerio distinguished himself in service during his participation in the landing on Omaha Beach on D-Day June 6, 1944. He subsequently, acted as an outstanding member of his company which liberated the Buchenwald concentration camp.

Returning to Burbank in 1945 Amerio went into business with his life long, best friend and partner Victor Martino, Jr. at Martino's Bakery which would become the largest diversified commercial bakery in Southern California with fresh daily deliveries via more than sixty trucks to the greater So. Cal. and Nevada areas. Martino's Bakery became a competitive force to be reckoned using the slogan "a tasty pie, a tender crust." But the enduring legacy of Amerio Corradi and Martino's Bakery is the Tea Cake. The Tea Cake was developed by Amerio and his partner Victor at the behest of client looking for a special light and airy cake, buttery and delicious. The result has been enjoyed by legions of people for more than fifty years.

Martino's Bakery was sold to Campbell's Soup/Pepperidge Farms in 1979. Amerio stayed on with Pepperidge Farms as a consultant for ten years. At which time he kept his creative needs satisfied by financing and directing a retail bakery in Burbank called The Original Martino's Bakery where Tea Cakes continue to satisfy the public each and every day. Amerio had continued to be the driving force - working daily from early in the morning until very recently when he began to contemplate retirement.

He is survived by countless friends and family, his loving and supportive wife Mary, son Dennis, his wife Erika; son Gerald, his wife Christie and his grandchildren Jesse, Alexys and Aron.

Services will be held Saturday February 27, 2010 at noon Old North Church/ Forest Lawn Hollywood Hills/ 6300 Forest Lawn Dr. LA 90068. In lieu of flowers the family requests a donation to the charity of your choice in honor of Amerio Corradi.
NOTE: As odd as it is to believe, I only had my first Martino's teacake (and my first Santoro's meatball sub) in September, 2008, when I was in town with friends for the 100th anniversary of Burbank High School. I can't believe it took me that long. Where have these things been all my life? - Wes
---