I'm sure Burbank has had its share of resident heroes in its 100+ years of existence. Here's the story of one, who lived in town at the end of his life.
The Story of Edward W. Spencer
Found Via Various Internet Sites
---
"Did I do my best?"
Around 2 A.M. on September 8, 1860, the steamship Lady Elgin collided with the schooner Augusta in the waters of Lake Michigan near Waukegan, Illinois. The Lady Elgin was carrying more than 300 passengers and crew on a round-trip sightseeing tour from Milwaukee to Chicago. Its return trip was never completed. The captain, not realizing how badly the ship was damaged, continued toward Milwaukee in the dark. About a half-hour later, the heavy boilers and steam engine broke through the weakened hull and the ship quickly tore apart. Most of the passengers and crew died. Only a handful reached the lifeboats. "Just when the Elgin took her final plunge," the captain recalled, "a heavy sea took off the upper works, the cabin floated, and several hundred people got onto this."
But the cabin, too, soon broke up, drowning many passengers and leaving others clutching small pieces of wreckage. Many victims held onto floating debris for long hours in the cold water. Some ultimately reached shore only to be pulled back into the breakers by a fierce undertow. Seventeen people were saved that night by a Northwestern University student named Edward W. Spencer, who battled the breakers for six hours. An experienced swimmer, he had a rope tied to his body, and time after time swam through the waves to grab exhausted passengers. His associates on the other end of the rope then pulled him and the victim to shore. Finally, having reached the limits of his strength, his body covered with scrapes and bruises, Spencer passed out. He woke up in his room in Evanston where his brother, William, waited on his recovery. Edward's first words were, "Will, did I do my full duty -- did I do my best?"
Although he tried to resume his studies, the physical and emotional toll on Spencer had been severe. Newspapers around the nation praised his deeds but he was never completely comfortable with the attention. The faces and cries of the victims he had not been able to save forever haunted him. Spencer never completed his education, and it was almost fifty years before he returned to Evanston to talk about the wreck of the Lady Elgin. After his death, his brother described Edward's private torment: "His face would turn ashen pale, and he would fasten his great hungry eyes on me and say, 'Tell me the truth. Did I fail to do my best?'"
From wordwisehymns.com:
What exactly is a hero? Certainly Edward Spencer would qualify. He was a student at Northwestern University in 1860, when a steamer called Lady Elgin was wrecked off the shores of Lake Michigan. Despite numerous injuries from floating wreckage, he repeatedly dashed into the raging surf to rescue passengers in mortal peril. Seeing his deteriorating condition, others tried to stop him, but on he went. He is credited with saving 18 people, one by one, finally collapsing in utter exhaustion. It is reported that, as he lay all night in the infirmary, he repeated over and over, "Did I do my best, fellows? Have I done my best?"
Spencer is honored by a plaque in the gymnasium of Northwestern University. But there are a couple of sad footnotes to his story. He was so badly injured that apparently he spent the rest of his life in a wheelchair. And when visited in later years he said with tears, "Not one [of those rescued] ever came back and even said thank you." Though he undoubtedly did not rescue them in order to earn their gratitude, it is a sad commentary on our frequent failure in this area.
In 1924 Ensign Edwin Young (1895-?) heard Spencer's story and published a song that draws a spiritual lesson from the incident. (Ensign was not a title of rank, but was Young's first name.) Young served as Dean of the School of Music at Hardin-Simmons University, in Texas 1934-1956. I have been unable to find the dates of his birth and death. His song raises the penetrating question, Have I Done My Best for Jesus?
I wonder, have I done my best for Jesus,
Who died upon the cruel tree?
To think of His great sacrifice at Calv'ry!
I know my Lord expects the best from me.
I wonder, have I cared enough for others,
Or have I let them die alone?
I might have helped a wand'rer to the Saviour,
The seed of precious Life I might have sown.
The refrain heaps question upon question:
How many are the lost that I have lifted?
How many are the chained I've helped to free?
I wonder, have I done my best for Jesus,
When He has done so much for me?
Finally, Spencer's obit from the 8 February 1917 Los Angeles Times. Note the Burbank address at 220 San Jose Avenue: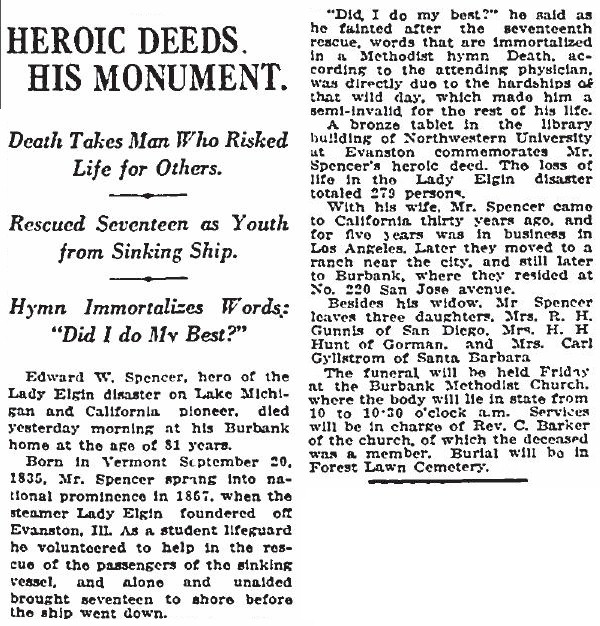 ---