The Fawkes Family Follies
by Wes Clark
---
Burbankers have long associated the name of J.W. Fawkes with his famous monorail, "Fawkes Folly." But whatever else he was - husband, father, rancher, landowner, political activist, public transportation visionary - J.W. Fawkes was no stranger to publicity and seeing his name in the news. What follows are excerpts from old copies of the Los Angeles Times. It traces a partial history of Fawkes' tumultuous dealings with his family and others.
The reporters must have loved him...
(Here's a map of the original Fawkes land holdings in Burbank, more or less at the block where Borrmann Steel stands today. I presume the incidents recounted below took place there.)
---
Below: From 25 December 1889. The first Fawkes Family mention in the press that I could find. Constable H. (Howard?) B. Fawkes arrests a wealthy hobo - or is he a robber?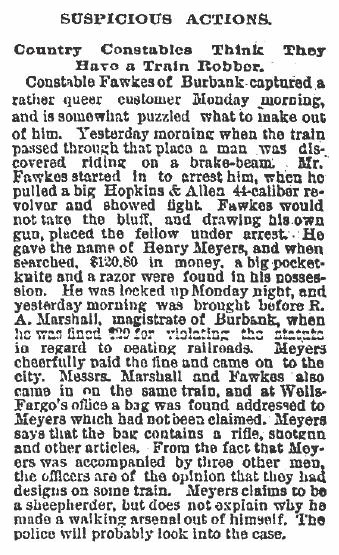 Below: From 4 March 1891. In happier days, father and son were listed as co-inventors.
Below: From 9 December 1891. Despite his skill at rounding up hoboes and robbers, Constable Fawkes is not popular, and over 100 Burbank residents sign a petition to have him removed from office.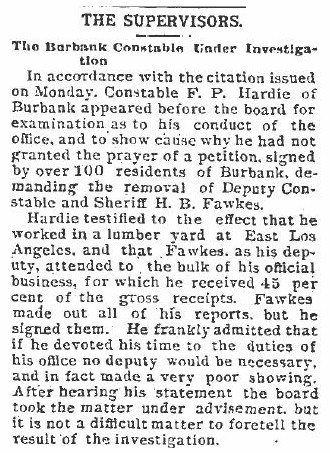 Below: From 25 August 1895. The earliest Fawkes Family Feud entry I can find, entitled "Brotherly Love." This initial spat is between Jacob Fawkes and his unnamed brother (J.W., perhaps?). The father, J.W. Fawkes, Sr., is described as being the inventor of the Fawkes Steam Plow.
Below: From 29 December 1895. The Fawkes Fraternity is described as having a social session in court. J.W. Fawkes, Sr. is an old man at this time, over 72. J.W. Fawkes, Jr. is described as being the black sheep of the family - and no wonder. What kid mixes "dope" near his mother's window and chants, "Dynamite - blow you up tonight?" It is a forecast of the "infernal machine" incident of March, 1898. The neighbors are incensed; tar and feathers are discussed...
Below: From 9 August 1896. Father accuses son of stealing water pipe.
Below: From 29 January 1898. 1898 was the annus horribilis of the Fawkes Family, and one can almost detect the glee with which the Los Angeles Times reporter uses Abe Lincoln's memorable phrase, "House Divided Against Itself" to describe the goings on within the clan. The destruction of a hen house and a pig pen are described.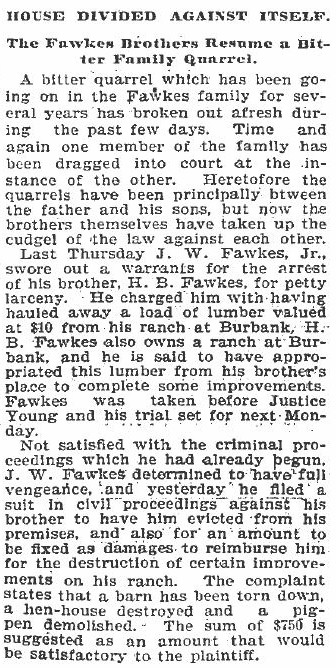 Below: From 23 March 1898. The Fawkes Plot to blow up his parents is described, as is the light-blocking stable (which was later moved by irate neighbors). A tricky legal matter comes up: Can the placing of a bomb be regarded as "maintaining a nuisance?"
Below: From 16 April 1898. The sheriff is called and the infernal engine is found to be nothing more than sand in tin cans. It appears the bombs were created in an attempt to keep another shed from being hauled away. (But try convincing Ma and Pa Fawkes of that!)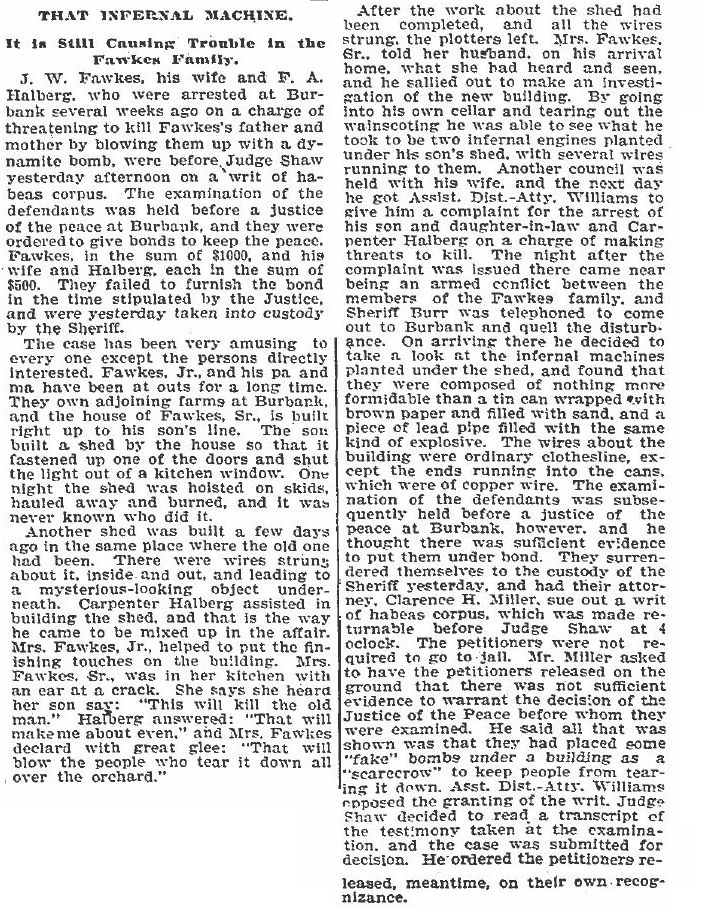 Below: From 19 April 1898. Do we detect a note of sadness with which the reporter declares an end to the infernal machine story?
Below: From 22 May 1898. But wait! The legal implications continue...
Below: From 7 June 1898. We can add perjury to the list of accusations flung at one another by Fawkes family members and friends...
Below: From 12 July 1898. Howard Fawkes gets some column space. "It is seldom, now, that one of the Fawkes cases does not figure on the docket..."
Below: From 24 Nov 1898. Judge Van Dyke attempts to get the Fawkes Family at peace with one another so they can enjoy Thanksgiving together. He partially succeeds.
Below: From 3 Dec 1898. More of Howard. "...the drear monotony of surburban life has been relieved, and the courts of the county have been prevented from stagnating by having the Fawkes cases to adjudicate."
Below: From 4 Dec 1898. A Solomonic judgement. Could this possibly be the end of the Fawkes Fights?
Below: From 27 May 1899. Another year, another Fawkes legal case before the courts. This time it's a house and, perhaps symbolically, a barrel of vinegar.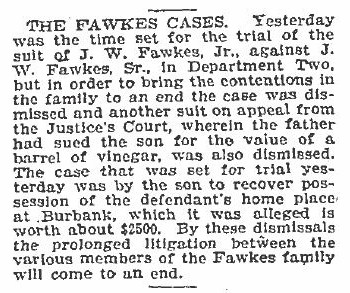 Below: From 29 May 1922. Twenty three years pass. In this letter to the editor J.W. Fawkes complains about high taxes in Burbank and describes why consolidation with Los Angeles is a good idea. For some odd reason he also points to Hollywood as being a glowing example of something.
Below: From 20 July 1922. Burbank is in a frenzy over a rabid dog, and in another letter to the editor, J.W. Fawkes attempts to calm the populace.
Below: From 2 September 1922. Joseph Fawkes is thrown into jail for disturbing the peace. He complains of poor health.
Below: From 24 June 1923. After 35 years, Fawkes moves from his ranch to a residence above Tenth St.
Below: From 3 July 1925. A huge celebratory bonfire on San Fernando Road is created and Joe Fawkes is hung in effigy. Is anyone really surprised at the fact that a shooting takes place at his home (presumably the one above Tenth St.)?
Below: From 29 June 1928. J.W. Fawkes' obit.
Below: From 10 February 1929. One might suppose that death would bring an end to Fawkes' notoriety, but no. The legality of his marriage is questioned.
...and here we conclude the Fawkes Family Follies. I have a feeling there are many other stories about this clan, but this is all I could find in the pages of the Los Angeles Times.
---