The Burbank Golden Mall, 1967-1989
by Wes Clark and Mike McDaniel
---
You have to give the city planners credit. The Burbank Golden Mall was a bold exercise in forward thinking: six city blocks long and two wide, it incorporated futuristic, hexagonal designs with restroom facilities, fountains and pedestrian-only access to the stores along San Fernando Boulevard. No dirty, noisy cars would ruin the Burbank shopping experience! The promotional text Burbank supplied said it all: "A six-block, traffic-free 'Golden' Mall has been scheduled for construction during 1967. The area will encompass the present downtown Burbank on San Fernando Road from Tujunga Avenue to San Jose Avenue. This undertaking has been intelligently designed for pleasurable shopping and browsing in a relaxed and attractive atmosphere."
As a kid, I used to view the signs announcing its coming with the same anticipation I had for the 1967 Tomorrowland upgrade at Disneyland; to me, they seemed to be associated visions of forward planning. It was an example of the cities I had seen futurists describe on television, made manifest in my own hometown for me to enjoy. When it opened in 1967 I was eleven, and thrilled to visit the place.
It didn't take long, however, for the dream to sour. My father complained about having to park far away from the stores he wanted to visit, rather than right in front, as he was used to doing. It was a complaint shared by other Burbank shoppers, who were increasingly driving to Glendale to buy. Also, the quality of the stores began to decline, and then they failed entirely. I don't know why - a Seventies recession, perhaps? Bur-Cal (fashions), Thrifty Drug Store, Sav-On, Newberry Co., Woolworth's, J.C. Penney, good jewelers and banks - they disappeared one by one. Rather shabby used bookstores began to open in the large spaces where, previously, impressive department stores could be found. Even the water in the fountains became dirty, when there was water in them at all. The worst became apparent in the late Seventies, when the city opened a job assistance office across from Ed's Town Shoppe; the shabby-looking men ambling around the office was hardly the sort of thing one expected from the futurists.
A 1988 Los Angeles Times article about the mall's woes is here.
Conceding defeat, in 1989 the City of Burbank removed the mall entirely and once again opened up San Fernando Road to vehicular traffic.
I am happy to report that business is once again thriving along San Fernando Road. Whether it's "golden" or not is anyone's guess.
Before the building of the mall, circa 1965.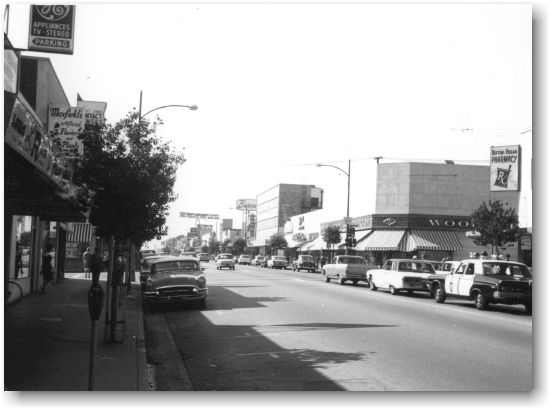 San Fernando and Orange Grove; Woolworth's awning is visable.
From Magnolia Blvd. looking towards Glendale. The Sav-On sign can be seen at right.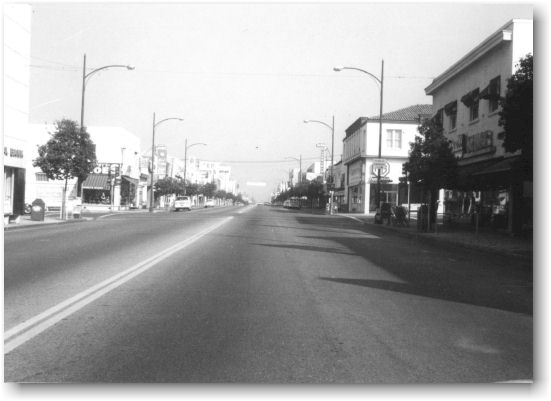 Above and below: Note the MG dealership at right.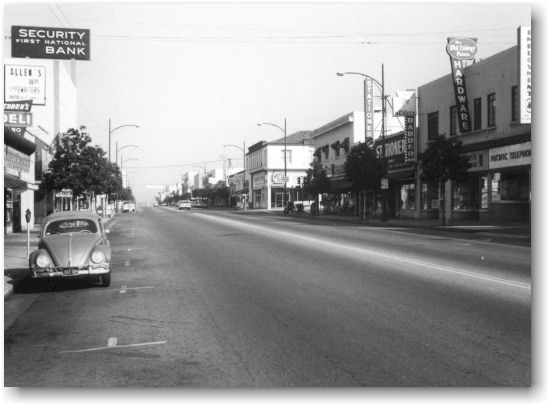 Above: The plan.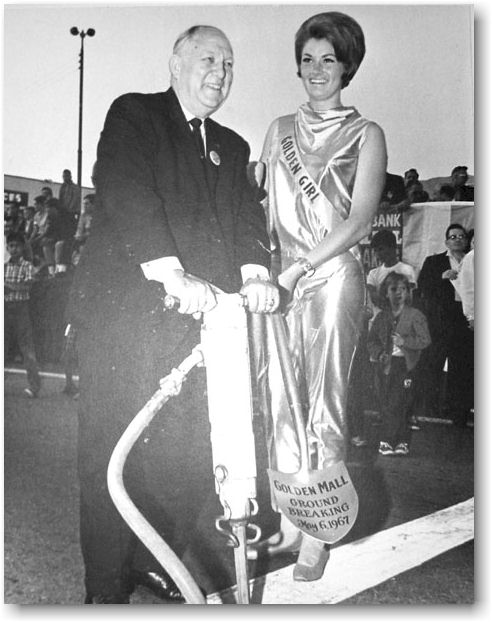 Above: Groundbreaking ceremony, 6 May 1967. Mayor Compton and Golden Girl Jan Chronert.
Below: Construction begins, 1967.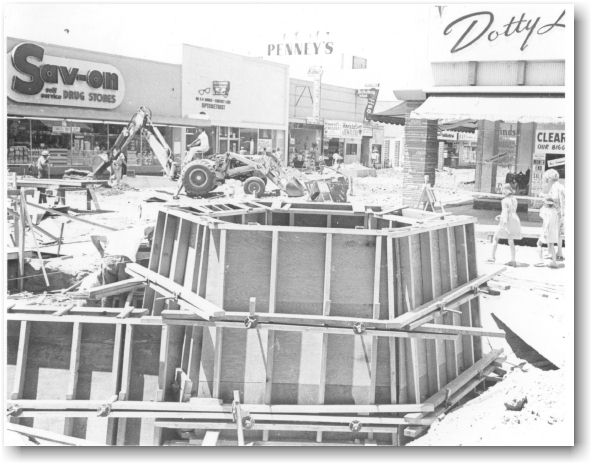 The design for the mall included plenty of hexagons... A mother and her daughters walk carefully through the construction area.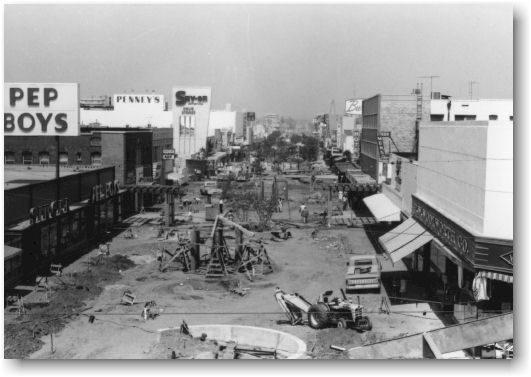 Pep Boys, seen at left, was one of the anchor stores.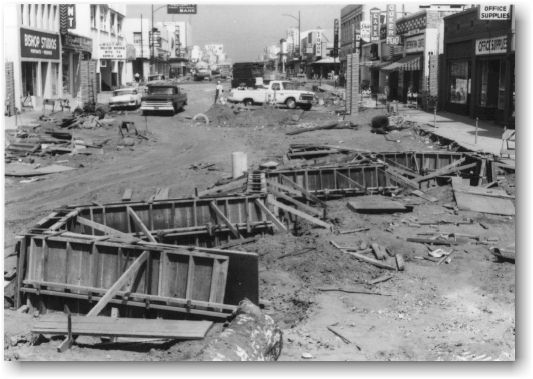 Bishop Studios, seen at left, took my high school senior portrait.
The City Fathers couldn't have been real thrilled with Kelly's Pool Hall - seen below, in detail - forming a part of the mall.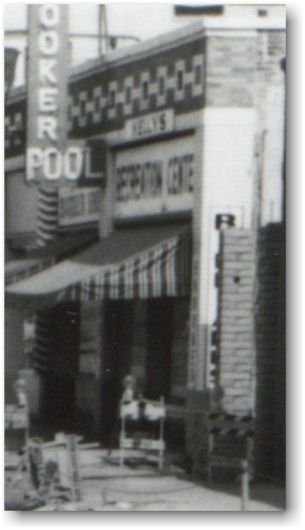 Ed's (later, "Ed's Town Shoppe"), purveyor of men's clothing.
Below: Details. Remember those little Ford Falcon trucks? And that's what an Orange Julius sign used to look like.
Burbank Surplus was "The Workingman's Store" in an era when manual labor had value.
Below, in detail: Perren's Deli was a popular gathering spot.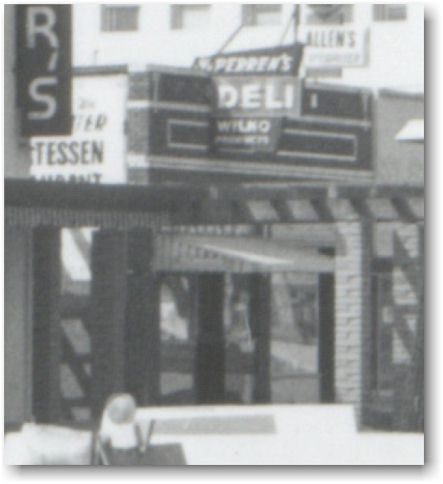 Below: The mall is completed, circa 1967.
The hexagonal white building are men's and women's restrooms.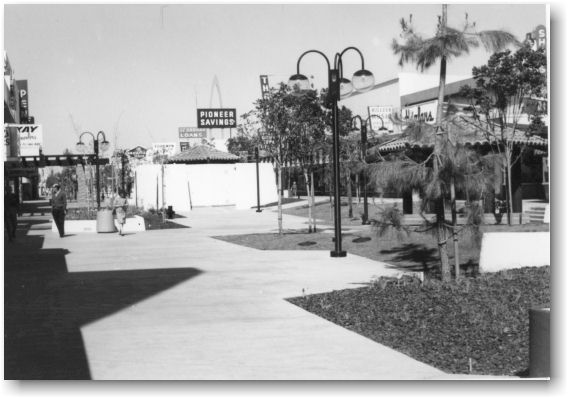 Detail, below: I was always amused by the Foreman and Clark store because my last name is Clark and I had a friend named Sam Foreman.
In 1973 we bought a piano from Killeen Music.

A play area for kids with mid-century moderne items to scramble upon. (But the old Coca-Cola sign looks reassuring.)
Note: Scope mouthwash for sale across the street for 68 cents.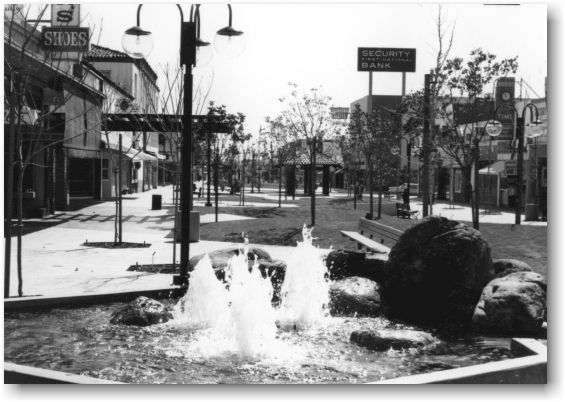 Bubbling fountains were a welcome sight on hot Southern California days.
By the time the Golden Mall was completed, it appeared on postcards. ("Beautiful Downtown Burbank" postcard #1, "Beautiful Downtown Burbank" postcard #2 and "Beautiful Downtown Burbank" postcard #3.) These may date from the Seventies.
---
In 1968 the City threw a party for the Marine Corps at the Golden Mall: MARINE CORPS DAY IN BURBANK, 1968.
---
IMAGES OF THE GOLDEN MALL - CONSTRUCTION TO COMPLETION
IMAGES OF THE GOLDEN MALL FROM 1973
---
Thanks to Gregory May, the Copley newspaper family and the Save Our Heritage Organisation collection, here are 113 1968 Golden Mall construction photos.
---
Golden Mall night time color slide 1, 2 and 3
---