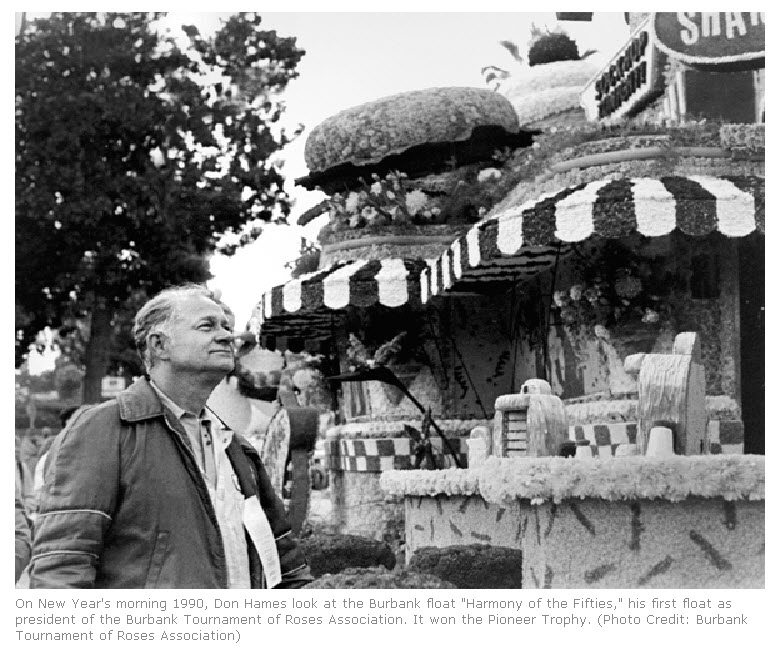 Ashes of Burbank float volunteer to ride on this year's Rose Parade entry
By Dana Bartholomew, dailynews.com, 12/28/2012
---
When the 81st Burbank float glides by Tuesday in the Rose Parade across Pasadena, it will carry more than a grand underwater sea adventure.
It will ferry the remains of Don Hames, patriarch of city volunteer float builders, on his last jaunt down Colorado Boulevard.
"He'll be proud," said his son John Hames, 47, of Burbank, a past president of the Burbank Tournament of Roses Association who will load the box of his father's ashes within the "Deep Sea Adventures" float.
"He'll feel inspired that his dream is still going strong."
Hames, who died in 2010, worked for 28 years to help build Burbank's finest Rose Parade floats, among a half dozen made entirely by volunteers.
When the city nearly stopped making floats 20 years ago, the former diemaker helped teach his team to weld to honor the self-made tradition.
And the father of five, having survived an operation for teenage polio, loaned his body for two years to Loma Linda University School of Medicine.
It was released, then cremated, on Dec. 20.
"Don is still in our hearts," said Erik Andersen a board member and official historian of the Burbank float association. "He dedicated his life to helping build the floats."
In 1982, Hames, who worked at ITT Industries, jumped aboard the Burbank float bandwagon with Anderson and his 15-year-old son, John.
Eventually, Hames would recruit three generations of his family, including his late wife, Noreen.
A decade later, the city withdrew its welders, which could have pulled the plug on the parade. But Hames pressed on, taking welding classes with volunteers to construct the city's first self-built float -- from the bottom up.
When Burbank won the 1992 Founders Trophy Award for self-built floats, Hames cried.
Each year since, the jovial float skipper helped narrow down 100 renderings to a half dozen contenders.
Then from May to January, his core volunteers slaved to build the best possible Burbank float -- with a rush of 400 "petal pushers" mounting flowers on the eve of the New Year's Day parade.
A perfectionist with a vision, Hames was always willing to listen to others, his family and friends said. A kindly man, he delighted in scaring teenage girls at "Fright Night" fundraisers.
A busybody, he was always willing to give a tour of what was taking shape in the Burbank float barn.
Ask him about the fresh floral wonder, and he would grin from ear to ear.
"It's ours, and we feel so proud that what we built goes out on the parade route," Hames, of Winnetka, once told the Daily News. "My head gets so big, I can't get through the doors."
His spirit may return with each bloom.
When Burbank's 50-foot "Deep Sea Adventures" rolls 5 1/2 miles Tuesday in the 124th Tournament of Roses Parade, a young girl will sail a yellow submarine, pulled by rocking sea horses, and guided by a giant octopus.
Atop the submarine coated with strawflower will perch a giant periscope with a blinking eye.
Inside a plastic box, loaded deep inside the submarine, will be the ashes of the float's late director emeritus, Don Dee Weldon Hames.
---