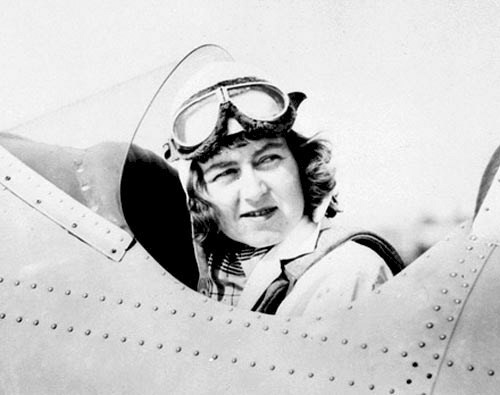 Laura Ingalls
Aviator, Nazi Agent, Burbank Mata Hari
By Mike McDaniel and Wes Clark
---
The first thing you should know about the Laura Ingalls we're talking about here is that this is not the author of the Little House books. That's Laura Ingalls Wilder. This is a different Laura Ingalls. And no, they were not related.
The Laura Ingalls we're concerned with here is a famous aviator and holder of many records. Her wikipedia entry is here, and the records she held are:
Longest solo flight ever made by a woman at 17,000 miles
First solo flight by a woman from North to South America
First solo flight around South America by man or woman
First complete flight by a land plane around South America by a man or woman
First American woman to fly the Andes solo

Mike recently received some Lockheed photos and was attracted to a number of them shot in the Burbank Union Airport in the 1930's, which show Amelia Earhart, Laura Ingalls and Roscoe Turner (a barnstormer and friend of Howard Hughes). Note: The plane shown here belongs to Laura Ingalls, not Amelia Earhart.
Here they are: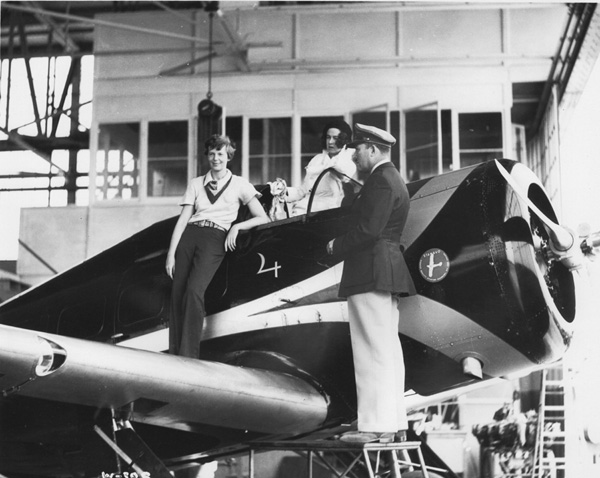 Laura Ingalls circa 1931
Youtube video showing Laura Ingalls getting her Transport Pilot's Rating
Laudatory feature article from a 1938 New Haven Register
The 1940 Burbank High School yearbook was partially dedicated to her!
So she was flying high, figuratively and literally!
But later on in her life Ingalls wasn't just known for her aviation feats. She also got into trouble in wartime for being an unregistered agent of the German Reich. She was tried, convicted, and sentenced on 20 February 1942, to prison for a term of between eight months and two years. She was transferred from the District of Columbia prison to serve her time in the West Virginia Women's Reformatory in Alderson, WV on 14 July 1943. Ingalls was released on October 5, 1943.
The relevant articles from the Los Angeles Times follow.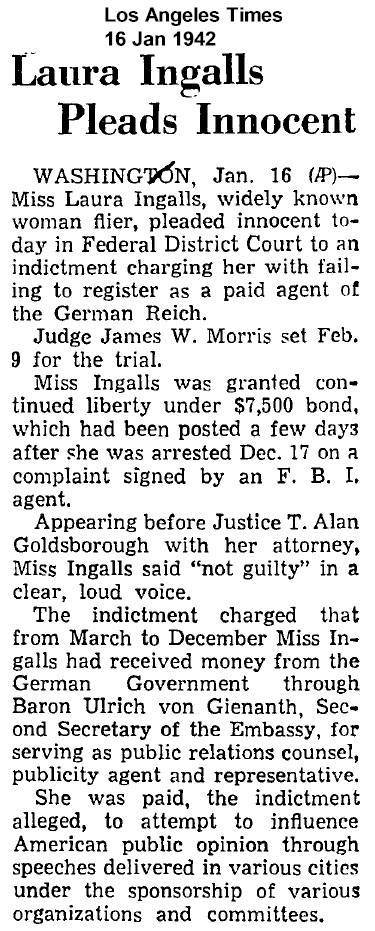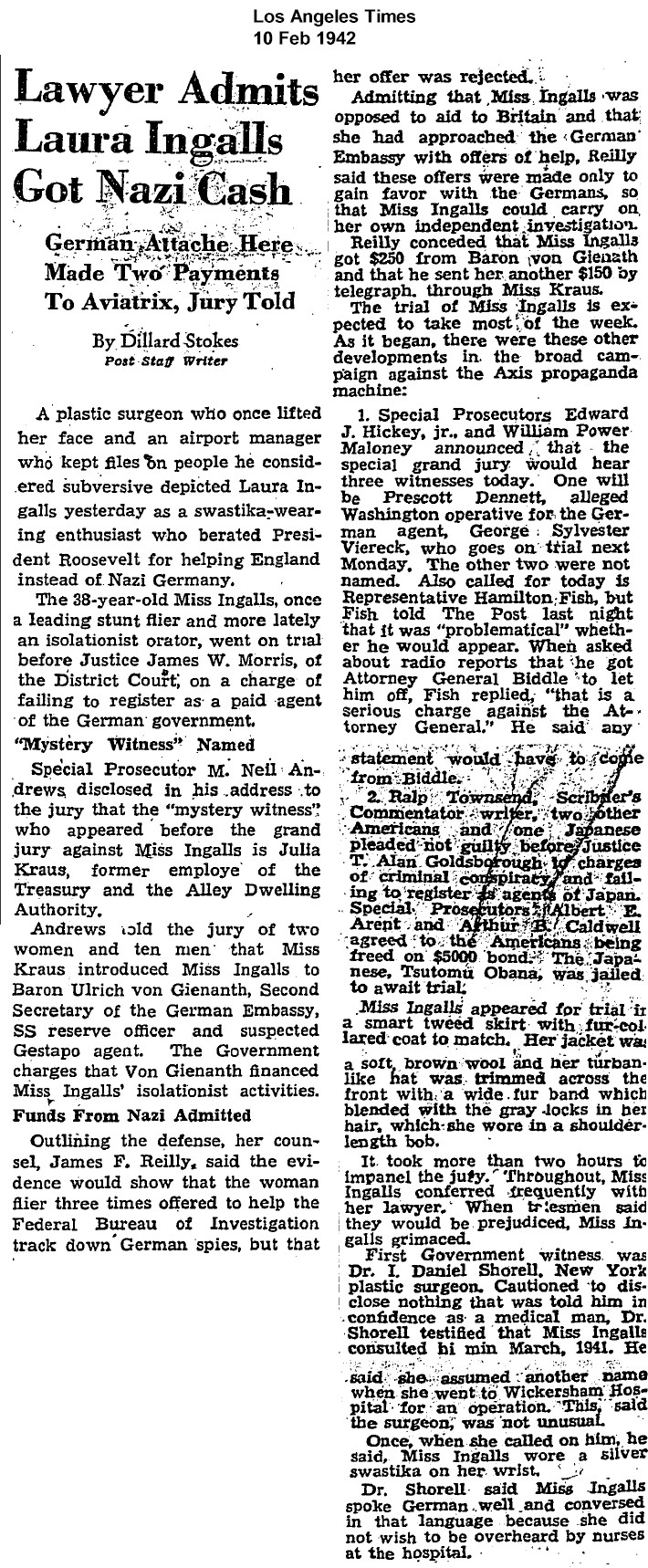 Here's an interesting photo from a Nevada newspaper:
Apparently while in prison her Nazi beliefs about racial supremacy weren't well received: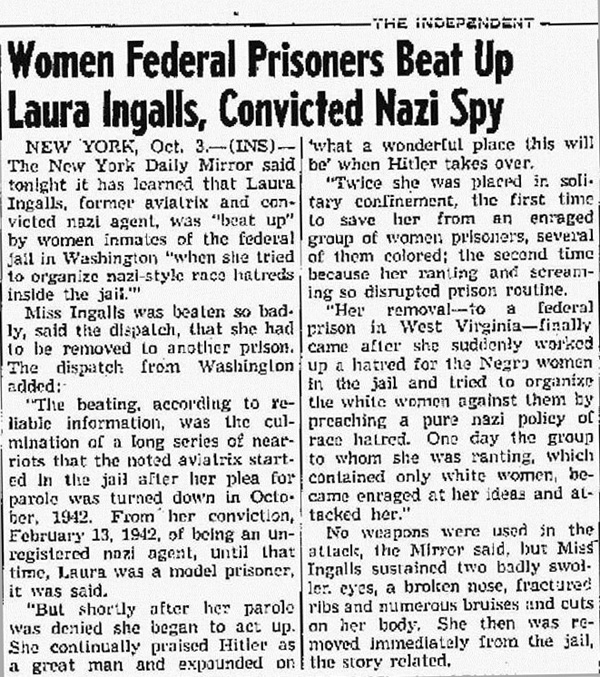 A wartime editorial mentioning her:

And here's a mention of her from a 1975 paper: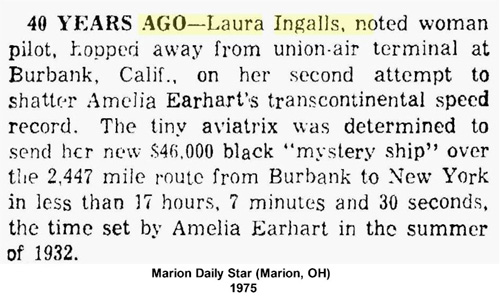 Laura Ingalls lived in Burbank, on 1480 Country Club Drive. Here are two listings:

Laura Ingalls died on 9 January 1967. Here's her tombstone at the Wiltwyck Cemetery in Kingston, NY:
Obituary from the Daily Review of Burbank, California, January 17, 1967:
Laura Ingalls, famed early aviatrix, dies
Miss Laura Ingalls, who became the first flyer to complete a solo flight around the South American continent in 1934, died recently [January 10, 1967] in Burbank. She was 66.
Miss Ingalls had lived in California 30 years and at 1027 Country Club Drive 12 years.
The daughter of a socially prominent New York family, Miss Ingalls' great love was flying.
She placed second in the 1936 National Air Races in a special contest for women. She completed a transcontinental trip, flying alone in her Lockheed Orion, in 15 hours and 39 minutes.
Miss Ingalls was also enthralled by aerial acrobatics. The first woman to earn a transport pilot's license, she performed 980 continuous loops in her DH Gypsy Moth and 714 consecutive barrel rolls over St. Louis.
In 1935 Miss Ingalls set out to set a record for the first non-stop coast-to-coast flight from east to west. She made the flight in 18 hours and 19 minutes. She then broke Amelia Earhart's nonstop record by 5 1/2 hours.
Miss Ingalls leaves a brother in Paris, France and a sister-in-law in New York. Private funeral services and burial were held.
From the Social Security Death Index:
SSN: 092-26-4786
Last residence: 91501, Burbank, Los Angeles, California, United States of America
Born: 14 Dec 1893
Died: Dec 1966
State (Year) SSN issued: New York (1951)
---
Finally, there's a lot of data here, from a discontinued geocities page.
---
Some links:
Laura Ingalls - Just One Flight Too Many!
---