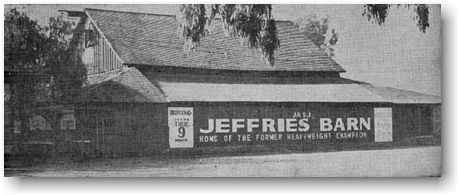 ---
The Jeffries Barn
By Wes Clark
James Jeffries is considered to be one of the great heavyweight boxers of his era, perhaps the best of all time. He owned Burbank property on the corner of Victory Boulevard and Buena Vista Avenue in Burbank. On that property stood the Jeffries Barn, where Thursday night boxing matches were held from 1931 to Jeffries' death in 1953. It is interesting to note that John Garfield's big boxing scene in the Dead End Kids film "They Made Me a Criminal" (1939) was filmed in Jeffries' barn. After Jeffries' death the barn was dismantled and moved to the Knott's Berry Farm amusement park in Orange County. The land was a vacant lot until 1976, when a shopping plaza was built.
From "A History of Burbank" (1967, Burbank Unified Schools):
In 1904, national attention was drawn to Burbank when James J. Jeffries, the heavyweight boxing champion of the world, bought 107 acres for a ranch on Victory Boulevard. He paid $2,000 down and assumed a $10,000 mortgage. Only ten acres were placed under cultivation, and the rest was sagebrush and sand. Jeffries later developed another 93 acres and planted alfalfa. The market price for alfalfa dropped shortly after this time and it did not pay Jeffries to harvest his crop. He decided to put cattle on the land to eat the alfalfa. This proved to be a prosperous enterprise. Jim Jeffries became one of the country's foremost suppliers of thoroughbred bulls. Most of them were sold in Mexico and South America thus establishing Burbank's first foreign trade relations.
Jeffries built a large ranch home and a barn on the corner of where Victory Boulevard and Buena Vista Street now intersect. According to my father-in-law Don Bilyeu (who lived in Burbank at the time and visited the Jeffries Barn a number of times to watch fights), the house and barn were separated by Buena Vista. The house was on the southeast corner (where a shopping plaza is now), and the barn was located on the south west corner (where Ralph's front parking lot is now). Jeffries gradually sold parts of his ranch until only his home and barn were left when he died, March 3, 1953. The barn may now be seen at Knott's Berry Farm where it was moved to make room for a labor union building which used to occupy the site. The home deteriorated after Jeffries died and was torn down years ago.
"Former Ring Great's Home to be Destroyed" (L.A. Times, 2/14/1960) - One, Two
"City Starts Proceeding to Demolish Jeffries Home" (L.A. Times, 3/13/1960)
A special 1945 birthday edition of The Barn News is here.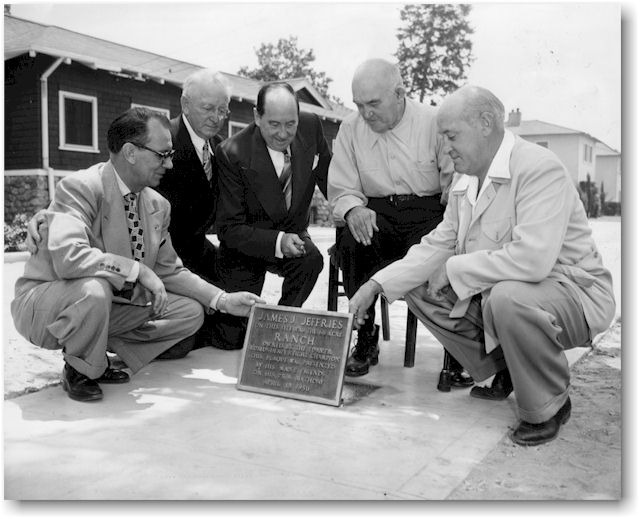 An old boxing champ receives some recognition, 15 April 1950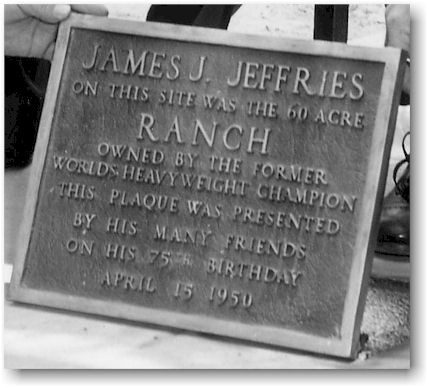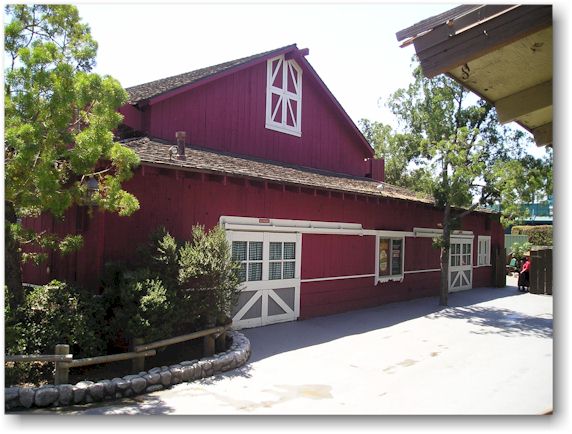 The Jeffries Barn today, at Knott's Berry Farm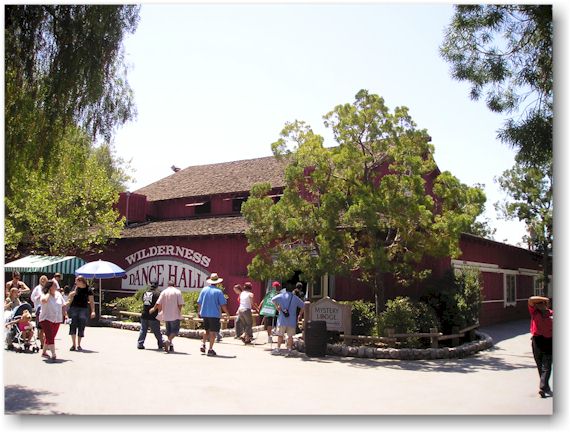 Jeffries Barn from Frederic Street
Elks Club rodeo held at the Jeffries Ranch in 1930: One and Two
James Jeffries, Debbie Reynolds and possibly Shirley Temple, Christmas, late 1940's
James Jeffries Playing Card Backs - An indication of his popularity!
James Jeffries 75th birthday (15 Apr 1950)
Ranch Show at the Jeffries Ranch, 1932
James Jeffries (20 Sep 1943)
Boxing News (11/17/1932): One, Two, Three
James Jeffries' protege "Spider" Mock - 1, James Jeffries' protege "Spider" Mock - 2
Another shot of the barn from the 40's or 50's
Photos from a visit to the Jeffries Barn at Knott's Berry Farm
"The Boilermaker"
Some photos
1904 Bout Ticket
Barn interior
At the 1904 bout
Bag and bell
---
Provided by the Carroll Area Historical Society
Jim Jeffries
James J. Jeffries was born in a two-story log cabin near the corner of Carroll Northern and Basil Western Roads on April 15, 1875, the son of Alexis and Rebecca (Boyer) Jeffries. The family moved to California when Jim was about seven years old.
After graduation from high school Jeffries worked a number of jobs, including one as a boilermaker - thus giving him the nickname for his later professional boxing career. A natural athlete and a quick study, he was soon moving up in boxing circles and soon earned a reputation as an intelligent fighter who could take "inhuman" amounts of punishment.
He defeated Bob Fitzsimmons in New York in 1899 to claim boxing's highest prize and defended the title seven times, which was unusual for the time as many champions would not risk it. He retired undefeated in 1905, saying, "There is no one left to fight."
Coaxed out of retirement in 1910 for a fight with then world heavyweight champion Jack Johnson, Jeffries was out of shape and a shell of his former self but still put up a good fight before losing in the 15th round with a TKO.
He went back to retirement at his Burbank, California, ranch where he continued to train young boxers. Jeffries died on March 3, 1953. Jim Jeffries was named to the International Boxing Hall of Fame and is considered by many experts to be one of the top three boxers of all time.
---
James Jeffries, the World's Heavyweight boxing title holder from 1899 to 1905, was born in Carroll, Ohio. Although James lived in California as an adult, Carroll residents always considered him their own. (It is believed that James lived in Carroll until the age of 6, when his father, a Methodist minister, moved the family of eight children to California. )
Carroll residents reveled in Jim's six successful title defenses during his reign as "World Heavyweight Champion. II In 1905, he chose to retire undefeated. At the age of 35, Jim decided to come out of retirement and lost to the great champion, Jack Johnson, in what was termed the "fight of the century" on July 4, 1910.
The day after the fight, The Dispatch compared Jeffries loss to the only other "major" tragedy that had confronted the tiny Fairfield County town 30 years before. "Never since the day the body of Jim Jeffries' grandfather was snatched from its peaceful resting place in the little cemetery at Carroll has that town been so deeply cast into gloom as when the news of the big fight reached there on Monday evening announcing that Carroll's idol had bitten the dust in the ring at Reno.
Jim's grandfather was buried in the cemetery, and shortly afterwards it was discovered that the grave had been opened and that "body snatchers" had been at work. The little town was stirred into a furor and a searching party visited every medical college in Columbus without avail. The body was never located, but it has been believed in Carroll that medical students in Columbus had stolen it.
That incident has since been forgotten in Carroll, but the boxer's memory still lives on street signs that greet the visitor with the news that it is the birthplace of Jeffries, the former heavyweight champion. He died in California in 1953.
(This article was written by Bob Hunter, a Sports Reporter for the Columbus Dispatch and was contributed by the Village of Carroll Municipal Office.)
---
James J. Jeffries signature, 1942
Jeffries Barn News (9/30/1944)
Various James J. Jeffries images
James J. Jeffries and Hoyt Jones, early 1930s
Auto racing (!) at Jeffries Ranch (undated - 1930's?)
James J. Jeffries, Jeffries Center sign
---
Contributor Don Ray notes: "In 1954, a developer planned to build a million-dollar hotel at the site of Jim Jeffries Barn that was on Victory Blvd., just west of Buena Vista. The front of the barn (the west side) was just about exactly next to the current Ralphs Market. His home was across Buena Vista in what's now the parking lot of what they call The Landmark Center. Today, the Jeffries Barn is located at Knott's Berry Farm." The Valley Hotel was never built.
---
James J. Jeffries posthumously inducted into the National Boxing Hall of Fame (NBHOF)
---