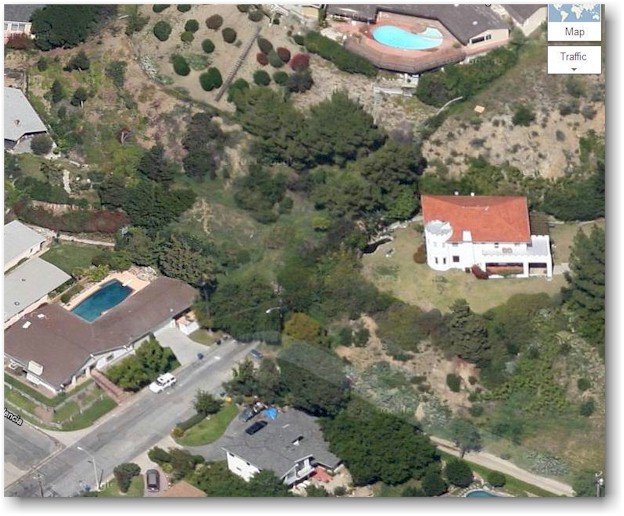 The Lovejoy Castle
By Wes Clark and Brian Schneider
Burbank history continues to fascinate me! So many things to know... I got an interesting series of e-mails from reader Brian Schneider, who writes:
I've lived in Burbank most of my life; I'm 50. My family owns a house at 1220 E. Providencia. It is a Moorish castle built in 1926 by a man named Lovejoy who was a railroad tycoon and the son of a Confederate Cornell who owned the Lovejoy plantation in Atlanta. [It is now known as the Crawford-Talmadge House. - Wes] The property is on eleven acres and was purchased by Lovejoy.
Anyway I've been trying forever to find photos of the hillside showing the house. There could not have been to many other structures up there then. As far as I know, over the years it was used as an orphanage and a sanitarium. Lovejoy went bankrupt in 1929 and the purchasers felt sorry for him so they took a shack on the property, moved it to a corner and gave it to him. His relatives owned Lovejoy's Antiques in Toluca Lake for years.
The property is shaped like an isosceles triangle pointing north. My father owns the property. He's William Schneider, a former NASA scientist.
The house is on Providencia. You just drive to the top of the street and look up. One cool thing about it is that for some reason, the property has been adopted by a herd of deer. There are usually between five and fifteen deer just hanging around on it, under trees in the front lawn or in what we call "the meadow" below the house.
Also, in the 1980's my parents rented the house to Olivia Newton John's production company. She had her musicians staying there when they were in town and I believe they filmed a music video there. At least that's what they said. But I never saw it.
If you ever run across any photos of the hills from the 1920's through the 1940's showing the very few houses on it, I would love to hear about it. As I wrote, I've been looking for one for years.
By the way, there is one Lovejoy left; he's the youngest son of the fellow who built the house. He's in his nineties and is living in Camarillo. I spoke to him once and he said he had lots of old photos of the estate he'd share with me but then I lost touch with him. He may not be with us anymore.
Fascinating! I hereby name this storied building the Lovejoy Castle!
---