Marilyn Monroe in Burbank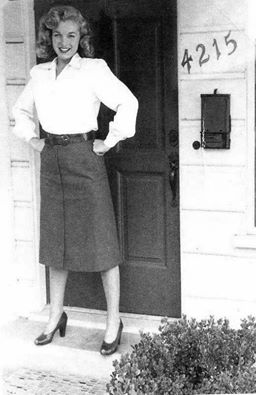 Norma Jeane Dougherty (Marilyn Monroe) in front of the home she lived in located at 4215 Rowland Avenue in Burbank, ca. 1947-1948.
From Harry A. Marnell: "The former Rowland Avenue is now Warner Blvd, and the modest home at 4215 (built in 1937 per Assessor's Records) is still there, the fourth house west of Rose Street, about midway between Pass Ave and Clybourn Ave on the north side. Here's a Google Street View, though the front door is unfortunately in deep shade.
Marilyn Monroe not only lived in Burbank; she worked there for a time, too. Here's an account from the Marilyn Monroe Forever In Our Hearts Facebook group posting:
"Norma Jeane Dougherty got a job at the Radio Plane (sic) Company defense plant in Burbank, California in Spring 1944 through the influence of her mother in law, Ethel Dougherty, who worked at Radio Plane as a nurse. It was Norma Jeane's first job. She proved to be a hard worker and was awarded an 'E' certificate from her employers, for excellence on the job. Some records state that she first worked as a typist, and as her typing speed was too slow, 35 wpm, she was transferred to inspect parachutes. 'Not the kind of parachutes life depends on, but the little parachutes they use to float down the targets after the gunners are through with them. That was before I worked in the dope room, the hardest work I've ever done. The fuselage and various parts of the ship were made of cloth at the time, they use metal now, and we used to paint the cloth with stiffening preparation. It wasn't sprayed on; it was worked in with brushes, and it was very tiring and difficult. We used quick-drying preparation, a type of lacquer, I guess, but heavier, the smell was overpowering, very hard to take for eight hours a day. It was actually a twelve hour day for the other workers, but I only did eight because I was underage. After the cloth dried, we sanded it down to glossy smoothness.'"
Note: The Radioplane Company, in Burbank, was founded by British actor Reginald Denny in 1940. (Before that he owned a hobby shop business in Hollywood.) The company manufactured small remote-controlled pilotless aircraft, intended to help U.S. Army and Navy anti-aircraft gunners improve their targeting skills. During the war Radioplane produced nearly 15,000 target drones for the Army. The business was purchased by Northrop in 1952.
---