The U.S.S. Enterprise NCC-1701: Made in Burbank!
---
While I was strolling in the museum store of the Smithsonian Air and Space Museum in Washington D.C. the other day, I stumbled across the full scale model of the U.S.S. Enterprise from the original Star Trek TV series, mounted in a case. The photo above was on a descriptive plaque, along with this text:
The "Roll out" of the Enterprise: The Enterprise model is shown here in December, 1964, along with the men of the Production Model Shop in Burbank, California, who built it (left to right): Richard C. Datin, Jr., Mel Keys, and Vernon Sion (not pictured, Volmer Jensen). It took them more than six weeks and required about $600 worth of materials. Datin supervised the construction and did the detail work and subsequent alterations. Photo courtesy of Paramount Pictures.
Is that cool or what? Star Trek's U.S.S. Enterprise, NCC-1701 - Made in Burbank!
Note: I believe Vern Sion is the one in the overalls. (In 1951 he grew an interesting beard.) This photo is discussed here on this Cult TV website.)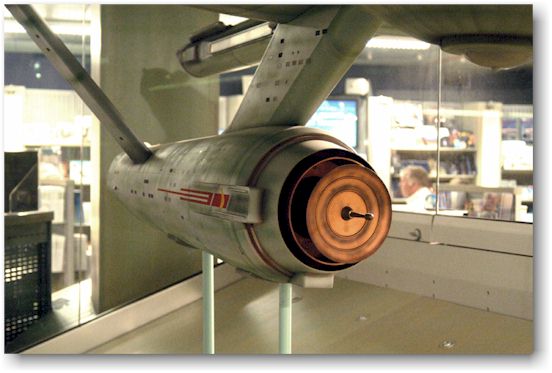 That light bulb doesn't look like it's from the 23rd Century...
---