1949 and 1950: Snow in Burbank!
---
Growing up in Burbank, where it was almost always sunny and warm, I was surprised to hear local lore that it had once snowed there. The only snow I had ever observed was atop the Verdugo Hills in early 1979, when we had a minor hail storm.
Yet... it did snow in Burbank. Apparently twice, in January 1949 and a lesser amount in January 1950.
The 13 January 1950 Los Angeles Times article that described the later occasion is here.
More photographic proof is below, furnished by Mike McDaniel.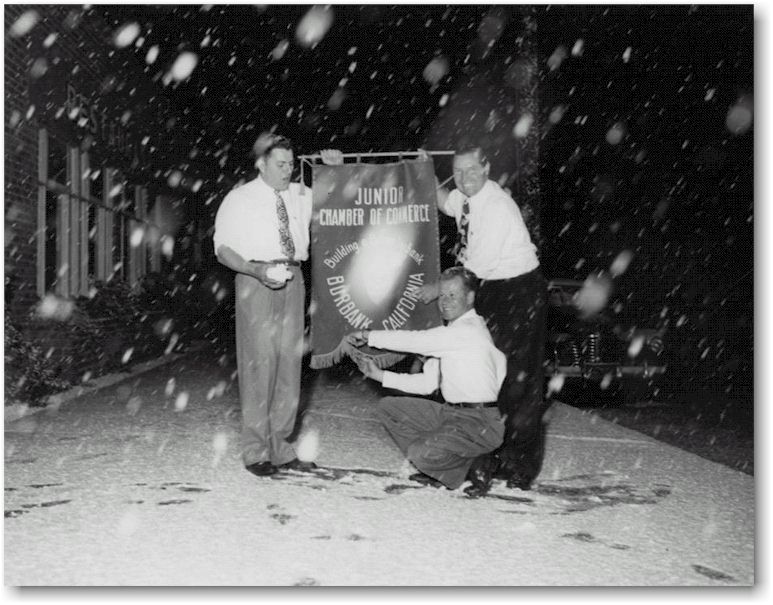 You can detect some snow giddiness in this shot! My guess is that these three unidentified Burbank Junior Chamber of Commerce members were attending a meeting at a local restaurant (the flash partially illuminates the sign to the upper left) when it began snowing. No, the fellow at the left isn't wearing a fez - that's a blur caused by falling snow. Even accounting for blurring by a slow camera shutter, those appear to be big flakes! (The snow, I mean, not the Chamber of Commerce members...)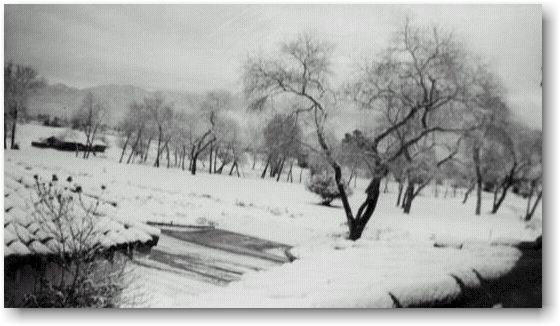 This photo - location unknown - is interesting for two reasons: 1.) The Spanish-styled tiled roof in the foreground, and 2.) the tilted landscape. Good composition, though...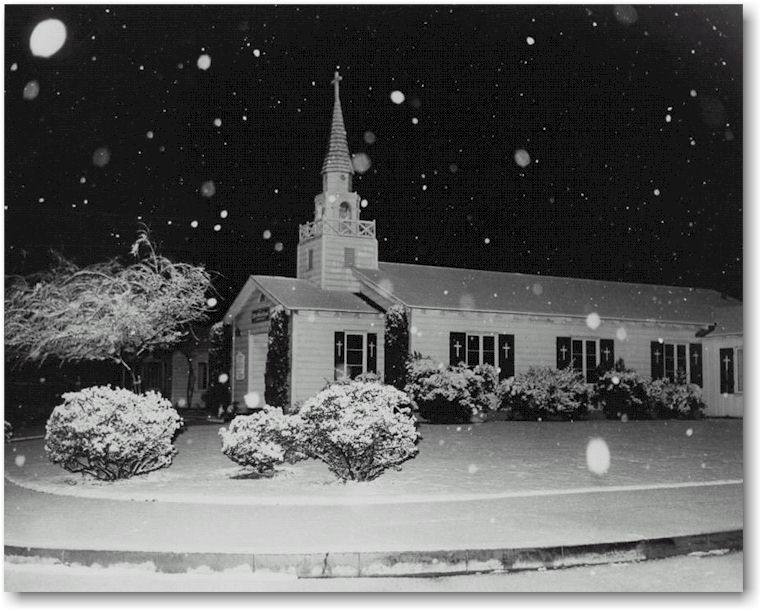 A quaint little traditionally-styled place of worship in an undisclosed location in Vermont on a cold, snowy night? Nope. It's a church on Hollywood Way in Burbank! (It's still there.) The photographer must have been struck by how very much unlike Southern California this scene was.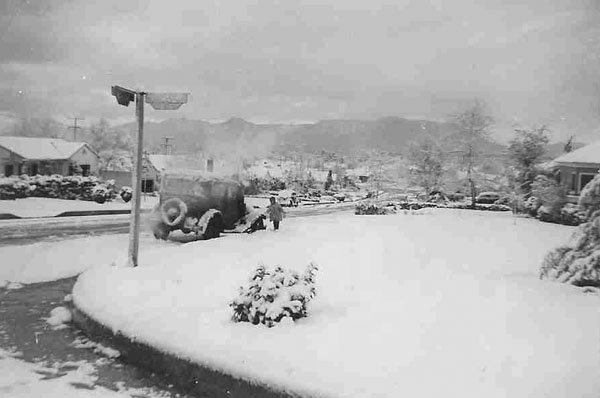 Sylvia Dodson Novak provided this photo and a caption: "My first car, a 1930 Chevie sedan, is shown parked in front of the Dodson home on the corner of Orchard Dr. and Tulare St."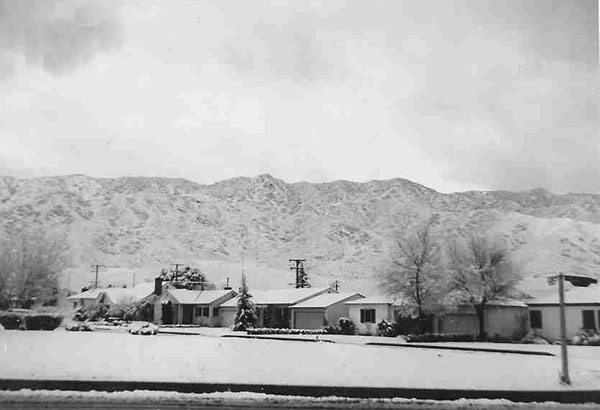 She writes, "You can see that the Verdugo Hills got a good dusting!"
My father-in-law, Don Bilyeu, was a Burbank resident at the time, and writes, "I remember the snow. I was married in December, 1948 and we lived in a converted garage. In this garage "conversion" the plumbing was on the outside of the building. The pipes froze and we had to go up to my folks' house to wash and brush our teeth to get ready for work. As to the amount of snow - as I recall there was about 2 to 3 inches down in the valley. A college mate of mine and I drove up Olive above the last street up above the Mormon Church and saw that there was about 4 to 6 inches up there. However, it did not last very long; I think it was melted by the next day."
Ron Gurney (Burroughs High School class of 1954), writes, "One of the pictures shows some people holding a Junior Chamber of Commerce banner while the snow is coming down. The man on the right of the photo is Mr. Glenn Crawford. He was the city engineer for the City of Burbank and very active in local charities and fund raisers. His sons were Alan Crawford and Tom Crawford. Tom graduated from Burroughs in June 1955. Alan graduated from Burroughs in 1952. I knew Mr. Crawford very well."
HISTORICAL NOTE: According to Jackson Mayer's Burbank History (1975), the 1949/1950 snowfall wasn't unique. "So heavily did it snow on December 30, 1915, that children could not go to school. But they could throw snowballs." Also, "A freak hail storm struck the Valley on March 26, 1920, and youngsters made ice cream with the hail stones." Also, "On December 14, 1931, the Valley was 'white-blanketed by a driving snow storm.' (Not too bad in Burbank, apparently.) Heavy snow also fell on January 15, 1932." (In the Verdugos, according to the Los Angeles Times.)
Also, Jim Wahler sent me this photo of February 26, 2011 graupel (hail/snow - look it up!) - Sunset Canyon off Walnut.
---
ADDITIONAL: Jean Nitchman sent me the photos below. Dated January 11, 1949, they are from her house on Keystone St. (between Burbank and Victory).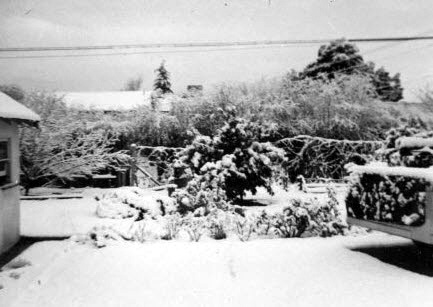 Grapefruit tree and our "homemade" tent trailer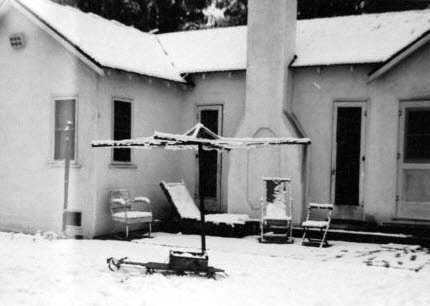 Back patio; note our sled by the clothes line
---
Gordon Palmer's home movies of the January 1949 snow
---