Murder on Lincoln Street!
The 1933 Tom Bay Case
by Wes Clark and Mike McDaniel
---
When my father and mother bought a house on the 1600 block of North Lincoln Street in Burbank in 1965, I had no idea that, just about a mile south down the street and 32 years prior, a famous murder took place.
The victim was a cowboy star of the times, Tom Bay (shown above), and the accused murderer was his lover, Alta Lessert. By 1965 the incident was forgotten; surely neither of my parents knew about it. But the story emerged when Mike came across an old photo of possible Burbankia interest...
But perhaps it's better to relate this story via photos and excerpts from the Los Angeles Times...
October 12, 1933
Hollywood
The colorful and daring career of Tom Bay, actor and who as a film stuntman had "doubled" for many of Hollywood's Western stars in breath-taking episodes, was ended last night by a bullet wound.
The asserted slayer, Mrs. Alta Lessert, 36, was in the prison ward of the peneral hospital today, suffering from two self-inflicted bullet wounds. She was expected to recover.
Police reported the shooting followed a quarrel between Bay and Mrs. Lessert, both of whom resided in the same house. Another woman, whose name was not revealed by police, was present when the shots were fired and was reported to have been the target ot one shot. She was uninjured.
Bay, 35, had been a film stuntman for several years. In 1925 he was tried for the fatal shooting of James "Yakima Jim" Anson, another film cowboy, but was acquitted by a jury on testimony that the shot was fired during a struggle with Anson over a pistol.
October 13, 1933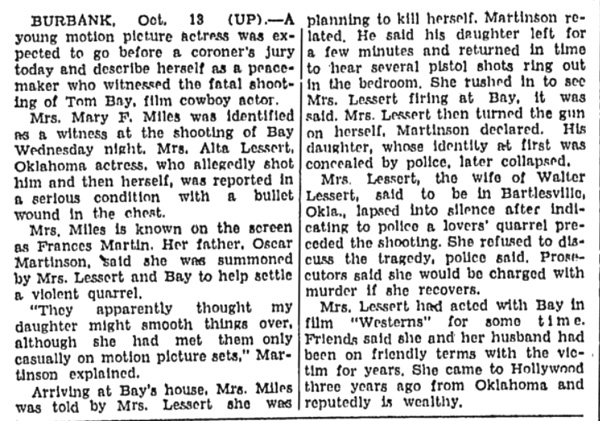 October 14, 1933
Burbank, CA
Mrs. Alta Lessert, Oklahoma actress and wife of Walter Lessert of Barnsdall, Oklahoma, may face murder charges in the death of actor Tom Bay. A coronerís jury held her responsible for shooting him down in the bedroom of his Burbank home.
Police said Lessert became jealous of another woman who entered Bayís life.
October 14, 1933
Burbank, CA
A coroner's jury decided today that Tom Bay, film cowboy, came to his death through shots fired with homicidal intent by Mrs. Alta Lessert, attractive wife of Walter Lessert, of Barnsdall, Ok.
The verdict was reached quickly following the testimony of police and Mrs. Mary F. Miles, known on the stage and screen as Frances Martin, who witnessed the shooting early Wednesday in Mrs. Lessert's home.
Mrs. Lessert, after shooting the former Oklahoma cowboy, turned the revolver upon herself, inflicting wounds which may cause her death. A murder charge has been filed against her by B. H. Adams, police chief.
Picture caption on back: "3/3/34 - LOVE, ANGER, DEATH, REGRET - For the first time since she was arrested for the asserted murder of Tom Bay, her cowboy sweetheart, Mrs. Alta Lessert went back yesterday to the Burbank home where the tragedy took place. But she refused to enter the house. While judge, jurors and attorneys inspected the cottage, Mrs. Lessert, pictured here, leaned against a mailbox bearing her name and that of Bay."
March 11, 1934
Los Angeles, CA
Unable to reach a verdict, the jury trying Mrs. Alta Lessert, an actress, on a charge of murdering her sweetheart, Tom Bay, film cowboy, was dismissed Saturday. The jury reported it stood 6 for conviction and 6 for acquittal.
The jury deliberated approximately eight hours.
Mrs. Lessert testified Bay had beaten and abused her on numerous occasions and the day of the shooting last Oct. 11 announced he was going to kill her. She said she seized the pistol which was lying on a table at his home and shot him first. The district attorney contended the shooting was the result of a loverís quarrel.
April 13, 1934
Los Angeles
Superior Judge Charles W. Fricke dismissed today a murder charge pending against Mrs. Alta Lessert, blonde film star, on the eve of her second trial in connection with the fatal wounding of her sweetheart, Thomas Bay, motion picture cowboy.
A jury in Judge Fricke's court two weeks ago disagreed as to Mrs. Lessertís guilt and today Deputy District Attorney Paul Palmer advised the judge there was insufficient evidence to obtain a conviction. Bay was slain in his Burbank cottage last October 12. At her first trial, Mrs. Lessert pleaded self defense.
---
Bay was 32 when he was killed. Although the Times reporter calls Lessert a "blonde film star," she doesn't have an entry in the Internet Movie Database.
Tom Bay's IMDb entry is here..
Article from westernclippings.com
Article about Tom Bay from b_westerns.com
The house on 602 N. Lincoln Street (the house was identified in an article I didn't reproduce here) still stands. Here it is:
---