CIVIL WAR ENTHUSIASTS BURN ATLANTA TO THE GROUND
from "The Onion," September 3, 1997
---
ATLANTA--The city of Atlanta was destroyed and 230,000 were killed Sunday when a group of overzealous Civil War buffs marched through the Georgian capital, burning it to the ground.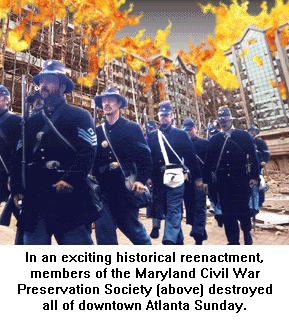 "It was very exciting," said Bob Gerhardt, 43, president of the Maryland Civil War Preservation Society, the group responsible for the attack. "We rode in on horseback just after dawn, crossing the Chattahoochee and approaching the city from the west, just as General Sherman did in 1864. We even used the same kind of kerosene as the Union Army. No detail was spared."
The attack began just before 6 a.m., when guests at Atlanta's Peachtree Plaza hotel were awakened by the sound of a cast-iron cannonball blasting through the hotel lobby. Within an hour, the 71-story building was engulfed in flames. By noon, the flames had spread through the entire downtown area.
"First the Braves lose the World Series, and now my whole family is dead," said Atlanta resident Ben Halleran. "This has been quite a week."
While the attack caused some $2.1 billion in damage, it did have a positive side, as the city's 124,000 black residents were freed.
"Run, run free!" Preservation Society member Phil Spillner, a Baltimore-area dentist shouted to a group of black men near the CNN Building. "You have all been freed! God bless President Lincoln!"
Nearby, at the Georgia Dome, a battalion of Union soldiers stormed onto the field during the third quarter of the Atlanta Falcons' game against the Pittsburgh Steelers, emancipating a number of Falcons, including All-Pro linebacker Jessie Tuggle.
According to Gerhardt, the Maryland history buffs plan to continue their assault on the heart of Dixie, marching all the way to Savannah.
"We will drive the Rebels to the sea," said Phyllis Borelli, a Silver Spring, MD, legal secretary. "Ooh, this is so fascinating--I feel like I'm really there!"
The Atlanta attack is the most destructive historical reenactment since 1991, when a group of Cleveland-area World War II buffs dropped an atomic bomb on Hiroshima.
---