(From The Ghosts of Fredericksburg …and nearby environs by L.B. Taylor, Jr.)
---
It has been written that when he was a school boy, he once had his palm read by a Gypsy who told him he had a "bad hand, full of sorrow and trouble." The fortune teller said that he would "break hearts, but they'll be nothing to you. You'll die young, and leave many to mourn you. You'll make a bad end ... Young sir, I've never seen a worse hand, and I wish I hadn't seen it, but if I were a girl, I'd follow you through the world for your handsome face."
The Gypsy was talking about the palm of John Wilkes Booth, the ill-fated assassin of Abraham Lincoln.
With the possible exception of the assassination and the ensuing storm of controversy which engulfed the death of John F. Kennedy, there is, arguably, no chain of historic events so shrouded in mystique and myth greater than that associated with Booth following his shooting of Lincoln at Ford's Theater in Washington.
While it has been only a generation since Kennedy's death, the confusion and contention which cloaked Booth's death - or alleged death - in a farmer's barn four miles from Port Royal, Virginia, just south of Fredericksburg, has lasted for more than 125 years and still rages today! The questions still are asked.
Was Booth shot by a Yankee soldier, or did he kill himself? Was it Booth who was trapped in the burning barn, or was it someone portraying the handsome actor? Did he somehow escape the cordon of soldiers tracking him through the Virginia countryside to live out his life, as many believe, first in San Francisco and later in London? Why did the U.S. Government rush his body out of Caroline County and secretly bury it? Was this all part of a massive coverup to hide a much broader conspiracy against Lincoln and members of his cabinet?
Why was Booth's diary impounded by Secretary of War Stanton for two years after Booth's death? And why, after it finally was released, were 18 pages missing? Why were Booth's co-conspirators so cruelly treated before their trial, each shackled to a 75-pound iron ball, with his head encased in heavy canvas padded an inch thick with cotton, with one small hole for eating through, no opening for eyes or ears, and laced so tightly around the neck that speech was impossible?
Such questions were fanned for decades after his supposed death by countless reports of sightings of Booth all over this country and in Europe. As one writer put it early in this century, "Booth's ghost, a will-o'-the-wisp, has stalked the Republic, no witness sufficiently impartial and free from suspicion having been found to swear that he looked upon the disputed corpse and knew it either to be or not to be J. Wilkes Booth." [Click here to read one account. - Jonah]
Millions of words have been written about Booth's life and death. Many authors, including immediate members of his family, have sworn that it was not Booth who was killed in Richard Garrett's barn in the early morning hours of April 26, 1865. But if not Booth who was it and what happened to the one-time matinee idol?
Adding to the deep mystery are scores of strange facts and happenings:
- Booth's alcoholic father claimed to have had "ghostly experiences."
- The ghost of Mary Surratt, said to have been one of Booth's co-conspirators in the assassination plot, and the first woman ever executed for murder in the United States, haunts the Surratt House and Tavern near Washington.
- The Sergeant who claimed to have shot and killed Booth was described as being a crazy man "who talked directly to God."
- Many of the main characters involved in the Booth story reportedly died strange and mysterious deaths.
- And, 20-odd years ago, a simple Midwestern farm boy, under professional hypnosis, claimed to have been John Wilkes Booth in a past life. What made this story of reincarnation unusual was that this young man recited obscure details of Booth's life that he had no way of knowing anything about. He also said that, in fact, he had not died on the porch steps of the Garrett farmhouse!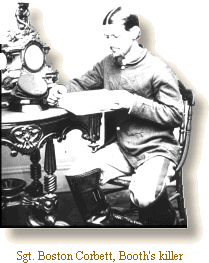 Many of the circumstances of Booth's escape are well known and are fairly unchallenged. After shooting Lincoln in his box at Ford's Theater, Booth, a fairly athletic young man of 27, leaped upon the stage. However, a spur in his boot snagged a draped flag and he fell awkwardly, breaking a bone in his lower left leg. He nevertheless managed to escape by horseback with another young man, named Davy Herold. They stopped at Mary Surratt's tavern around midnight, bolted down some whiskey, and rode on. At dawn the next morning Dr. Samuel Mudd treated Booth's leg, patching it in pasteboard splints. They slept in Mudd's house until near evening. Booth shaved off his trademark mustache, and he and Herold rode off.
For the next 12 days they eluded trackers on a winding route that took them through part of southern Maryland and into Virginia. Eventually, they shot their horses, and on April 24, 1865, crossed the Rappahannock River on a ferry with three Confederate soldiers returning from the war. A short time later Booth and Herold arrived at the Garrett farm, pretending to be soldiers on their way home.
Suspicious of the visitors from the start, Garrett's sons mistakenly believed Booth and Herold were horse thieves, and they locked them in their tobacco barn. Tipped off to their whereabouts, a troop of 26 Union soldiers rode hard from Bowling Green, 13 miles away, and surrounded the Garrett farm at about two in the morning. They encircled the barn and demanded that the fugitives come out and surrender. Herold did, but Booth, playing the actor to the hilt, shouted tragedian speeches, and threatened to fight the troops with his crutch if he had to. In an effort to smoke him out, the soldiers set fire to the barn.
The objective was to take Booth alive, but as the flames began consuming the barn, an inexplicable thing happened. A single shot rang out, striking Booth in the back of the skull, oddly at virtually the same spot Booth's bullet had entered Lincoln's head. At first, soldiers who dragged Booth out, had thought he had shot himself, but then a sergeant named Boston Corbett, a former hat cleaner known as the 'Mad Hatter," admitted that he had pulled the trigger of his pistol, felling Booth. When he was asked why, Corbett said, "God Almighty directed me."
Barely alive, Booth was taken to the porch of the Garrett farmhouse where his bleeding head rested on a pillow in the lap of Lucinda Holloway, a spinster relative of the Garretts. He died shortly afterwards, and she cut off a lock of his dark, curly hair, which according to a 1977 newspaper article, can still be seen at the Caroline County Historical Museum. Old time area residents said that for years afterward whenever it rained the bloodstains could still be seen on the porch. In fact, souvenir hunters so haunted the farm that the Gamtts finally had to remove the boards and refloor the porch.
One of the many who claimed to have seen Booth, if indeed the man laying in Lucinda Holloway's lap was Booth, was William B. Lightfoot, a native of Port Royal who had just returned from Appomattox a few days earlier, Years later, in an interview, he told of seeing something he could never explain. 'There was always one queer thing about the barn," he said. 'The center post, against which Booth was leaning just before they shot him, didn't burn. Next day everything was burned up but it. It stood up there, sir, all blackened but still sound, mightily strangely, in all the ashes."
Equally extraordinary, was the highly secretive manner in which Booth's body was literally whisked from the Garrett porch, rushed back to the Washington area, and buried. The corpse was rolled into a blanket and loaded onto a cart commandeered from a black neighbor named Ned Freeman. He was ordered to drive it northward at break-neck speed. The king bolt on a wheel snapped en route causing the front end to fall, sending the dead man's body lurching forward in the red-soaked blanket. As Freeman worked on the broken bolt, blood dripped on his hands, sending him tumbling backwards screeching, "It's the blood of a murderer - it will never wash off!" Another wagon was appropriated and Freeman left his cart by the side of the road, never to use it again.
At the Potomac River, Herold and the body were transferred to the ironclad Montauk. Ironically, because of all the mystery arising from this curious action, rumors began circulating all over Washington that the body aboard ship in the middle of the river was not Booth. As dense crowds gathered on the bank, Booth's body next was lowered into a skiff and placed into a makeshift coffin - a gun-box. As the skiff drifted downstream, the crowds of spectators on the shore followed, 'splashing through the shallows' to keep pace. Under the disguise of darkness, the boat turned into the great swamp behind Geeseborough Point, and the spectators could follow no further, because this area was a swampy morass into which worn out horses and mules were thrown.
At midnight the weird sojourn continued. Oarsmen rowed stealthily upstream to the old penitentiary building, where a hole had been chopped in the masonry to allow them to enter. Here, on the grounds where Mary Surratt and three other Lincoln conspirators later were hanged, Booth's body, now reposed in a white-pine casket, was buried under a warehouse floor. Every- one involved in this bizarre ritual was sworn by sacred oath never to disclose what they had seen or done, and the entrance door was bolted.
Is it any wonder, under such fantastically abnormal circumstances, that the enormous wellspring of myth and lore about Booth's death was born? It began immediately. Many believed his body had been weighted and tossed into the swamp. Grotesquely, fishermen said the body had been dissected and its parts, heavily shotted, were dropped overboard from the skiff. One newspaper reported: 'Out of the darkness Booth's body will never return. In the darkness like his great crime, may it remain forever; impassable, invisible, nondescript, condemned to that worse than damnation - annihilation. The river-bottom may ooze about it, laden with great shot and drowning manacles. The fishes may swim around it or the daisies grown white above it; but we shall never know."
Soon, the myth swept across the nation that all the secrecy surrounding the burial had been maintained to hide the fact that the wrong man had been shot; that Booth had escaped. From the great groundswell of rumor came scores of reports of "Booth sightings. " While the government, in the worst traditions of Watergate, stonewalled, and refused to comment, suspicion throbbed to hysteria proportions. Booth was allegedly seen in the South, in Illinois, in Canada, and on ships bound for Mexico and South America. By mid-year 1865, the staid Richmond Examiner reported in its columns, 'we know Booth escaped.'
One of Booth's nieces once told a news service that there were stories in the family of her uncle's survival after the assassination, one of which told of Booth meeting his mother in San Francisco in 1866 in which he told her how he escaped. His mother told several members of the family she had "visited" with her son.
Booth's granddaughter, lzola Forrester, wrote a book about her famous ancestor, 'This One Mad Act." In it, she proclaimed that older residents in a certain area of the Telegraph Hill section of San Francisco shunned a "badly dilapidating" house they considered to be haunted by the spirit of Booth. She added that newspaper accounts published a year after the end of the Civil War mentioned a 'mysterious stranger" who roamed about only after dark at this house and was described as being aloof, handsome and cloaked.
Adding to the fury, which continued to burn for years afterward, was a sequence of inexplicable occurrences quickly caressed by the superstitious. Mary Todd Lincoln, it was pointed out, died pitifully after years of insanity. Little Tad Lincoln died before reaching manhood. Major Rathbone and Miss Harris, guests in the Lincoln box at Ford's Theater on the fateful night, were caught in 'the evil spell," when the Major later killed himself and Miss Harris after they were married. [Read about it here. - Jonah] There were reports that all nine Union officers on the commission that had tried and condemned Mary Surratt and three others in the conspiracy, had died violent deaths, 'most of them driven to suicide by remorse for having hanged an innocent woman." While at least this story proved to be fiction, Captain Willie Jett, a Confederate officer who had helped Booth on his flight, was said to have perished miserably.
Louis Weichrnann, a chief government witness in the trial against Mrs. Surratt and the others, reportedly lived in fear of being avenged by either an escaped John Wilkes Booth or his ghost. Whether this is true or not is uncertain, but historians have said that when he died in 1902, "he was old and broken far beyond his 60 years."
In the years from the end of the Civil War even into the early 20th century, dozens of men stepped forward and claimed to have been Lincoln's slayer. Most were dismissed as lunatics, but the myth was kept alive, at times bordering on the ludicrous. One man in Texas who claimed to be Booth killed himself, whereupon his body was mummified and exhibited across the South and Southwest for ten to 25 cents a look.
And then there is the legend of Mary Surratt, who claimed to her death she was innocent. She was hanged on July 7, 1865 at the old Washington Arsenal Prison, which has since been converted to Fort Leslie J. McNair. It was there, in an officer's quarters, that an Army lieutenant, in 1977, reported seeing 'the apparition of a stout, middle-aged woman, dressed in black, seemingly floating through the hallways." Strange sounds, unexplained voices and the sensation of being touched by an unseen hand, also have occurred here. A major's wife said she, too, had seen a "woman in a long, dark dress floating around." She told psychic investigators it was Mary Surratt.
In a book titled 'Myths after Lincoln' by Lloyd Lewis, published in 1929, the author said Mary Surratt's "wraith" was seen haunting the lodging house she had run on H Street in Washing- ton. Hearing of this, crowds gathered outside the house daily. Mrs. Surratt's daughter sold the house for a "bargain" $4,600, but the purchaser was driven away within six weeks because "his nervous system was reputedly shattered by what he had seen and heard." The Boston Post noted how other tenants came and went in "swift succession, swearing that in the dead of night Mrs. Surratt walked the hallways clad in her robe of death."
Lastly, there is the incredible story of Dr. Dell Leonardi a hypnotist of Kansas City, who wrote a book in 1975 titled "The Reincarnation of John Wilkes Booth," based on 73 hours of taped conversations with a young man named 'Wesley." Under hypnosis - or in regression as the psychics say - he said he had been Booth in a past life. Dr. Leonardi, after painstakingly checking Wesley's comments about his former life against historical fact, came to believe that the young man indeed had lived before as the notorious assassin.
Wesley's story, as reported in book excerpts and reviews published in the mid-1970s, was that, as Booth, he had evaded his pursuers and had not been shot at Garrett's farm in 1865. He had, instead, fled to San Francisco and later lived in England where he continued his acting career, dying years later of a natural death in Calais, France.
'I have talked with the infamous John Wilkes Booth," Dr. Leonardi said. 'I believe that to be a fact."
In her book, Dr. Leonardi asked was it reincarnation or was it "an entity" (Booth's ghost?) who claimed Wesley's body during hypnotic trance? She believed it to be reincarnation. Nevertheless, the question arose.
And so, it seems, the haunting mystery continues. The questions remain. In Caroline County there is an historic marker in the median strip of Route 301. It reads: "This is the Garrett place where John Wilkes Booth, assassin of Lincoln, was cornered by Union soldiers and killed April 26, 1865.
But was he?
---