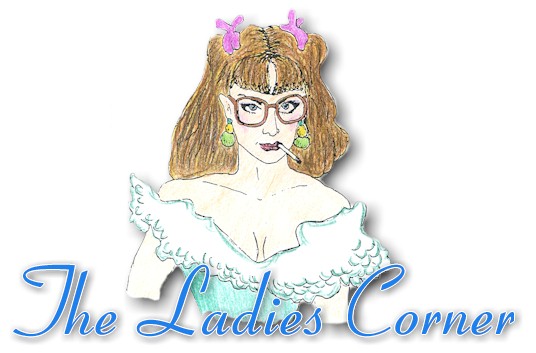 That is, lady-related stuff as interpreted by a guy. The criterion for inclusion
here is that a female is involved somehow.
---

Leather Lass


How To Preserve Your Heirlooms


Reenactment de Jonah pour homme


Olde Tyme Mastectomy.


Another Goddess of Liberty.


Celia Mater's When I Was A Farb


Elizabeth Young Considers the Meanings of Civil War Reenactment


Hoops up!


The Southern Lady


Hanoi Jane (Ladies, please read this before buying one of her exercise products.)


Hitty: her first hundred years (Book review)


Quiet women


Gender comparisons within reenactment costume: Theoretical interpretations


Ladies of Breeding


This is what a farbette looks like (The one on the left seems unfashionably slender for 1860's standards, I would think.)


Belle Boyd impressionist (Hubba, hubba!)


the Aurora Coffin Co. Babe


A Civil War "Night Before Christmas"


The Twelve Reenacting Days of Christmas


A Thrilling Ceremony!


The Origin of Patterns


An Incredible Story!


The Goddess of Liberty!


Gettysburg's PC Superintendent


"Lederbreeches in der Evenink" by Mike Shurig


Mrs. Begone's response to the WSJ Rob Hodge article

---
The illustration of the smoking farbette, by the way, is by the euphoniously named Floyd D.P. Oydegaard