What gives this rampant Lincolnism away as an example of the authentic reenacting spirit is the line, "Some of these guys are so into Lincoln, they won't be happy until they are shot." Does this sound like anyone you know? - Jonah
---
LAND OF LINCOLNS
From their stovepipe hats to platform boots, dozens of impersonators make an honest effort to copy Abe
by Wes Smith, Tribune Staff Writer
(From the Chicago Tribune "Tempo" section - Friday January 27, 1995)
---
Lexington, KY - On opening day at the first national convention of Abraham Lincoln impersonators, no more than five minutes could pass before one of the 37 Lincolns present would attempt a grand entrance: "Ladies and Gentlemen, please rise for the president of the United States!" Another standard look-alike line: "I'm the real Lincoln; these 36 other fellows are all impersonators."
In this hothouse of Abe-up-manship, it quickly became apparent that each and every Lincoln impersonator in this nation has had the experience of being stopped by a traffic cop for speeding while in character. But each and every one also claims to have been given a pass on the ticket because of Lincoln's eternal good standing among law-enforcement personnel. A high percentage of Lincoln look-alikes also claim to have had emotional conversations with awe-stricken black people eager to shake the hand of even Great Emancipator pretenders. Such experiences come with the physiological territory, Abe impersonators steadfastly maintain, and they never fail to finish the statement with the word "honest."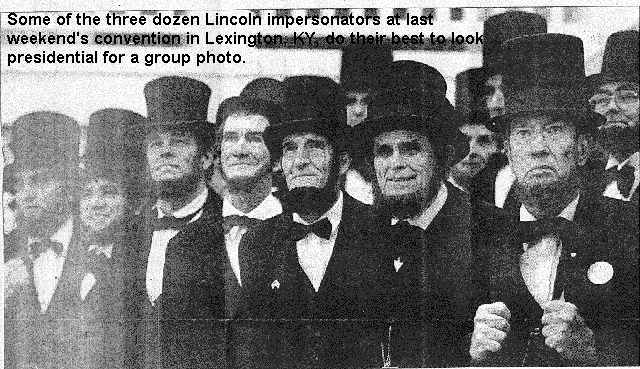 Never has a convention had more conversations so punctuated. And it is unlikely that any other has offered such a non-stop barrage of second-hand witticisms and historic profundities. A Lincoln in the lobby: I can do the Gettysburg Address in 52 seconds. Time me. Fourscoreandseveryearsagoourfathersbroughtforthonthis..." A Lincoln on the house phone: "Hey, four score and seven years ago! Hey, Brother! I'm here. What room are you in?" The Springs Inn in Lexington was no place last weekend for anyone content to let Lincoln lie. "It's a sickness," affirmed a sharp-tongued Mary Todd Lincoln impersonator in attendance. "Some of these guys are so into Lincoln, they won't be happy until they are shot."
Like flying Elvises over Vegas - only more hirsute - black-suited swarms of Lincoln impersonators descended on pastoral Lexington for what was billed as the world's largest gathering of Lincoln look-alikes. Its official theme was "Only the Body Died." Honest.
The pseudo-presidentials rolled in from California, Colorado, New Jersey, Georgia, Michigan, Maryland, Missouri, Kansas, Kentucky, Florida and Illinois. A few drove Lincoln Continentals. One piloted a 1970 Winnebago refitted as the 16th president's old Kentucky home. He called it his "Lincoln Town Cabin." "This way, I'm completely self-contained, and I never lose it in a shopping mall parking lot," he noted.
Two days and two nights in the midst of compulsive Four-scorers made it clear this Abe-mania must be brought under control or soon we all will be sprouting Lincoln lore while sporting hideous mustache-free beards, rumpled black suits, ratty stovepipe hats and boots with 4-inch lifts. Not to mention faux facial moles and really, really bad dye jobs. "A lot of them use Just for Men hair dye. I use shoe polish; it comes out quicker," said the white-bearded James Keeran of Bloomington, Ill., who presented a polished Lincoln in his one-man play for an all-Abe audience during the convention. "I was terrified on the way here, but I will go to my grave being glad that I was the first Lincoln presenter to present Lincoln to the Lincoln presenters," said Keeran, who writes for the Daily Pantagraph newspaper when not playing Lincoln or concocting good quotes.
IT TAKES ALL KINDS
Lincoln impersonators of every ilk gathered here dedicated to the proposition that all men, whether created equal or not, can do Lincoln. There were bald-pated Abes, white-haired Abes, wide-waisted Abes, anti-abortion button-wearing Abes, handsaw-playing Abes, T-shirt-hawking Abes, Bible-toting Abes, heavy-smoking Abes, hugging Abes - Abes ad nauseam. "A woman in the lobby asked if this was convention for homely-looking men," said Dan Bassuk, 58, of Neshanic, N.J., president of the Association of Lincoln Presenters, which held the convention.
Bassuk claims to make a good living "presenting" Abe full time to schoolchildren, though he more closely resembles an Amish Woody Allen. But then, who in New Jersey knows from Lincoln? "I've had a modicum of success, and I'm about 8 inches shorter than Lincoln. If I can succeed being a shortie, then the tall dudes can certainly make a success of being Lincoln," said Bassuk, who says "dude" but holds two doctoral degrees. He left college teaching to hit the Lincoln trail. Despite his height handicap and an accent that begs for a bagel, Bassuk was named the associations's most Lincolnesque member in 1993. He claims to make up in attitude what he lacks in altitude. "What truly helps is to have the Lincoln spirit. The person who succeeds as Lincoln allows himself to be a channel where Lincoln comes through," said Bassuk, a New Age Civil War-era kind of guy.
In the case of Rev. Bruce Hanks of Milaca, Minn., success as a Lincoln impersonator is relative. Hanks is a great-great-great-great-kinfolk of Lincoln, whose mother, Nancy, was a Hanks. On the opposing side of descendancy stood Lincoln impersonator Jim Hitchcock of Brooksville, Fla., whose wife, Mary is a distant cousin of Lincoln assassin John Wilkes Booth's. "If you can't beat em, join em," offered Hitchcock, for not the first time. "Of course, I don't go to movies with her if I can help it." On the Planet of the Abes, laughs come cheap. Another sampling: "Whenever Mary asked Abe for money do you know what he said? Get a Grant."
The Association of Lincoln Presenters, whose motto is "Now He Belongs to the Stages," was formed in 1990 by Bassuk and a group of kindred near-beards "to link together today's Lincolns, and preserve and promote the memory of those individuals who have admirably promoted the Lincolns." Bassuk chose "presenters" rather than "impersonators" to avoid any mistaking this as a club for cross-dressing Abes. The association publishes a semi-annual newsletter called "LINCARNATIONS" and has 116 members, including:
- 59 Abes
- 7 Mary Todd Lincolns (also known as "Mary Todd-lings")
- 12 Abe and Mary Todd Lincoln combos
- 1 Lincoln and Stephan Douglas combo
- 1 Douglas solo
- 1 Ward Lamon (Lincoln's bodyguard)
- 1 John Milton Hay (Lincoln's friend who became secretary of state)

Listed as affiliated impersonators are a Teddy Roosevelt, a Calvin Coolidge, an Eleanor Roosevelt and an Abigail Adams.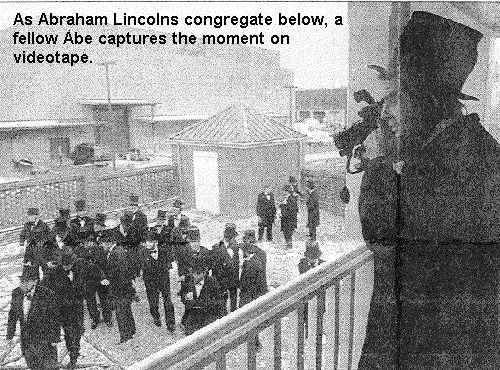 Thrown into this weird mix at the convention was a Col. Sanders look-alike who showed up unannounced among the Abes. The Colonel fended off inquiries initially by saying he'd come because, "Somebody's got to feed all these Lincolns." Later, he revealed himself to be the mayor of a nearby town, who'd come to welcome association members to the region. In his official greeting, he noted that Col. Sanders and Abraham Lincoln had many things in common, in addition to their shared Kentucky roots. He said both had operated riverboats on the Ohio River, both had been lawyers and "Lincoln appears on the penny, while Col. Sanders is on a bucket of chicken."
Association members gathered in Lexington (Springfield, Ill., is next year's designated convergence point) because Lincoln was born Feb. 12, 1809, in nearby Hodgenville, Ky., and spent most of his boyhood in the area. Lexington also boasts the Mary Todd Lincoln house (not the Mary Tyler Moore House, as one Abe spouse mistakenly called it), the girlhood home of the president's notoriously-troubled wife. The conventioneers toured the tourist attraction in downtown Lexington. And perhaps being on their home turf emboldened the Mary impersonators, some of whom loudly booed Bassuk when he indelicately suggested that Lincoln's many trials included a wife suffering from permanent PMS.
One Mary Todd Lincoln presenter, who so resembled actress Julie Andrews that she was dubbed Mary Poppins Todd Lincoln, took revenge on the Abe chauvinists in the waning hours of the convention by delivering a long-running dramatic soliloquy on Mrs. Lincoln's life. When she finished, she received a standing ovation, although one disgruntled Lincoln muttered that her performance amounted to "a filibuster."
As in any convention of people involved in like pursuits, the Lincoln impersonators spent a great deal of time comparing notes, sharing tips and sizing up the competition. "There's some here I'd like to have some of their wrinkles," noted one Abe. "There's one guy, he's got a lip just like Lincoln's"
AN HONEST DAY'S WORK
The majority of Lincoln look-alikes are hobbyists or perform only as a sideline, but some, like Bassuk and west suburban Wheaton's Max Daniels, do the dead president for a living. Daniels, who attended the Lexington gathering with his wife, Donna, a Mary Todd Lincoln, performs more than 200 times a year. The Daniels' Lincoln log is no match, however, for that of Homer Sewell III of Jasper, Ga.
Sewell claimed to have done 330 Lincoln presentations in 17 states in his first nine months of full-time duty. He has tailored his standard speech to fit federal anti-drug grants to schools, and so can command nearly $600 a day on the circuit, he said. He is also the Leo Buscaglia of Lincoln look-alikes. "My biggest thing is that if we have more hugging we'll have less mugging," Sewell reminded his fellow Abes throughout the convention. Sewell, who served a two-year tour on the White house Communications Agency staff during his hitch in the marines, was also find of boasting that there are "32 coincidences" in his life and Lincoln's. His ample press kit contains a handout titled "Coincidences Between Abe Lincoln and Homer S. Sewell III."
A few highlights:
- "I delivered the Gettysburg Address on radio in Florida in 6th grade."
- "Exactly 100 years to the minute, after Lincoln was shot, I was working for the White House Communications Agency."
- "I worked for Lyndon Johnson. Lincoln's successor was Andrew Johnson."
- "The statue of Lincoln in the Lincoln Memorial was carved from marble that came from the county (Pickens) where I live in North Georgia."
- "Lincoln was shot by John Wilkes Booth. I had some surgery done in 1989 by Dr. Arthur Booth of Atlanta."
- "Lincoln's boot size was 12. So is mine."
- "Both of us have walked to school."
- "I have a mole on my face in almost the same place Lincoln had one."

Abe impersonator Gerald Bestrom ranked among those at the convention who bore the most striking resemblance to Lincoln, but he lacked the crucial God-given, Lincoln-like facial mole. But Bestrom does have the name of an expert mole-maker in Michigan. "There is a guy in Grand Rapids who makes the most authentic moles in the country," shared Bestrom, who pays up to $100 for a batch of a dozen. "Touch it, feel it," he encouraged. "It's pliable." Bestrom attaches his custom-made Lincoln moles with spirit gum, but still has to keep an eye on them during adverse conditions. "I'm more careful now," he said, "but it used to be I'd blow my nose and then it would be, 'Gosh darn it, there goes another mole.'"
"I lost one in K-Mart that way."
---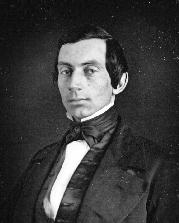 Is this the face of Abraham Lincoln? Click it and decide for yourself!
---