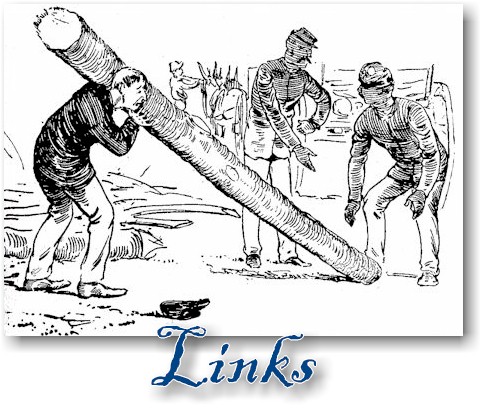 ---
The Camp Chase Gazette
The Voice of Civil War Reenacting since 1972; the main page is here. They used to print my articles before they became humor-impaired and boring.
---
Retronautics
---
Civil War Links
From Cotton to Tee Shirts: The Role of Cotton in the Civil War.
John Tenniel and the American Civil War - Good stuff.
The Young Campaigner.com - ...geared towards young people in Civil War reenacting.
Thomas Eishen's Civil War Living History Groups page - All present and accounted for.
A Hello to Arms - One of Roadside America's Virginia sites, this one features a photo of Dan Sickles' leg bone and a ghastly trophy found at Antietam, the "Arm of the Unknown Soldier." Also shows Stonewall's arm's burial site.
---
Reenacting
Joel Craig's Bivouac - Some neat stuff, here. Check out "Unusual, strange and bizarre."
Anthony Farrow, a pard of mine in Britannia, suggests PhilFraser.com for 14th/15th Century accoutrements. So if you have a yen to reenact the War of the Roses, drop him a line!
No Quarter Given! Dead Men Tell No Tales! Ar! Avast Ye! and other such crap can be found here, on the pirate home site. Check this out.
---
Urban Legends
Do the Internet a favor. Before you pass on that e-mail notice cautioning readers against the dreaded "Good Times" virus or some horrible social ill like kidney harvesting, do a database search for it here, on the San Fernando Valley Folklore Society's Urban Legends page. Why propagate nonsense?
---
Urraugh!
The Official Marine Corps Page - I proudly served as one of "Uncle Sam's Misguided Children" for four years, and got out a sergeant. Not one of those phony reenactment ranks, mind you, but a real sergeant! The links section on this is pretty good.
---
Brigham Young University
The BYU Home Page - I got my engineering degree here. The most difficult four years of my life - even harder than the Quasquicentennial!
---
The Ancient and Honorable Game of Rugby Football
Football is for sissies; ruggers play without pads and helmets! Rugby, you see, is a combination of soccer and smear the queer. "Full contact" is an understatement. I play lock forward, part of the "tight five" in scrums.
Here's a good start: The Rugby Reader's Review
The New Zealand All-Blacks are my favorite team. (By the way, they're named after their jerseys, not their racial composition.)
---
Bodybuilding and Weightlifting
According to this handy dandy bench press calculator, my one rep max (before I started rugby!) was 314 pounds. What's yours?
---