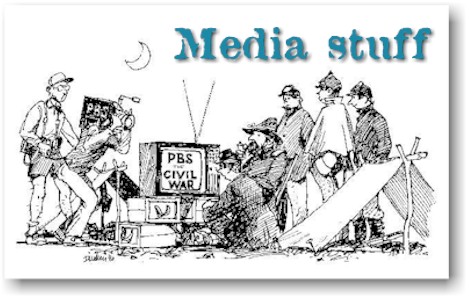 ---

Civil War reenactor goes off script, admits plan to bomb battlefield .


Virginia Museum of the Civil War discontinues Battle of New Market reenactment.


Sorry, Democrats: Civil War isn't likely — even if you're trying to provoke one.


Give That Man a Medal


Civil War Soldiers Glad They Didn't Live Long Enough To Experience Horrors Of The January 6th Capitol Riot


A Civil War Reenactment in 1861 and Fitz-John Porter's Balloon Ride by Private Robert Knox Sneden


Japanese U.S. Grant book


Robert E.T.


A Good Shot, An Explosive Bench, Family Ties and Friendships, Grant and the Pumpkin Pie, Old Guys Rule, On the Battlefield, Sort of a Salute, Washington's Dead!


The Pennsylvania veterans who opposedGettysburg's first Confederate monument


Cold War Reenactors.


The Future of Civil War Reenactment


Keep Civil War reenacting coming


Civil War Veteran - I KNEW there had to be some around!


Americans' Loss Of Interest In Civil War Battlefields Is Part Of A Disturbing Trend


The Truths Of Being A Civil War Reenactor


Civil War Reenactments Were a Thing Even During the Civil War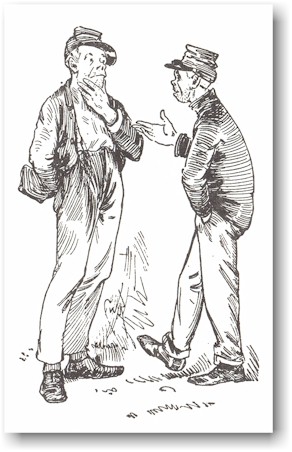 The Last Civil War Check


The Reenactor's Brave New World


The Decline of the Civil War Reenactor


What Actually Happened on Plantations When the Slaves Were Freed


Book Review: Madcap Military Mayhem by Benedict le Vay


Re-Enacting Retro YouTube page


1975 Rancho Maria (CA) reenactment


When Union Soldiers Pick Up Guitars (Billy, Don't be a Hero)


Civil War reenactment etiquette: How — and when — to die on the battlefield


Will Civil War reenactments die out?


Fooling the Ghosts!


"Living History" as the "Real Thing": A Comparative Analysis of the Modern Mountain Man Rendezvous, Renaissance Fairs and Civil War Reenactments by Patrick McCarthy.


The Vietnam Returning Vet Experience


Joshua Chamberlain Gets the Bird

25 Colorized Photos So Vivid They'll Change How You See the Civil War


The man who dresses up as his ancestors


Russian sailor killed in U.S. Civil War commemorated in Maryland


Mormons in the Civil War: Their Own Cavalry + More Fascinating Facts


Explosive Bullets of the Civil War


Civil War re-enactor shot; shakes die-hards


The Birth of Civil War Reenacting


Fewer People Participate In Civil War Reenactments


What They Fight For: The Men and Women of Civil War Reenactment, a scholarly paper by Christopher George Bates


Luther Sowers Takes Hits (c. 1965)


Should Civil War re-enactments be abandoned?


The Hog Hill Guards, 1966


Man arrested for shooting at reenactors


Cold War reenactors


Living in the Past New Yorker cartoon


Playing "Taps" for the (Keokuk) Reenactment


DAR Meeting


From the 10/26/1861 Harper's Weekly


"Marines at the Battle of the Wilderness" from Leatherneck


"Marines at the Battle of Gettysburg, 1922" from Leatherneck


Terminal Lance: Reeactments


The Manliness of Taking Cover


Saltpeter Poetry


The foolishness of Civil War reenactors


The rise and fall of Civil War reenacting


the 1946
Three Stooges short Uncivil War Birds: Part one, Part two. Note Moe's incredible line "Y'all ejaculated a mouthful!" and the effortless stack arms in part two at the 4:20 and 5:01 points. I see in 1946 people thought sideburns were common in the Civil War, a misunderstanding that persisted into the 1960's when I first became aware of it.


Conan O'Brien Becomes a Civil War Reenactor


Catharsis, Revision and Re-Enactment: Negotiating the Meaning of the American Civil War


Buff, as in Civil War (a tortured essay about a four letter word)


The Skirmish Will Be Followed By a Ladies' Tea


Bang, Bang, You're History, Buddy


The Rebel Yell Lives: Part I - Rediscovering History and The Rebel Yell Lives: Part II - Reenactors Charge Forward


Subculture Club's American Civil War Reenactors


The reenactment: How do the "soldiers" know when to die?


Reenactors Reliving Glories They Never Had


At Civil War commemoration, reenacting the battle for souls


Dr. Cathy Stanton's Being the Elephant (28.2 MB .pdf)


War Between the States Radio


Battle Deaths, 1940's to today


First Bull Run (or, if you prefer, First Manassas): It was always hot! The 1861 Version ("sweltering heat"). The 1961 Version. The 1986 Version (part one). The 1986 Version (part two). The 2011 Version.


Look who the sutlers were for the Rebs in the 100th anniversary version!


Rebs on the Rhine


The Drummer Boy of the Rappahannock


Playmobil Gettysburg


Pearls Before Swine cartoon


An Illusion So Real: Civil War Reenactors


The Grand Peace Jubilee of 1869


Civil War is Latest Yuppie Craze


Time warp shocker! Civil War Soldier Found in Georgia! Page one, Page two


Mr. Show: The Civil War Re-Enactments


Funny e-Bay ad (The Making of... short.)


Promotion Time!


How Men Die in Battle - By Frank Wilkeson


"How the South Was Lost"


Let's End the Civil War!


My 15 Minutes Out of the Attic


Once More... With Feeling: Reenactment in Contemporary Art and Culture


Merrie Melodies' "Confederate Honey" (1940)


"C.S.A.: The Confederate States of America" (2004)


Monty comic strip


Not all Civil War trivia is factual!


The Outer Limits Meets Gettysburg


Four for Freedom: America's First Abolitionists


Shenkman excerpt


Randolph County Rebel: Jim Kincade, the 7th Arkansas Infantry, and Reenacting the American Civil War.


Rebel raider disguised in hoop skirt


Dixie Tradition Kept Alive In Brazil Enclave


Troop Surge


Eating Crow


Antebellum Southern Christianity


Civil War Reenactors Live To Fight Old Battles


Change the past


Reenacting as Religion


Two Photographic Imponderables


Did Robert E. Lee really make a comment about the superior generalship of the Media?


Battles over Battlefields


Re-enactor presents Civil War medicine as it was


Wondermark - A strip combining 19th C. art with modern humor.


Conflict of Interest


Viva La Bam


1931. (The complete Google book is here)


The Official Records


Reenactors Prepare to Mark Battle of Bull Run


Sham battle at the Pan-American Exposition, 1901


Roman Days: Reenacting in the Coliseum!


Preservation


Civil war reenactors' passion for history play out on old battlefield


Another excellent reason to study history


an excerpt from "Homage to Catalonia" by George Orwell


A Voice from Shiloh


Insects put disease on the battlefield


Embarking on a "Great Adventure" (the C.S.S. Hunley)


Combat Trauma Seen in Civil War


Confederate strategic rocketry


Buy American - or, why Old Men Shouldn't Fight New Wars


Old Joe - Gainesville's Schizoid Statue


Georgia's Lynching Re-Enactment


New Yorker Cartoon: Old Times


Powderfinger - Neil Young's account of a previously unknown naval engagement.


Bruce Catton Hates Reenactors!


Camp Slavery


Simple Roles


Ex-Union Officer Leads Re-enactment


Erasing the Civil War


Civil War Re-enactments Foster Tourism


Civil War sites reborn as marketing tools


Student arrested for replica musket


The Annual Tamasite Battle Reenactment. (Never heard of it?)


PVPonline comic


The Double Standard March


Gods and Garbage - two American Spectator articles


Playing War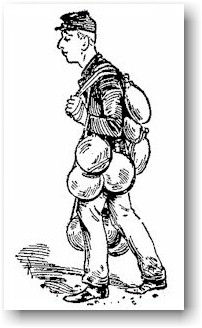 Where did the words "Dixie" and "Yankee" come from?


What did the US Marine Corps do during the Civil War?


Did the US Civil War create 500,000 morphine addicts?


Happy Birthday to Rome


Gladiators Battle in the Colosseum -- Again


Civil War Epic Shut Down by "PC Crowd?"


Living History


Roger Ebert's Gods and Generals review


The Last Yankee War Widow Dies


The Sack of Dragons Wood


Reenactors in the Attic


Reenacting: A New Kind of War


New Business, Old War


Pieces of Paper Pinned to their Coats


The Longest Infantry March in History


The (Condensed) Red Badge of Courage


The First Amputee of the Civil War


Two Slavery Stories


Vatican Sitting On Time Machine?


The Night They Drove Old Dixie Down


Book Review: The Civil War in Depth, Volume II


Turner Takes Gamble on Civil War Movie


Mark Shanks' Civil War reenactor survey


The Greatest Adventure of my Life (a film review by Dirty Mike Shurig)


How will reenacting play in Peoria?


Battle Acts, by Tony Horwitz (The New Yorker)


The Rebel Rousers (Confederates in the Attic)


The notorious Rob Hodge Wall Street Journal article about hardcores


Honoria Begone's response to the Wall Street Journal article


A Stinging Portrayal of Slavery (Washington Times)


Piss On Your Buttons


Confederados!


Civil War reenactors revere, learn from the past (Article about medical impressionists)


BRC set to bring Civil War to life at Virginia's historical Pamplin Park


Boy Scouts at Antietam (Boy's Life)


Boy Scouts at Cedar Creek (Boy's Life)


Jawbone


Reenacting: A Retrospective


Going Out With A Bang


Civil War Enthusiasts Burn Atlanta To The Ground


Some Men Play Soldier and Forget It's Just Play


Yo ho, yo ho - A Pirate's Life for Me!


Who's afraid of Virginia's Mouse? (Time)


Reenactors are Cattle! (Village Voice)


What's a Jonah? (from "Hardtack and Coffee")


"The Veteran" by Stephen Crane (Short story sequel to "The Red Badge of Courage")


The Southern Belle Tolls


"The War Prayer," by Mark Twain


Admit it! The Civil War Sucks! by Joe Queenan


Excerpts from John W. Haley's most excellent "The Rebel Yell and the Yankee Hurrah"


Confronting the Great Pretenders (Richmond Style Weekly, 5/23/95)


Catapults - flinging coffins, pianos and cars!


Tecumpseh Sherman: Environmental Terrorist?


"The Civil War: A Nation Pokes Itself in the Eyeball" by Dave Barry


Another View On "Cross-Dressing" (Civil War Times, 1991)


Dear Abby!


The Outside magazine article (3/96)


Buzzwords by Carla Koehl (Newsweek, 3/25/96)


Alex Heard's 1988 "Out There" article about reenactors


Talk of the Nation - CW Reenacting

---