"...a re-enactor of the first order..." Indeed! There are those who talk the talk and then there are those who ride out on horse against Nazi tanks! - Jonah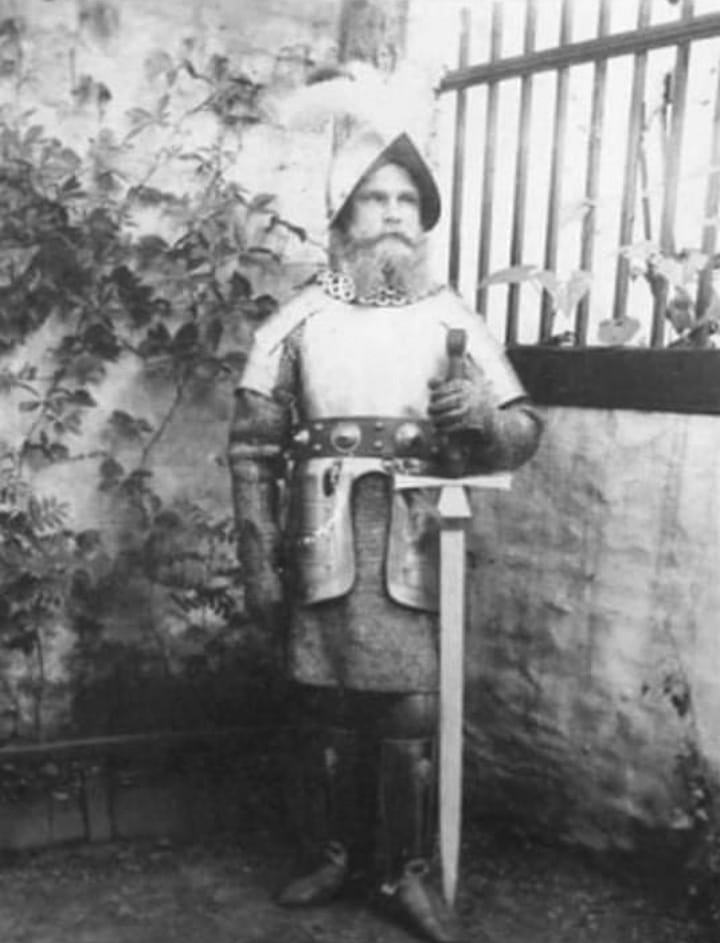 Josef Mencík
---
Josef Mencík by Sol Bergont (from the Veterans of Reenacted Wars Facebook group)
Today, there are no more real knights... The last one died in 1945!
His name was Josef Mencík. He became famous for his daring action, when in 1938 he rode alone in knight's armour and with a halberd against... Nazi tanks. The Germans did not even fire a shot in his direction, but just looked at him, considering him a local madman. After a moment's hesitation, they bypassed him and crossed the border, thus beginning the annexation of Czechoslovakia.
In 1911, part of the Dobrš fortress burned down. Josef Mencík bought the destroyed castle from the Schwarzenberg family and started its reconstruction. He collected medieval chivalry souvenirs, often buying them on the black market or smuggling them from France. He even placed a wooden crocodile in the moat in memory of the real crocodile that lived there, brought back by Kryštof Koce on one of his expeditions.
Josef roamed the surrounding countryside on horseback, dressed in armour, and tried to interest young people in the history and ideals of chivalry. He invited school trips to his castle.
The Czech Don Quixote was a great lover of medieval history. To call him a madman is rather an over-interpretation, it is more appropriate to call him a re-enactor of the first order and a promoter of chivalric virtues.
He rejected modern conveniences, such as electricity, and used candles and torches to light the castle. The local community called him "Fousatý táta". ("Bearded Dad") or "Poslední rytí?" ("The last knight").
He was known to the locals for his nobility, honour, courage, hospitality and helpfulness. He was also famous for his unconventional eating rituals. Before leaving the tavern, he always swallowed a whole herring, drank a glass of rum and roared loudly around the pub...
Josef Mencík lived in his fortress until 1945, when it was nationalised. He died a few days later, on 19 November 1945, at the age of 75, with a broken heart..."
---