Turner takes a gamble on Civil War movie
By BOB LONGINO
Atlanta Journal-Constitution Staff Writer
From The Atlanta Journal-Constitution, 13 December 2001
---
BOONSBORO, Md. -- Dozens of Civil War re-enactors are in full military garb for this day's filming of Ted Turner Pictures' $53 million "Gods and Generals," the first big-screen effort from Turner's new Atlanta-based independent movie company. They're extras, playing soldiers for a Texas brigade, and they're heavily armed -- with hidden cameras.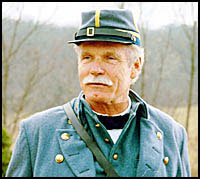 Each time director Ron Maxwell calls for a break in shooting, the re-enactors whip out their cameras from beneath tattered, dirty-brown cloaks. They snap souvenirs of Oscar-winning actor Robert Duvall, who portrays Robert E. Lee; Jeremy London ("Party of Five"), who plays an aide to Stonewall Jackson; and especially Turner, who's ready for his cameo.
Robert E. Lee; Jeremy London ("Party of Five"), who plays an aide to Stonewall Jackson; and especially Turner, who's ready for his cameo.
Turner is in the same gray uniform he wore so briefly for his closeup eight years ago in TNT's "Gettysburg," the first in an expected trio of Civil War epics Turner has embraced. He's kept the uniform all these years. Pulled it out of a closet and dusted it off, he says, before flying here by personal jet from his New Mexico ranch.
"Hi. I'm Ted," Turner says to Patrick Gorman, the actor who'll appear with him in his cameo. Turner poses and smiles for just about every re-enactor photo op.
The scene looks surreal, downright Fellini-esque. It's a buzzing mass of Civil War paparazzi swarming costumed celebrities in the middle of the 600-acre Flook Farm (about 70 miles west of Baltimore). All mere steps away from an authentic-looking Confederate encampment of some 400 white canvas tents.
"Over here, Ted," one of the re-enactors calls out. "Look this way, please," another urges.
Many here call Turner "The Man." Capital T. Capital M.
Every nickel of the $53 million that Turner estimates will be spent on this four-hour "Gods and Generals" is his. It's a big gamble. Civil War flicks haven't exactly been paying off since, well, "Gone With the Wind."
"Gods and Generals," which began filming in August in Virginia and concludes in Maryland today, is the prequel to the 4-hour, $25 million "Gettysburg," based on Michael Shaara's Pulitzer Prize-winning novel "The Killer Angels" and starring Martin Sheen. It played in theaters, earning only $10.8 million and ranking as the 104th film of the year in total box office, before being released on home video and, ultimately, airing on TNT over two nights in summer 1994.
Shaara's son, Jeff, then wrote two companion books, "Gods and Generals" and "The Full Measure."
Aside from "Gettysburg," one of the last big-screen, high-profile Civil War flicks was 1989's "Glory," filmed partly in Georgia. It won three Oscars and still pulled in only about $26 million, less than half of what Turner is spending on "Gods and Generals."
"I thought this movie needed to be done," Turner says. "If we don't get too badly hammered on it [at the box office], we'll do 'The Full Measure,' too."
Especially in these days of war and terrorism, Turner thinks a film like "Gods and Generals" is what moviegoers need.
"Young men and old men fighting and dying 100 years ago as they do today is a great tragedy," he says. "By watching movies and studying history, maybe we can avoid some of the mistakes of the past."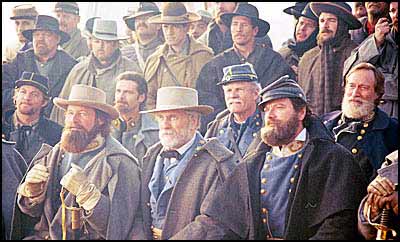 "Gods and Generals" spans the years 1858 to 1863 and involves the battles of Manassas I (or Bull Run), Antietam (where 23,000 soldiers either died or were wounded in the bloodiest engagement in U.S. history), Fredericksburg and Chancellorsville. It introduces John Wilkes Booth and includes John Brown's raid on Harpers Ferry.
"It's a movie about smoke," Duvall jokes. He's referring to the effects crew's constantly pumping smoke machines and buckets of burning charcoal used to simulate the area's natural ground-hugging fog mixed with battle smoke. At times the charcoal smoke is so thick it slightly stings the eyes and the crew hauls in fans to blow it away.
Duvall also says a recent overnight shoot -- a camp scene with warming fires illuminating the tents and dotting the landscape -- was one of the best sets he's ever worked on.
And he has praise for the re-enactors, who've traveled here from across the country as volunteer extras.
"You could not make these movies without these re-enactors," Duvall says. "They even wear vintage underwear."
While Turner's new movie company is a freestanding entity, several companies with AOL Time Warner, where Turner is vice chairman, will eventually be involved. Warner Bros. will distribute the film, which will likely debut in Atlanta, New York, Los Angeles and Washington next December and then go in wide release in January 2003. Deals have already been made with HBO and TNT for post-theatrical television.
At a planned four hours and four minutes, it will be almost as long as "Gettysburg."
"You have to understand, the longest movie is 'Greed,' " director Maxwell says of Erich von Stroheim's 1925 silent masterpiece that is well over seven hours. "Ted was a little upset that 'Gettysburg' was only the second longest film in history."
"Ted is undaunted when it comes to these things," says Robert Wussler, chief executive of Turner Pictures. "He'd be happy if it just lost a little money. Will the public like it? I don't know. But with DVD sales and such, over the long haul it could do very well."
Turner's cameo involves watching a minstrel show, full of corny jokes gleaned from newspaper accounts of the period. He and the rest of the cast join in during the singing of the chorus of the "The Bonnie Blue Flag."
During a break, Turner is in the encampment away from the movie cameras, practicing the one line for his cameo. He says his self-proclaimed title of "two-take Turner," bestowed when he filmed "Gettysburg," is at stake.
"I was singing the song last night," he says, "and repeating my line over and over. I don't want to screw it up."
Take 1: "We owe you Texas boys a debt of gratitude for putting on these shows," Turner intones to scene-partner Gorman, who plays Confederate Brigadier Gen. John Bell Hood.
The movie cameras stop rolling. "That's it!" Turner shouts.
But it isn't. Stephen Lang, who plays Stonewall Jackson, utters to the wind a three-word review: "Pure corn pone."
Maxwell orders one more take. It goes without a hitch.
Turner is ecstatic. "Way to go gang," he says. "We did it."
As if on cue, the mass of Civil War paparazzi move in, recording every second.
---