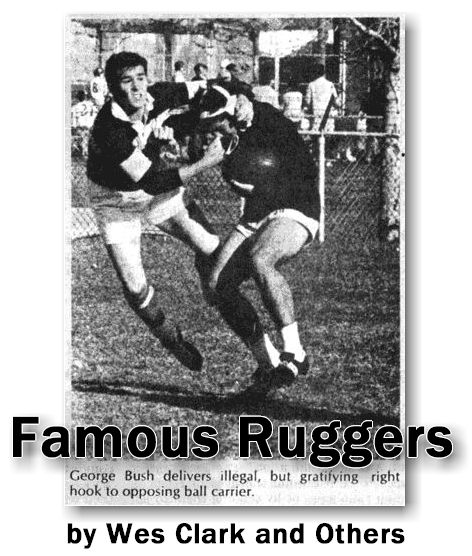 ---
The way I see it, a game that's been around for as long as rugby has is going to have some famous players. Here is my ever-growing list. By the way, some of them are buried here.
<![if !supportLineBreakNewLine]>
<![endif]>
Daniel Logan: If you've seen Star Wars II - "The Attack of the Clones" (and who hasn't?) you'll recognize Logan as the young Boba Fett. From a Daniel Logan website: "The Auckland native started acting when he was 11 years old, after local children's rugby teams were scouted for a TV commercial. 'They were putting down the top kids from the teams, and I was one of the best. They put me down with four of my team-mates, and I got the part. I played a little boy who gets knocked into the mud by [Auckland rugby star] Micheal Jones.'" My guess is that Temuera Morrison, who played Jango Fett, played some rugby, but I haven't found confirmation for this.
J.R.R. Tolkien: According to a National Public Radio story, he played at Oxford while at school.
Javier Bardem: From an article in the Telegraph: "Rugged Spanish actor Javier Bardem has succeeded where the film industry's other great rugby-playing luvvies - Richard Harris, Richard Burton and Peter O'Toole - mysteriously failed by landing an Oscar on Sunday night for best supporting actor in "No Country for Old Men." Bardem, originally from Grand Canaria, played for Madrid RFC, was a star of Spain's under-16 and under-18 teams and appeared briefly in the senior squad before his acting career took over. He started life as a flanker and ended up as a prop. When asked of his love of rugby on the red carpet in Hollywood on Sunday night he said that "being a rugby player in Spain is akin to be a bull-fighter in Japan."
Gordon Brown: Great Britain's Prime Minister. From the Washington Post: "Brown was a bookish whiz kid from a mining and linoleum-producing town in Scotland. He entered the University of Edinburgh at 16, one of the school's youngest-ever students. A rugby injury when he was a teenager left him blind in his left eye; when he gives speeches, he uses notes printed in extra-large type. Friends said the injury only increased his determination to succeed."
Lawrence Makoare: From another widely-seen movie, the first "Lord of the Rings." He played Lurtz, sort of an uber-Orc. From a Lord of the Rings website: "In addition to road work for the (Auckland) City Council and other physical labouring jobs, he has also worked as a Maori wood carver. He is a keen sportsman, playing rugby league, touch football and softball as well as scuba diving, fishing and swimming."
Jay Laga'aia: He portrayed Ugluk, another Orc in "Lord of the Rings." (Do I detect some type-casting here? "Yeah, let's get some scary-looking Kiwi ruggers to play the bad guys!") From a Lord of the Rings website: "Although he was always a performer, it was sport that first captured his attention and he originally wanted to be a rugby player." Side note from Andy Smith: If you watch the extras segment of the Lord of the Rings "Two Towers" DVD they mention and show the New Zealand extras dressed as Orcs and Elves doing Hakas - pretty cool to see an army of Orcs doing a Haka
Kris Kristofferson: From rugbytoday.com: "In the autumn of 1958, two celebrated American athlete scholars began their Rhodes Scholarships. Both had been outstanding undergraduate football players, one had been a top varsity hockey player, while the other had been a champion collegiate boxer. One played for his American college's rugby XV, while the other had never played the sport. When they arrived that fall at Oxford, both played rugby for their respective colleges. Both would win Blues competing against Cambridge. The former rugger in the States would win his coveted Blue at boxing, while the hockey player would win his at rugby. Their names are famous: The Rhodes Scholar from little Pomona College in California is Kris Kristofferson (Claremont Colleges RFC), while the other student is West Point's Pete Dawkins, Heisman Award winner of 1958 and first-team Oxford rugger for three-years. Kristofferson, summa cum laude, was the starting end on the football team, a Golden Gloves boxer, and winner of four of the twenty prizes in the Atlantic magazine short-story writing contest for university students. Kristofferson played rugby Merton College at Oxford, while Dawkins played for Brasenose, before making the fast rugby advance from college side, to Greyhounds (Second team), to the Varsity. Kristofferson received a B.Phil degree in English literature, and enlisted in the Army, rising to the rank of captain. (His father was a Major General.). He would have an outstanding singing and acting career. There is no historic reference that he played rugby after his Merton College days." Photo.
Eric Liddell, "Chariots of Fire," gold medal in the Olympics, missionary in China, died in a Japanese internment camp. He played for Scotland. From Internet correspondent Tom Tani: "Liddell had a distinguished (but brief) international career, abbreviated by his focusing on track and field because of his sprinting prowess in the 100M. He was a wing and was noted for his tremendous speed and leadership abilities. In fact, he and a fellow named Lesley Gracie (a center) formed a tandem known as the "Gracie-Liddell" wing that was very well-known. In the early 20th century, international matches were not as numerous as they are now, so the archives only show Liddell as having seven caps or so. However, it was noted in the biographies about him I read, that he was in every Scottish international he was eligible for in his two year career as a Scottish player (1920-22). Because of his track and field abilities he stopped playing international rugby in 1923 to focus on track. He went on to legendary status in the 1924 Olympics. He was favored to win the 100M, but as told in "Chariots of Fire" he refused to run the qualifying heats because they were on Sunday. Liddell was the son of a Scottish missionary, and (like All Black legend, Michael Jones) refused to take part in sports on Sunday. The movie shows that instead of the 100M, he runs in the 400M (which he was given no shot at all of winning). Liddell not only won, but set a world record! What is interesting is that the movie does not mention that Liddell also won the bronze medal in the 200M. Eric Liddell was a huge star because of his accomplishments. However, in contrast to track stars of today he did not capitalize on it. Upon his return from the Olympics, Liddell graduated from Edinburgh University and continued in his father's footsteps as a missionary in China. It is interesting to note that he still played rugby and ran track recreationally while there. He was interned during WW2 with other European citizens (mostly missionaries) in China by the Japanese. He was a leader in the handling the prisoner's affairs at the camp he was in (Wieshin). There is a touching story about how he gave up his own moratorium on doing sports on Sundays to officiate athletic contests of the prisoner's children on Sunday so they would have something to do. Sadly, this great man died of a brain embolism a few months before the war ended. He was buried in China and in mid 90's memorials from China and Scotland was placed on his grave. Eric Liddell is still revered today in Scotland as one their greatest sports heroes. I remember when "Chariots of Fire" came out, there was a story the movie's producer (Hugh Hudson) told that the Scottish Rugby Union offered him the use of Murrayfield (the Scottish National pitch) for use in the movie, even tearing to the extent of tearing up the ground to make a track if need be, if Hudson could not find a location to shoot the Olympic footage. Another site was found but that shows how highly Liddell was regarded. This should be no surprise as he was a rugby player after all, but all accounts of Liddell said he was a great man with a very down to earth manner. Even though he was very religious, he was not the sort to make you feel inferior if you did not share his beliefs. There are two great biographies on Eric Liddell that you can get (via the Net). "The Flying Scotsman" by Sally Magnuson came out after "Chariots of Fire". "Eric Liddell: Pure Gold" by Dave McCasland, came out last year. Both are very enjoyable and inspiring reads. I thought you might get a kick out of hearing more about a famous rugger, whose kind we could use more of nowadays."
Prince William and Prince Harry: Well, of course. William will be king some day; what other sport would be appropriate for a future king, badminton? An Internet correspondent has this: "Prince William as an Eton Rugby player; he is not that good and is on the third XV; a friend of mine was coaching a Catholic school team against that side and before the game told his players that they would have a chance to tell their grandchildren that they tackled the King, so every time William touched the ball, he would be descended on by the entire team. At the end of the game one of the boys walked up to him, shook his hand, and said 'My mum has a cat named after you.' William had no comment."
Gerard Depardieu: French actor who hilariously played a rugby coach in "Le Placard". I don't know if he ever played rugby or not, but I understand that he is the vice-president of Bordeaux-Begles, a French club.
Peter Phillips: Who? He's the son of Anne the Princess Royal and grandson of Queen Elizabeth II. He's a former Scottish Schools flanker, winning three caps and touring South Africa. As an undergraduate he played for Exeter University, appearing in the second row for the 2nd XV and skippering his team to the national British University Sports Association 2nd XV title after beating favourites Northumbria University by 24-10 in the Final.
Sir Arthur Conan Doyle: From "The Doctor and the Detective - A Biography of Sir Arthur Conan Doyle" by Martin Booth, "Being of muscular build, he also did well at swimming, football, hockey and ice-skating. He additionally played rugby (to unique Stonyhurst rules), was fond of fishing in the nearby rivers Ribble and Hodder and, towards the end of his school life, took to billiards. Rugby he later considered the best of all team sports because it required stamina, agility, bravery and ingenuity simultaneously and, in later life, he denounced public schools that played the game according to individual sets of rules because this lessened the ability for boys to play universally." Booth later mentions that Doyle was a rugby forward in the Stonyhust public school.
Raymond Chandler: American hard-boiled novelist. In his letters, he proudly writes that his distinctive nose was a product of a knee in the face during a school match. The author of The Long Goodbye and The Big Sleep attended England's Dulwich College, a couple of years behind P.G. Wodehouse.
Yoshio Mori: Former Japanese prime minister. Discussing working with the other parties in the ruling coalition, he stated, "In rugby, one person doesn't become a star, one person plays for all, and all play for one." (This info from Tom Hamill.) Sounding something like Forrest Gump, he also has said, "Life is like a rugby ball. You never know which way it might bounce next!"
Jacques Rogge: President of the International Olympic Committee (IOC.) It seems that he was once a member of the Belgium's national rugby side. (Hope this makes it easier for rugby to once again become an Olympic sport.)
Trevor Rees-Jones: Princess Diana's bodyguard and the only survivor of the car wreck which claimed her life. He plays with the Oswestry RFC, a semi-professional club in England. A photo I saw indicates he's a lineout jumper.
Bill Clinton: No doubt rugby has done more for him than he has done for the game. (Or the office of the Presidency, for that matter.) He played in England in 1968-1970 while a anti-war protestor and part-time student. A rugby site on the Internet maintains that he was a "...rather lumpy, but excellent" second row forward for the Little Rock (Arkansas) Rugby Football Club. However, my source at the Little Rock RFC says he never played for them. According to Clinton himself as recorded by the Sydney Morning Herald in 1996: "Being an American, I didn't know any of the rules" But I was the biggest guy on the team, so the coach just said to me: 'Clinton, go out there and get in someone's way.' So that's what I did, just got in people's way."
George W. Bush: Internet correspondent Mat Bacon has this from a "Famous Texans" website: George Walker Bush, education: Attended Phillips Academy prep school at Andover, then Yale from 1964 until 1968 and graduated with a major in history; played baseball during freshman year and rugby during junior and senior years." Click here for an image of his Yale transcript. Thanks, Mat! Click here for an image of Bush with the Yale XV. Bush punches an opposition player.
Candace Gingrich: The sister of the former Speaker of the House. Plays for the Washington Furies.
Boris Karloff:  I know he played rugby, and it seems he also had a role in forming the Southern California RFU. When I asked his daughter Sara, she wrote, "I know my father adored cricket and was a member of the Hollywood Cricket team. He played both rugby and cricket in school in England at Enfield and at Uppingham. I don't have any info on whether or not he was a member of the L.A. rugby football club. Hope this helps." On a later occasion, she wrote, "Thank you for your e-mail. I know my father was one of the founders of the Hollywood Cricket Club and played on the team with Sir Aubrey Smith. He may have played on the rugby team too, but I don't think he had a hand in starting it." However, Tony Spinella, the historian of the Southern California Rugby Football Union writes, "The SCRFU was formed in 1937. The articles of formation have Boris Karloff on them. If I recall he was a member of the Hollywood Athletic Club rugby team at the time (as were other notables). The founders of the SCRFU were the clubs at that time - there were about 8 I believe. Eagle Rock Athletic Club (my club) is the only men's club still surviving. UCLA and USC were also around in those days also but they have been on again off again during the 65 years since the SCRFU started. Hollywood AC, Alhambra AC, the Spoilers were a couple of other clubs I believe were in the founding group (that is 6 so far - I'll have to look back to see what else I can find)."
From Tom Tani, a longtime rugger and current ref: "One name missing that I was surprised was missing was Victor McLaglen. I remember reading a copy of the "Guinness Book of Rugby Records" (1984) that noted that McLaglen and Karloff were locks in a Hollywood side. That team played visiting touring sides and club sides. To put a face to the name, Victor McLaglen is often seen in John Wayne westerns and was the fellow with whom John Wayne slugs it out in the classic 'The Quiet Man.' Also, I believe that sportscaster and former L.A. Ram Pat Haden was a rugby scrumhalf in college." From the Internet Movie Database entry for McLaglen: "McLaglen formed a semi- militaristic riding and polo club, the Light Horse Brigade, and a similarly arrayed precision motorcycle team, the Victor McLaglen Motorcycle Corps, both of which led to apparently erroneous conclusions that McLaglen had fascist sympathies and was forming his own private army."
Sean Connery: Played school-boy rugby, and his son Jason lived in Minnesota at one time and played for Minneapolis.
Daniel Radcliffe: The young actor who portrays Harry Potter in the movies. A quote: "I take rugby a lot, but at my school we're not allowed to play full-contact rugby, unfortunately."
Daniel Cudmore: He plays Colossus in X-Men II. According to Planet Rugby, "…the British Columbia native played No.8 for the Capilano club for a while, before retiring from the sport." His brother Jamie is a Llanelli and Canada flanker.
Brian Epstein: Epstein was the manager of the Beatles. From "Many Years From Now" by Barry Miles (a book about Paul McCartney): "...even as a child he apparently managed to walk off the rugby pitch with brilliantly white bootlaces." Must have been a back.
Darby Conley: Cartoonist of "Get Fuzzy," a syndicated American comic strip which sometimes features rugby. According to Alex Goff: "Conley first started playing rugby as a student at Amherst College in Amherst, Mass in 1992. He played second row for three years, during which time he broke 15 bones, 12 in two separate injuries. Now contractually forbidden to play — "if I break my hand then I'm in big trouble" — Conley still follows the game."
(Did Not Play!) Pope John Paul II: This rumor was apparently started by a 1995 Rugby World Cup program. It maintained that he played for Poland, but the official Vatican web site once had a questions and answers page that addressed this rumor. It said - in answer to a direct question about rugby - that as a youth he played soccer as a goalie. No mention of rugby. What's more, I have looked at a number of biographies of Karol Wojtyla and haven't seen any mention of his having played rugby in any of them. So I don't believe it; somebody on the World Cup committee was having us on.
John F. Kennedy: Rugby journalist Alex Goff claims he played for Harvard. His older brother Joseph P. Kennedy also played for Harvard. And the Kennedy White House Chief of Staff, Ken O'Donnell, was Harvard RFC's captain.
Ted Kennedy: Played for Harvard. According to Jack Olsen in his book, The Bridge at Chappaquiddick: "In one of Harvard's rugby games, against the New York Rugby Club, he carried his own 'little extra effort' a few steps too far, getting into three fights and being ordered to the dressing room. After the game, he apologized to the referee." From the ytedk.com site, this: "Once back at Harvard, Teddy made the rugby team. During one match in 1954, Ted got into three fistfights with opposing players and was finally thrown out of the game. According to referee Frederick Costick, Teddy was the only player he had ever expelled from a game in thirty years of officiating. "Rugby is a character-building sport," Costick said. "Players learn how to conduct themselves on the field with the idea that they will learn how to conduct themselves in life. When a player loses control of himself three times in a single afternoon, to my mind, that is a sign that, in a crisis, the man is not capable of thinking clearly and acting rationally. Such a man will panic under pressure."
David Niven: Such an elegant guy - he must have been a back; one of those dashing, aristocratic wing threequarters that England produced in such abundance in the Twenties and Thirties. He also played a rugger on the screen.
Robert Mondavi: California winemaker; apparently he played while at Stanford University in the 1930's.
Richard Harris: He also portrayed a rugger in "This Sporting Life." Rugby magazine columnist Buzz McClain interviewed him once on another subject, but when rugby was introduced Harris perked up. He apparently still has a healthy interest in the sport. According to Peter Fitzsimons, 40 years ago he was a contender for the Irish national rugby team until he contracted tuberculosis. He said this to British journalist Peter Jackson, about his various acting awards: "Do you know what? I'd give it all up tomorrow, the whole lot, for one Irish cap. Just one. There is hardly a day that passes that I don't think of what it would be like to run out on to Landsdowne Road as one of the Irish team." (Click here for an eloquent rugby article written by Harris.)
Jim Baker: You remember him from Reagan days, perhaps. (Not Jim Bakker, the defrocked priest.) He played at Princeton.
George Allen: Recent former governor of Virginia, played for Virginia RFC in Charlottesville.
Ernesto "Che'' Guevara: Marxist guerrilla legend in Cuba - he played in Argentina, according to Reuters. Here's a photo of him from a Che website. (Thanks to Mat Bacon for this photo.) From Planet Rugby's "Fact of the Day" for 8/12/02: "Did you that iconic 20th century revolutionary figure Ernesto 'Che' Guevara was a keen rugby player in his youth and even launched a rugby magazine? Despite crippling childhood asthma that would dog him throughout his life, the Argentine-born Guevara started playing rugby in his teenage years when his family moved to Cordoba, a town that would later produce a number of famous Pumas including Hugo Porta. Although the Estudiantes club coach was unimpressed by a rather weak looking figure who turned up for his first trial, his hard tackling and whole-hearted committment soon won him a starting place in the three-quarters. He continued playing when he started medical school in Buenos Aires and it was there, with a couple of friends, that he launched the rugby magazine 'Tackle' which ran for 11 issues. Guevara, who did not make friends easily, relished the comradeship rugby brought, something he later rediscovered whilst fighting his guerilla war in the Cuban moutains in the late 1950s. Guevara was executed by Bolivian forces in October 1967 at the age of 39." From wikipedia: "Though suffering from the crippling bouts of asthma that were to afflict him throughout his life, he excelled as an athlete. He was an avid rugby player despite his handicap, and earned the nickname "Fuser", a contraction of "El Furibundo Serna" ("The Furious Serna" - his real name was Ernesto Guevara de la Serna) for his aggressive style of play."
Owen Hart: According to an Internet sports web site, the Canadian wrestler who fell to his death in Kansas City in 1999 played rugby at Western Canada High, and met his wife Martha at a match. Once again, thanks to rugby investigative reporter Mat Bacon!
Richard Burton: From Planet-Rugby.com: "Rugby is a wonderful show: dance, opera and, suddenly, the blood of a killing," said the actor Richard Burton, the famous hell-raising, hard-drinking star of such films as Where Eagles Dare, The Robe and Who's Afraid of Virginia Woolf. Burton was born in 1925 in the rugby-mad Welsh village of Pontrhydyfen and continued to play the occasional match while his international acting career and high-profile romance with Elizabeth Taylor was making him globally famous. Winning representative honours during his school, University and RAF years as a flanker, Burton is mentioned in the biography of Welsh great Bleddyn Williams, who, having played against the actor, reckoned he may have gone on to a full Wales cap had it not been for the lure of Hollywood. Burton himself, in his classic memoir "A Welcome in the Valleys," muses on his love affair with the oval ball and recounts the last game of rugby he ever played, before his Hollywood paymasters banned him from ever donning the boots again. "It was played against a village," wrote Burton, "Whose name is known only to its inhabitants and crippled masochists drooling quietly in kitchen corners, a mining village with all the natural beauty of the moon, and just as welcoming, with a team composed almost entirely of colliers. This was the kind of team where, toward the end of the match, you kept your bus ticking over near the touchline in case you won and had to run for your life." Despite his team-mates being sworn to secrecy over the identity of their guest player and the actor sporting a scrum-cap to disguise his well-known features, Burton's cover was blown as he walked out onto the pitch and heard an opponent ask: "Where's the bloody film star here?" For the next 80 minutes, Burton was a marked man as the opposition tried to make an impression on the 5ft 10 inch forward. "From then on I was elbowed, gouged, dug, planted, raked, hoed, kicked a great deal, sandwiched and once humiliatingly taken from behind with nobody in front of me when I had nothing to do but run fifteen yards to score. "I was playing Hamlet at that time at the Old Vic but for the next few performances after that match I was compelled to play him as if he were Richard the Third." After hanging up his boots at the age of 28, Burton maintained his passion for the game as a spectator right up until his death in 1984 and was a regular visitor to the London Welsh clubhouse in Richmond-upon-Thames, where he played a full role in the after-match festivities."
Jacques Chirac: The current president of France played for the youth team of Brive (French div. 1 club) and later at the University level. His position was 8 and lock.
Russell Crowe: The star of Gladiator, L.A. Confidential and the Insider (Oscar Nomination). He lost his front tooth playing rugby when he was ten. He only got it fixed when the director of "The Crossing" insisted he did, and paid for it out of his own pocket. Crowe was born in Wellington, NZ. He moved to Australia at the age of 4, and he considers himself Australian despite his family being from NZ. His father's mother was Maori. (Thanks, Chris Trotter, for this information.) David Evangelidis writes, "He did continue playing rugby after losing his tooth. In fact, he played in the First XV for Sydney Boys High School, which is a member of the prestigous GPS (greater public schools) assocation, which is often rated as one of the best schoolboy rugby competitions in the world."
Billy Campbell: An actor who starred on the TV show "Once and Again." He's also costarring with Jennifer Lopez in the movie "Enough." He also starred in other TV shows and some movies such as the "Rocketeer." He played for the Virginia RFC, but now plays for Santa Monica Rugby Club, though he has played for other clubs such as Chicago Lions, etc. His Internet Movie Database file is here.
Stephen Fry: Comic actor and author, he played Jeeves in the PBS Jeeves and Wooster series, in addition to other roles. He played rugby in school, and absolutely hated it. (In his autobiography he calls sports "tribal shit.") He's a big fan of (viewing) rugby now, however.
Matthew Pinsent: Did you know that triple gold Olympic gold medalist Matthew Pinsent has played club rugby for English club Henley? The 1.95m, 105kg Pinsent - who rowed to glory in Sydney this year (2000) as part of the successful Great Britain coxless four - played second row for his school Eton but also turned out at No.8 before rowing took over as his number one sport. On returning from the Atlantic Olympics in 1996, Pinsent played a number of games for England boss Clive Woodward's old club Henley, wearing the No.5 in the fifth team.
John Steed: Who? You know, the dapper, bowler-hatted Avenger played by Patrick McNee who fought bad guys with Emma Peel (Diana Rigg). In one episode he admitted that he "...played rugger at university." In another episode he reveals that he was a wing three-quarter (#14). I'm sure he also excelled at cricket and darts.
Andy Capp: The little working-class bloke in the comic strips by Reggie Smythe. He dabbles in football (soccer), rugby (probably league, not union) and snooker. My guess is he plays darts, too. Click here for an image.
Dr. John Watson, M.D.: In his younger days - long before he met Sherlock Holmes - he played rugger for Blackheath., according to the Sussex Vampire story. (By the way, a Sherlock Homes story dealing with a missing rugger is "The Adventure of the Missing Three-Quarter").
Mariusz Pudzianowski : From Internet correspondant Ben Hanson: "Three-time MetRx World's Strongest Man, Mariusz Pudzianowski is an avid rugby player, in addition to being an alternate on the Olympic boxing team and a third degree black belt in karate."
Edmund Pevensie: From the Chronicles of Narnia. In the book "The Last Battle" he said something like, "I had rather a sore knee from a hack at rugger..."
Z'Dar: One weird-looking dude. I'm told he played rugby in college. See http://www.zdar.com/.
Gary Player: According to my Internet correspondent Jim Breazeale, the famous golfer from South Africa played rugby. "I do not know what team he played for, but I know for a fact that he played. Many years ago, I was an Exercise Physiologist at the Centinela National Athletic Institute in Los Angeles, CA. The institute conducted annual physical examinations on most of the LA area professional teams, including the PGA and Senior PGA. I was conducting a treadmill stress-test on Mr. Player and while reading his history, noted that he indicated rugby as a former activity. I looked up at him and said, "I'll bet you were a scrum half." He did a double-take and said in a surprised tone, that he was. He played as a schoolboy in South Africa before his golf career began and it had obviously been a long time since he had been asked about his rugby career. The question, coming from an American, also delighted him. He is a great bloke and seemed to enjoy the opportunity to speak about his involvement in rugby."
---
In an article entitled "A World XV From a Truly World Stage" by Peter Fitzsimons, which appeared in the Feb/Mar 2002 NZRugby World, is the following:
Meat Loaf: Apparently played in college in the Northeast.
Charlie Chaplin: Played rugby while at school in England.
Winston Churchill: Hated rugby at Sandhurst Military College.
P.G. Wodehouse: Scrumhalf and one of the leading lights of rugby at Dulwich College, London, around the turn of the century. The school still has copies of some of the match reports he used to write for the school magazine." A great quote of his is "To score a try, one needs to engage in a series of actions that, in every other contest, could get a 15 year sentence to jail." Another good quote, from "Very Good, Jeeves" in 1930: "The main scheme is to work the ball down the field somehow and deposit it over the line at the other end. In order to squelch this program, each side is allowed to put in a certain amount of assault and battery and do things to its fellow man which, if done elsewhere, would result in 14 days without the option, coupled with some strong remarks from the Bench."
Prince William Fly half. Fly halves need to be classy by nature, and even though the heir to the heir to the British throne could only make the Eton third team, I think he's the one for us. My only fear is that he will be targeted, just as he was at Eton. An opposing coach once apparently told his team that once they tackled the prince, they would be able ever after to tell their grandchildren they once tackled the king of England. The whole team piled into him all game long.
George W. Bush Inside center. I know you're thinking that putting George in this position puts him a little too close to the front line, but I don't care. The president played fullback for Yale in 1968 and was a part of their dramatic win over Harvard that year. He will be visiting Australia at about the time the American team is likely to be facing elimination.
Richard Harris Outside center. A former player for the famous Irish club Young Munster, Harris was obliged to retire from the game at 19 when he contracted tuberculosis. He went on to find fame as an actor. It was recalled upon his death this year that he said: "I'll tell you this: two Golden Globes, one Grammy, five Grammy nominations, two American Academy Award nominations, two British Academy Award nominations, one Cannes Film Festival award, four gold records, one platinum record and so on. I am also a multimillionaire. And you know what? I'd give it all up tomorrow, the whole lot, for one Irish rugby cap. Just one."
James Joyce Right wing. All rugby teams must have at least one whining winger. Joyce played at Belvedere, the Christian Brothers school he attended in Dublin. And anyone who has read "Portrait of the Artist as a Young Man," in which Joyce devotes the five opening pages to the horrified recollections of a 12-year-old boy playing out on the wing for his school rugby team, will know that he had the whining down pat.
Yoshiro Mori Left wing. The former Japanese prime minister was a very keen rugby player and retains his passion for it. At least one winger should always be thinking of a comeback attempt.
Sir Edmund Hillary Full back. Hillary played for Auckland Grammar School in the 1930's. Besides, no serious World XV would be complete without a New Zealander, so Sir Edmund's our man. Besides, it can't hurt to have as the last line of defense a man who took on Mount Everest and did not flinch.
Benito Mussolini Coach. Mussolini saw the game played in France in the early 1920's and was instrumental in taking it back to Italy later in the decade, convinced it would go a long way toward toughening up the population.
Prince Edward: Second XV of Jesus College, Cambridge.
James Joyce: Played at Belvedere in Dublin.
Sir Edmund Hillary: Distinguished player for Auckland Grammar School in the 1930's.
Benito Mussolini: Not sure if he played, but Fitzsimons describes him as an absolute rugby nut, who took the game into Italy later in the decade.
---
Internet correspondant Ron Hinrichs has:
Alf Wight, better known as James Herriot and famous for his books on his life as a rural vet in Yorkshire, played rugby as a schoolboy in Scotland while attending Hillhead School in Glasgow. This is according to the biography of him written by his son.
Ryan Giggs, the current Manchester United superstar and Welsh soccer international, played junior rugby league while growing up in the Manchester area. His dad, Danny Wilson, played RL for Swinton.
Daniel Craig, the current 007. From the BBC: "No doubt many of Hoylake RFC's former players have gone on to great things but surely only one has a licence to kill. Daniel Craig, the next James Bond, grew up in the area and turned out for the local XV."
Internet correspondant Dan Hearsch has:
Michael Olokowandi of the NBA, formerly of the LA Clippers, late of the Minnesota Timberwolves. Was born in Lagos, Nigeria. I read a story about him having played lock growing up. Go figure, a 7' 270 pound lock, you wouldn't even need to lift him.
Julian C Day - CEO (formerly COO and President) of Kmart corporation in Troy, MI. The following excerpt is from a story printed March 12, 2002: "The Troy-based retailer named Julian Day as president and chief operating officer Monday. The former rugby-playing, British-born executive will handle the day-to-day operations at Kmart and report directly to James Adamson, who became chief executive officer Monday." He was named CEO in January of 2003. went to Oxford, I assume he played there.
Bill Ford, Jr. - CEO of Ford Motor company and great-grandson of Henry Ford. Part owner of the Detroit Lions. He played at Princeton. From a Detroit Free Press article: "After taking his father's path through Hotchkiss, the Connecticut prep school, Ford landed at Princeton, where he studied history, played rugby and tooled around campus in a metallic-green Mustang (a Hotchkiss graduation present) with a bumper sticker that read, "In rugby there are no winners, only survivors."
And rugby savant and investigative reporter Thomas J. Hamill adds:
"I came up with the following former rugby players:
Idi Amin - Idi Amin, the brutal dictator who ruled Uganda 1971-79, was a "splendid type," good at rugby but decidedly stupid, according to 1964 records released by Britain's Dominions Office, which oversees relations with former British colonies. "Idi Amin is a splendid type and a good rugby player," wrote a British official identified only as J.S.C. He went on to describe Amin as "virtually bone from the neck up and needs things explained in words of one letter." More than 500,000 Ugandans were killed during Amin's rule. Amin now lives in Saudi Arabia. According to my video-reviewing pal Buzz McClain: "Last night I was reviewing a self-portrait movie ("General Idi Amin Dada: A Self-Portrait" by Barbet Schroeder) of Uganda's cannibalistic, murderous former dictator Idi Amin and was astonished to hear this in one of his speeches: 'As you know I am a rugby player. I am second row, so I know how to push. I am very big. You don't want to push against me. And I also play wing three-quarter and I am very fast. I can run one hundred meters in nine point five seconds (applause). If you tackle me, you will try, and you will hurt only yourself. So to everyone who is a boxer, I say this, do what you have to do to knock out your opponent.'"
Fran Tarkenton - The Hall of Fame quarterback was in a deodorant commercial several years ago playing a scrumhalf. I was not able to find independent confirmation, but I heard several years ago (before the commercial) that he actually played.
Gary Anderson - The Vikings kicker who didn't miss a field goal last season until the Super Bowl was on the line was born in South Africa. His early days kicking a fatter ball have been frequently documented in NFL telecasts.
Chris Farley - Did you notice the Marquette Rugby Jacket in "Tommy Boy?" Chris went to Marquette and played rugby. He showed up at his first practice wearing baggy shorts and a pink polo shirt. During matches he would hike his shorts into sumo mode. Don't we all know one of these? [Hmmmm. What position would Chris Farley have played? Let's see.... could it have been... PROP? - Wes] Click here for a photo of Farley as a high school football player.
Jim Murphy- Creative partner in Pixar Entertainment and Chris Farley's roommate and team mate at Marquette.
The Wilmington, Delaware Rugby Mafia - For years, the power structure of Wilmington, Delaware and the Wilmington Rugby club were one and the same. Late mayor Dan Frawley played and had the city's minor league stadium named after him. Former mover and shaker (and now convicted murderer) Tom Capano was often identified by his rugby connections prior to his arrest for killing his estranged girlfriend. (Goes to show that we can take our misogyny too far.) The Wilmington connection has been documented several times in Rugby Magazine.
Frank Blee - Maybe a stretch, but the New Jersey assemblyman from Atlantic City was my team mate and a prop at Dickinson College 1978-80.
Roh Tae Woo: President of South Korea; served during 1988 Olympics.
Tony O'Reilly: Chairman of Heinz Foods is a former Irish International. Read it in their Rugby Magazine ads.
David Dixon: Offensive guard, Minnesota Vikings (must be something about the Vikings), 6'4", 350 pound former lock from New Zealand. Walked on in Junior College, transferred to ASU, and has now had a good career in the NFL. He just signed a four year, $10 million contract, so he can compare net worth with Jonah.
Thomas Dolby: When not blinded by science, he played until his hands became too valuable.
Mick Luckhurst: Former NFL kicker had bigger balls in England.
Tom Foley: Pennsylvania Senate candidate and Commissioner of Labor. His playing while doing humanitarian work in Ireland is well documented.
Steve Tasker: Too small to be drafted by the NFL, he took up rugby in the spring of his senior year at Northwestern. From what I understand, they used him at Flyhalf. Then the Bills drafted him and he went to about ten Pro Bowls as a special team specialist.
Andre the Giant: Played as a kid in France.
Ernie Els: Played as a kid in South Africa (if you can believe that) until his gift for golf became apparent. From a South African journalist: "He grew up in the eastern part of Johannesburg and being an Afrikaans boy, he went to an Afrikaans school where they play rugby and cricket. Ernie played no 8 for his school's 1st team before he switched to golf." From Planet Rugby's "Fact of the Day": "Did you know that South African golfer Ernie Els, who won the prestigious Open championship at Muirfield on Sunday, was a keen rugby player during his teenage years until an on-field injury helped steer him towards Golf? When he was 12, Els was forced to go to the doctor with a finger injury sustained during a rugby match and his mother, concerned that rugby was too physical a sport for her son, asked the doctor to exaggerate the extent of the injury. "I told the doctor, 'Tell him it's serious,' " revealed Hattie Els in a recent interview. "We figured that if we exaggerated, it would get his attention. I was afraid he was going to really be hurt." The ruse worked and Els turned his back on rugby and concentrated on the sport that would propel him to millionaire status as a global icon."
James Naismith- The inventor of basketball; he was known as a rugby and lacrosse player. After the players tired (literally) of shooting hoops with a medicine ball, a rugby ball was used. According to Rugby Magazine, players balked at the introduction of a uniformly round ball because it would eliminate the weird bounces on rebounds.
Don Amaeche - Basketball player for the Orlando Magic, recently turned down $18 million free agent offer from the Lakers, re-signing for less this year with Orlando in hope of $27 million next year. Played county level as a schoolboy in England before taking up basketball in high school here.
Rufus Sewell - He plays the Devil's emissary in Bless the Child. The following is from the August 9, 2000 New York Daily News: "Not surprisingly, Sewell enjoys making people squirm. As a young teenager running around London, he dyed his hair blond and wore nail polish. 'I used to score a lot for my rugby team because people were terrified I was going to kiss them or something,' he says with a laugh."
And one who became famous, then played rugby:
Tom Okon: Who? If you're over 30, you know him. The kid in the Mean Joe Green Coke commercial, gets Green's Jersey for a coke. Went on to play High School rugby at Fordham Prep. He also played four years at Fairfield University (#8) and was president of the club in his senior year. He's still involved with their alumni.
From the Planet Rugby daily news: "FACT OF THE DAY - Did you know that boxer David Tua, who challenges Lennox Lewis for the World Championship in a few weeks time is from Mangere, Auckland in New Zealand? Like most of his countrymen, he was a keen rugby player in his youth, gaining a trial for NZ Secondary Schools XV as a three-quarter." (That's a wing.)
Joe, an Internet correspondent, adds: Mark Cuban, current owner of the Dallas Mavericks basketball team and founder of broadcast.com (now Yahoo! Broadcast). He supposedly played at Indiana University according to an article in the Dallas Morning News.
Rob Wagner adds: Mick Luckhurst played rugby in Minnesota... I know, I played with him! He played fullback for the St. Cloud State University RFC back in the mid-70's. When SCSU couldn't get his football eligibility sorted out he transferred to California, but not before a couple of seasons of rugby for us. It was wonderful to have a kicker who could convert from mid-field!
From Ron Hinrichs: Nick Frost who played the drug-dealing, hilarious slob Ed in "Shaun of the Dead" is a former rugby player. According to an interview with The Sun and after describing how to separate water from urine to survive in the desert Nick goes on to state, " It tastes just like salty water and me and Bruce Parry, the explorer who showed me how it's done, tried each other's. I used to play a lot of rugby so drinking another man's piss is nothing new."
"The Oracle" adds: A.P. Treurnicht, an arch-conservative politician and member of Parliament who played provincial rugby in South Africa, The Hon. Denis Thatcher, wife of Margaret, Donal Spring, deputy prime minister of Ireland and minister of foreign affairs. He played for Ireland. Christiaan Beyers, played for Transvaal, he was a general in the Boer War. Frankie Waring and Dawie de Villiers were Springboks who became South African cabinet ministers. Steve Tswhete, South Africa's minister of police who was minister of sports, was the chairman of the IRB - Island Rugby Board, whose members were political prisoners on Robben Island at a time when their most famous colleague was Nelson Mandela. And also Nick Shehadie, Lord Mayor of Sydney, Australia.
Robert Michel adds: John Sciarra: quarterback at UCLA who went on to quarterback the Philadelphia Eagles. He was an accomplished rugby player during his UCLA days.
Dave Dalby: all-american center at UCLA. Went to Oakland Raiders where he became stalwart center. NOTE: in the New Orleans Superbowl of 1981, Oakland and Philadelphia squared off with UCLA rugby stalwarts Sciarra and Dalby starting against each other. Oakland in a cakewalk...
George Allen, Jr.,: former governor of Virginia. He played rugby at UCLA while his father was coaching the then-Los Angeles Rams. He was also a scholarship football player at UCLA, but booked little game time.
Mark McBride adds: Warren Zevon ("Werewolves of London" fame) has acknowledged Atlanta Renegades RFC on liner notes to the album "Mr. Bad Example". He also has rugby patches from an Australian Rugby League Club and the Renegades in his "Learning to Flinch" CD.
Ed Purcell, a former UCLA and Santa Monica Rugby Club player, adds these:
Jonny Lee Miller (actor), played a few seasons for Santa Monica Rugby Club, showed up at a few games with then gal-pal Angeline Jolie;
Mark Harmon (actor), played prep school rugby at Harvard School in Studio City, then two seasons as gridiron quarterback for UCLA and one season of rugby at UCLA. At his center back position Mark was a very tough tackler and good runner.
Randy Cross (San Francisco 49ers center, three-time Super Bowl champion, now TV gridiron commentator), played gridiron at UCLA on a Rose Bowl championship team, also a few seasons as a second row rugby player at UCLA. Rugby career ended with bad gash over forehead in UCLA vs. California game.
Brian Kelly (New York Giants linebacker in the 1970s) played rugby for Cal Lutheran College (where he decked me with a late tackle as I was kicking to touch in a Cal Lutheran - UCLA game under a torrential rain storm) and many seasons for Santa Monica Rugby Club.
Rob Scribner, Kermit Alexander (both played gridiron and rugby for UCLA, and for the Los Angeles Rams). On a California Grizzlies tour of New Zealand in 1972, quarterback - linebacker - quarter miler Scribner dazzled All Black selectors.
Chris Serjak adds: Steve Nash, point guard for the Phoenix Suns, excelled at rugby while growing up in Victoria, British Columbia.
Internet correspondant Ben Parker adds:
Kenzo Suzuki; "the current WWE wrestler played for the Japan national team. They even mentioned it a few weeks ago on national television."
Internet correspondant Tom Joyce adds:
Douglas Bader; "before he lost his legs in a flying accident, he represented the RAF College and played for the Harlequins. By all accounts he would have been capped for England but for his accident. When World War II came he rejoined the RAF, despite his injuries, became one of the most prolific fighter aces and, after being shot down and captured, escaped so often he ended up in Colditz."
Internet correspondant Alex Webbe adds:
"I would like to begin by offering a former teammate of mine in Aspen, All-Big Ten (Iowa), All-Pro (Lions) Tight End Jim Gibbons who played for years with the Aspen Rugby Club. He was a member of "The Gentlemen" in 1970 when they won their first Ruggerfest.
Additionally, I would like to offer Notre Dame running back Ed Gulyas (1969-71), who shared the backfield with Joe Theisman.
Finally, I would like to offer my viewing of a black and white photograph of a Chicago-New York rugby match in the late 1930s at Soldier's Field in Chicago. Playing for Chicago were Jay Berwanger, University of Chicago Heiseman Trophy winner (the first) of 1935; Clint Frank, halfback from Yale, and the 1937 Heisman Trophy winner (he was my godfather); and for New York, Yale end and the second Heisman Trophy winner, Larry Kelley. Jim Kennedy, Chairman of Cox Enterprises (Cox Communications, etc.), played fly-half at the University of Denver in the late 1960s."
J.B., an Internet correspondant, offers Kojo Annan, the son of United Nations oil-for-food profiteer Kofi Annan. From ft.com: "Back in 1991, there were high hopes for Kojo Annan, the athletic son of a relatively obscure international civil servant named Kofi Annan, then in charge of the United Nations' budget and finances. According to the Old Rendcombian Society Newsletter, from Kojo's independent British school, the junior Annan was a talented back in the college's 1st rugby XV, who also played for the county and who harboured ambitions to join the England national team. Only injury prevented him from 'playing against the touring Australian side and almost certainly going on to wear the red-rose jersey of England,' the newsletter suggested."
Internet correspondant Jay Eastlick adds: William Bennett, former education secretary, author and infamous gambler. "I heard a speech he gave at Southeast Missouri State University in Cape Girardeau in which he discussed his college days. He made a remark about his spending more time playing touch football and rugby than going to class."
---
Return to the Rugby Reader's Review
<![if !supportEmptyParas]> <![endif]>
<![if !supportEmptyParas]> <![endif]>
<![if !supportEmptyParas]> <![endif]>