The proctology rugby connection. What causes people to do the things they do? I wish I knew. - Wes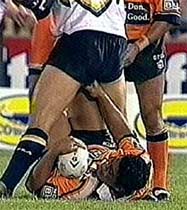 28 March 2001
LEAGUE JUDICIARY HOPOATE SENTENCE - SYDNEY
Hopoat banned for "interference"
Hopoate gets 12 weeks for unsportsmanlike interference
Former Australian rugby league international John Hopoate was banned for 12 weeks Wednesday after being found guilty of "interfering" with opponents.
The Wests Tigers winger was said to have jammed his fingers up the backsides of three North Queensland players during a match last weekend. NRL judiciary commissioner Jim Hall said: "I must say in my 45 years involvement in rugby league I've never come across a more disgusting allegation than I've had to deal with now."
Hopoate denied the charges, but television replays appeared to support them. Hopoate, who is as well known for his antics off the field as his ability to score tries on it, continued his protest, saying he thought he had nothing to answer for.
"I'm a great believer in what happens on the field should stay there," he said.
But the graphic accounts of Hopoate's three victims helped condemn the giant Tongan-born winger to another lengthy suspension. "There was pressure there. I know he wasn't doing it accidentally. He was definitely pushing," said North Queensland player Paul Bowman. "I was disgusted. I couldn't believe it."
---
From SMH.com, 3/29/01
Dirty dozen: Hopoate out for 12
Banned: John Hopoate of the Wests Tigers arrives for his hearing at the judiciary last night. He was suspended for 12 weeks. Photo: Tim Clayton
By Brad Walter
John Hopoate was last night suspended for 12 matches for a "disgraceful act" that his legal counsel said would cause the Wests Tigers international "disgrace and embarrassment".
In possibly the most bizarre judiciary case ever, the National Rugby League tribunal imposed the heaviest ban in four seasons after hearing more than three hours of evidence about players grabbing opponents by "the nuts", "the stork" and "the arse" in order to intimidate them. North Queensland players Peter Jones and Glenn Morrison testified that Hopoate had inserted his fingers in their anuses after they had been tackled during the match at Townsville last Saturday night.
Cowboys captain Paul Bowman accused Hopoate of doing the same thing to him after he had completed a tackle.
"I felt fingers. He was pushing up my arse," Bowman said. "I was disgusted, I couldn't believe it. If he was a man, he wouldn't do it." Morrison said: "It was dreadful, I had pain. It was like someone was trying to put pressure up there."
In response to suggestions from Hopoate's counsel, Bernard Gross QC, that his client had been administering "a wedgie", Jones said: "It was in the anal area. I think I know the difference between a wedgie and someone putting their fingers up my bum." Hopoate did not shy away from the allegations completely, telling the panel that his prodding of Bowman was "between his arse and his nuts". But he denied putting his hand under any of the player's underwear.
"I've reached out to try and pull his undies and shorts up his arse to try and make it as uncomfortable as I can," Hopoate said of the seventh-minute Jones incident. After watching video footage of the Morrison tackle in the 71st minute, Hopoate said: "I was trying to do the same thing - give him a wedgie."
In the case of Bowman, Gross pointed out that a Cowboys player appeared to have hold of Hopoate "in the forbidden area", before he was turned over on his back. Hopoate said he had "jabbed" Bowman in order to move him so that he could get up and complete a quick play-the-ball.
On the other occasions, he said he was trying to slow the Cowboys' play-the-ball. "It happens all the time," Hopoate said. "You get wedgies all the time, and jabbed in the stork. I'm a great believer that what happens on the field should stay on the field."
The verdict may have opened a Pandora's box for the NRL, with Wests coach Terry Lamb estimating that such incidents occur up to 10 times per game.
Lamb, who played a record 349 first-grade games between 1980 and 1996, said he had never committed such acts but had been on the receiving end of similar tactics. "There's all types of niggling tactics - wedgies, biting, gouging, grabbing blokes by the nuts," Lamb said. "I'm no expert but I've had wedgies. I'm sure the panel has as well. The game goes on." But not until round 18 for Hopoate after Royce Ayliffe, Mal Cochrane and Jeff Hardy decided his actions were comparable with previous gouging charges or the high tackle which earned Josh Stuart a 12-match suspension in 1998.
Before they deliberated on the verdict, NRL commissioner Jim Hall told the panel: "In 45 years of involvement with rugby league I've never come across a more disgusting allegation." After the three-man panel returned a guilty finding on all three allegations, judiciary chairman Greg Woods advised its three members not to be swayed by their "revulsion or distaste" when deciding the penalty.
Tigers officials gasped when Hall asked that Hopoate be suspended for 25 matches.
Wests prop Shane Walker escaped suspension after beating one high-tackle charge and having another one downgraded.
And Newcastle winger Adam MacDougall also escaped suspension after having his high-tackle charge reduced.
Meanwhile, Northern Eagles props Mark O'Meley and Paul Stringer face fines of about $10,000 each after being ordered to appear before the club's internal disciplinary committee over a fight outside a Central Coast pub last weekend.
---
Hopoate manager points finger at ad
4 April 2001
(AEST) THE manager of disgraced rugby league star John Hopoate is considering action against the New Zealand Cancer Society for using a photo of the player sticking his finger up an opponent's anus in advertisements.
The photo of Hopoate's finger interfering with North Queensland captain Paul Bowman is being used as an advertisement for prostate cancer checks. The newspaper ad reads: "A bloke's chances of developing prostate cancer increase as he gets older. If you have symptoms that you're concerned about, consult your local doctor. It won't hurt a bit - promise".
The player's manager Wayne Beavis said neither he nor the former Wests Tigers player had been approached about using the photograph. He said he was looking at the legal ramifications.
"We're looking at it now. I'll be dealing with that this afternoon," Beavis said. Wellington Cancer Society divisional manager Roger Taylor said he had some misgivings about how its members and donors would react to the ad, after it was suggested by advertising agency Goldsack Harris, but decided to go ahead.
Hopoate, 27, resigned from the Tigers on Sunday after receiving a 12-match suspension for his behaviour.
---
The most vile act ever!
From Sportal.com.au - Wednesday 18 Feb 2004
Controversial Wests Tigers winger John Hopoate has been suspended for 12 weeks after being found guilty by the NRL Judiciary of poking his fingers up the anuses of three North Queensland players.
Accused of one of the most bizarre charges in the history of rugby league, or sport in general for that matter of fact, Hopoate was officially found guilty of 'unsportsmanlike interference'.
On the evidence of video footage and the damning testimony from the three Cowboys players, Hopoate was always likely to be found guilty. The length of his sentence seen as the only contentious matter.
In the end the NRL Judiciary had little trouble differentiating between a "wedgie", a "finger up the arse" and the area between the "arse and the nuts" before finding Hopoate guilty.
NRL judiciary commissioner Jim Hall described Hopoate's case as the worst he had experienced in his 45-year involvement in rugby league.
"I've never come across a more disgusting allegation than I've had to deal with now," he said.
Hopoate, 27, was found guilty on three separate counts of deliberately sticking his fingers up the anuses of Peter Jones, Paul Bowman and Glenn Morrison in Saturday night's match at Dairy Farmers Stadium.
Hopoate, a former Australian Test winger, insisted he was merely trying to give Jones and Morrison a wedgie in order to perform a quick play-the-ball and that he did not stick his finger up Bowman's anus.
Asked by his consel Bernie Gross QC where he was directing his finger at Bowman, the Cowboys captain, Hopoate replied: "Between his arse and his nuts".
Hopoate maintained he did nothing wrong in administering the wedgies and went on to say: "I'm a great believer in what happens on the field should stay there."
Asked to describe what a wedgie felt like, the Tigers winger replied: "You get a burning sensation. Your undies are getting reefed up your arse."
Hopoate's defence counsel contended to Jones that his client had merely administered a "wedgie" on the Cowboy in the seventh minute of the match.
"It wasn't a wedgie. That's when your pants are pulled up your arse. I think I know the difference between a wedgie and someone sticking their finger up my bum," said Jones, admitting that while both acts caused discomfort, they caused different sensations and he could differentiate between the two.
Jones claimed he hadn't provoked Hopoate and that afterwards he immediately expressed his "disgust" and gave the Tongan international a push.
Bowman said after tackling Hopoate in the 17th minute, he stood over the winger and "that's when I felt fingers outside my shorts pushing up my arse".
"There was pressure there. I know he wasn't doing it accidentally. He was definitely pushing.
"I was disgusted. I couldn't believe it. I know it's a tough game, but there's no room for that."
Gross argued that Bowman had been excessive in trying to slow Hopoate from playing the ball by grabbing the North Queensland captain's leg.
But Bowman maintained that "if he (Hopoate) was a man, he wouldn't do that".
When pressed by Gross, Bowman became angry and asked the QC: "If I held your leg, would that give you the right to put your finger up my arse?"
Morrison testified he was caused pain by Hopoate's action.
"Hopoate was trying to pick my arse. It's not a thing that I wanted to happen and it's not a pleasant thing," Morrison said.
Tigers coach Terry Lamb, who has played 349 first grade games, said it was resonably common to be touched in the region of the testicles.
In directing the panel before making a verdict, NRL judiciary chairman Greg Woods told the former players not be swayed by their "feeling of revulsion or distaste".
Gross pre-empted a guilty verdict would cause Hopoate "disgrace and embarrassment".
After the hearing, Wests Tigers chairman John Chalk said the club would appeal against the ruling.
The hearing also made headlines in London.
Under the headline "The sickest thing in sport? RL star is accused of going up and under with fingers", tabloid newspaper The Mirror compared the allegations against the rugby league player with boxer Mike Tyson biting Evander Holyfield's ear.
"There was Vinnie Jones's infamous grab at Paul Gascoigne. Mike Tyson got in on the act by biting a chunk out of Evander Holyfield's ear. But sport can rarely have had such a bizarre charge as that levelled at rugby league hard man John Hopoate," the paper said.
"The Wests Tigers star has been cited for "conduct unbecoming" after allegedly persistently sticking his fingers up opponents' backsides while making tackles."
Liberal broadsheet The Guardian also reported the claims.
John Hopoate's judiciary wrap:
Date: 13/3/98
Match: Manly v Brisbane at ANZ Stadium
Charge: Contrary conduct (Dissent), sent off during match
Plea: Not guilty
Finding: Guilty
Suspension: Two matches
Date: 9/6/00
Match: Wests Tigers v St George Illawarra at Campbelltown Stadium
Charge: Grade two contrary conduct, sent off during match
Plea: Not Guilty
Finding: Guilty
Suspension: Two matches
Date: 29/7/00
Match: Wests Tigers v Melbourne at Leichhardt Oval
Charge: Misconduct - 10 incidents referred to judiciary
Finding: Guilty on four counts
Suspension: Three matches
Date: 26/3/01
Match: Wests Tigers v North Queensland at Dairy Farmers Stadium
Charge: Grade one striking
Plea: Guilty
Suspension: No ban, points penalty only
Date: 26/3/01
Match: Wests Tigers v North Queensland at Dairy Farmers Stadium
Charge: Three of conduct contrary to true spirit of the game - referred to judiciary.
Plea: Referred to judiciary
Suspension: Twelve matches