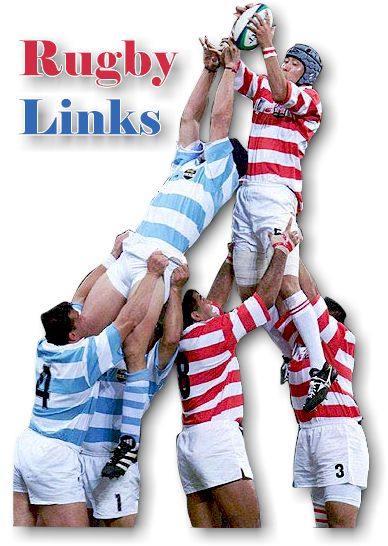 Links verified 12/19/12
Rugby, Local
Naturally, I have to start with a link to the Western Suburbs Rugby Football Club, my own club in Fairfax County, Virginia. Established in 1977, our colors are black and white. Our Old Boys side wears solid black because, I was told, it makes us look "bigger." I think it's because black is slimming. I was responsible for this web site for five years, so there's a lot of me on it.
Next up comes the Potomac Rugby Union, based in Washington, D.C. Listed here for completeness only, it's just a list of phone numbers and addresses.
Territorially speaking we come to the Mid-Atlantic Rugby Football Union, the next level up. Western Suburbs is a Division II men's club within MARFU. To see how we're doing currently, click on "Men's Fifteens" and check out the standings.
Finally, at the top, is USA Rugby Football Union, the main reason why we'll always be the sleeping giants of rugby.
---
Rugby News
Rugby Magazine, which covers events in the U.S.
Financial Times on line edition.
---
Rugby, National
Gainline.us - Kurt Oeler's website
---
Rugby, International
RFU Online - Home of the England rugby team.
Gwl@d web site - This just may be the Welshest site on the web.
Rugbyheads, a site with a New Zealand slant - specifically a Canterbury Crusaders, New Zealand slant. Good reading, this site is light-hearted and clever.
BYU Rugby - My alma mater. I'm sorry I wasn't associated with them when I was there!
---
Old Boys Rugby
Generally speaking, Old Boys websites are better because they're funnier. The New York Vintage Whines is a case in example.
Christchurch High School Old Boys' RFC - Less formally known to me as the Keiths. Boy, are these guys organized!
Vet's Rugby - The home for Golden Oldies Rugby
---
Rugby Songs
John Mehlberg's immortalia.com - The all-time best rugby songs page I have seen on the Internet.
---
Etc.
rugbydump.com - All sorts of stuff, including humor.
The Lordprice Collection of Rugby Pictures - Classic rugby pictures.
The East Terrace, British rugby humor. (Or is that "humour?")
The Rugby School Website - Where it all started.
Rugby Relics, Ltd. - An amazing collection of old and not-so-old rugby stuff. Highly recommended for those with an interest in the history of the game.
Rugbymemories.com - Pins, coins, caps, medals, etc.
---