Truly, there is no other sport like rugby. - Wes
<![if !supportEmptyParas]> <![endif]>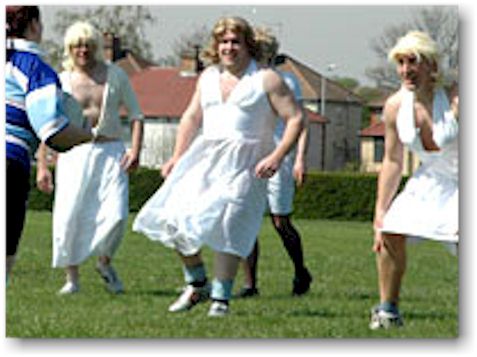 Blonde Ambition
BBC Sport, 4/26/06
---
<![if !supportEmptyParas]> <![endif]>
Rugby fans were left rubbing their eyes in disbelief when 15 burly players trotted out for a game - all dressed as Marilyn Monroe.
The Marilyns got together for a charity match in Kent, arriving two hours early so they had time to shave their chests and apply some lipstick.
When the match got under way, the screen goddesses quickly realised the Erith Ladies team were no pushovers and the decision to leave off their high heels did not appear to be making much difference.
Erith eventually triumphed 43-17, but not before they were 'serenaded' off the pitch by the Marilyns' version of Elton John's Goodbye Norma Jean.
And you thought the Haka was scary.
---
Return to the Rugby Readers Review
<![if !supportEmptyParas]> <![endif]>
<![if !supportEmptyParas]> <![endif]>
<![if !supportEmptyParas]> <![endif]>