An Old Boys Tale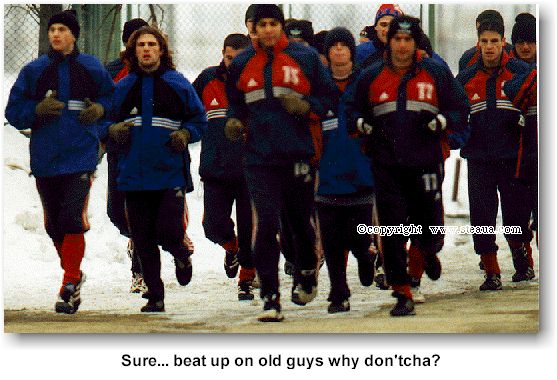 ---
OVER-40'S TAKE ON ROMANIA'S FINEST - BY ACCIDENT!
A veteran's rugby team from the south-west of England had a nasty surprise on their tour of Romania when they ended up playing against the country's premier rugby side, Steaua Bucharest. The Dorchester Gladiators from Dorset had expected to play a veterans team from the club but an error along the way saw them took the field against the first team packed with internationals including the likes of international stand-off Ionut Tofan.
Nigel Jones, 43, a lock, said they had an early indication things were not really going to plan: "We started to get worried when our hosts asked us if we wanted a training session the night before, which is not exactly our style."
"We did our pre-match warm-up in the bar and didn't get in until 4am. The match began at 11am. We tried to convince them we were not any good but they thought we just trying to wind them up and refused to believe us.
"They started to warm-up like professionals and we just stood around smoking a few cigarettes knowing we were in real trouble," he added.
Dave Seddon, 45, the Gladiator's fullback, said: "We had been out for a few beers the night before and were all feeling a bit fragile. We are no longer at our peak."
The home side, who beat Connacht in this year's European Shield, eventually ran out 60-17 winners after apparently easing off when they realised they were not going to lose.
Undaunted by their Eastern European experience, the Dorset club are planning a tour to Latvia next year.