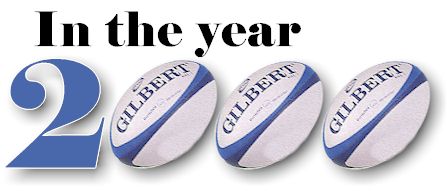 Written in the waning days of 1999 by Rugby Futurist and Visionary Wes "Brigham" Clark
---
Rugby as we know it is about to change. We stand on the threshold of a bold new era, fraught with technical innovation that can only benefit the game we all love.
In the Year 2000...
Innovations in superconductive microcircuits woven into jerseys will make possible the personal force field, which will interact with the magnetic field of the earth to create cushier tackles, allowing players to play longer without fear of body-injuring impacts to the ground. Since players' personal force fields will interact to create repulsive fields, pads will become a thing of the past.

A blessing to second row players will be the introduction of Bike's new Front Row Odor-No Jockstrap. The cotton jock contains micro-cell mist generators, which continuously spray Mennen's patented new ultra-deodorant formulation, which entirely nullifies the smell of front row players. The scrum becomes a more pleasant, odor-free environment.

Jerseys, shorts, compression shorts, jockstraps and rugby socks will be woven with high-tech controllably-transparent material, allowing the player to zulu at will while remaining warm and dressed, thus preserving the frequent public nudity that so characterizes the game of rugby.

The advanced Y2K scrum cap will be composed of fluid cells in addition to the usual padding. These cells can be filled with restorative fluids (water, carb drink or Guinness) that can be fed to players via tubes terminated in the mouth by porous mouthguards. All a player need do to become instantly refreshed is suck on his teeth. (Models fitted with teeth can be supplied to Old Boys.)

Mitre will introduce the Y2K rugby boot, the Mitre PosiTrac Barbarian. Advances in micromotor and ground sensing technology will allow infinitely controllable, shock absorbing telescopic studs to be fitted to soles. This will allow continuously varying stud lengths optimized to pitch conditions, load and velocity. (On hard pitches studs will shorten; upon sensing mud, studs will lengthen to the full 1 1/2" PosiTrac position. At a full sprint studs will retract to increase surface area contact in much the same way the F-111's wings retract into its fuselage.) Shin splints and sore ankles will be relics of a distant age.

Drunken players will no longer have to fear wetting themselves since bio-mechanical micropumps and fluid evaporation systems will make the nickname "Puddles" a thing of the past. Urine evap systems will also be a blessing to players during games. (Used in conjunction with Mennen's high tech ultra-deodorant.)

Rugby balls will also benefit from Y2K engineering. The Gilbert Auto-Flite will contain yaw, spin and pitch sensors that control extendable fins and microjets, thus ensuring that penalty or conversion kicks get slotted between the posts every time. Now mediocre kickers will be able to walk off the pitch with pride, knowing that his kicks made points contributions to his side's score.

Microjet and voice recognition technology will also be used to create jet-assisted overtake and tackle boots. Now all an exhausted defending player need do is cry out "Go go gadget jets!" to rapidly overtake and make a try-saving tackle on the ball carrier.

Conformably soft but stiff space age materials will be used for Y2K goalposts, removing the need for goalpost pads. Ball sensors in the uprights can trigger audible signals that take the guesswork out of touch judging during kicks at goal.

Conventional pitches will be replaced with Scott's UltraPitch 2000, which not only contains smart sensing micropumps that wick away excess water and mud, but create kicking tees upon demand anywhere on the field. Also, embedded liquid crystals and high-intensity LED's can be used to display scores, sponsors' logos or public announcements (humorous or otherwise) on the pitch.

The smart scrum sled will contain microchips and sensing devices that enable it to determine impact location and force. Digital signal processors can be used to create high volume motivating announcements, such as "Get your butts lower!' or "How about you flankers pushing for a change?"

Stealth technology currently used to develop radar-absorbing and reflectance materials can be modified to create visible wavelength-absorbing and reflectance fabric for jerseys and kit. The New Zealand All-Blacks could become the Year 2K All-Gones, for example.

Lime and spray paint for marking lines on the pitch will be replaced by high intensity laser beams. Players venturing into touch will be sensed and marked by the release of paintballs, thus removing guesswork and the need for touch judges.

Perhaps the greatest improvement will be that the "utility back" gets replaced by the "utility rugger." Medical advances will make possible the interchangeable head, allowing players who were formerly backs to exchange bodies with players who were formerly forwards, and vice versa. Now, when a prop wants to know what it's like being a fleet-footed fullback he need only exchange heads. An added benefit is the improvements in cultural understanding that result from dissimilar players exchanging bodies with one another. For instance, Frenchmen can exchange bodies with Englishmen. Englishmen can exchange bodies with Welshmen. Most provocatively, male ruggers can exchange heads with female ruggers.
There are obviously many new improvements to the game occasioned by the use of innovative emerging technologies. I'm sure I'm not the only visionary in rugby - perhaps you can think of a few yourselves!