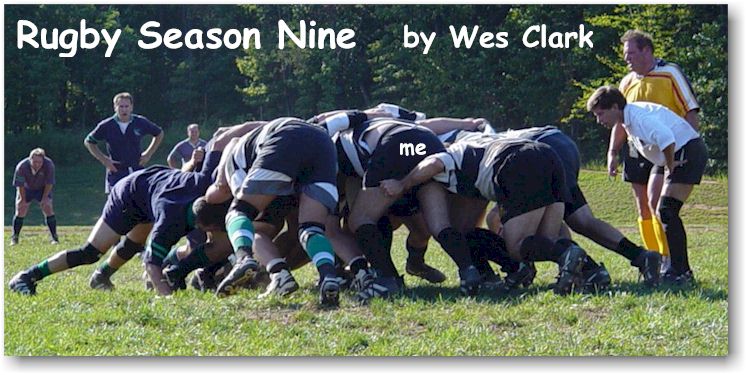 7 September 2002 match with the Irish Wild Geese
Here are my previous rugby journals: Rookie season, Second, Third, Fourth, Fifth, Sixth, Seventh and Eighth.
---
From May to August, 2002
I did nothing except swim at the pool and sweat while not in the pool. (It has been a remarkably hot summer.) The only notable sporting thing was a Cricket 101 session on July 21st at Coddy's house. I enjoyed it, and I see promise in it. Perhaps I can take that up when I'm finally done with rugby (or when it is finally done with me). I also gave up being the club secretary in May; it was just causing me too much time and aggravation. So now I am merely the webmaster. I help out here and there, take photos at matches and attempt to persuade Guinness to give us money.
First day of practice, Tuesday, 8/6/02
Four years. It has been four years since I took up this game. Given that it takes so much time and attention and causes so much weariness and injury, it's remarkable that I've stayed with it this long. What is rugby's hold on our hearts and minds? Anyway, I am guessing that this season will be played at somewhat less than the level of committment I displayed last season. Practice no longer seems essential, and if I miss a match on a Saturday it's no big deal.
I was dreading the first day of practice, but, as usual, I needn't have. There is a natural self-pacing instinct within me that prevents me from killing myself (or attaining any remarkable skill or fitness). The new head coach Scott "Schnauzer" Delaney got things started off with some new drills and fitness runs, as well as the infamous "bleep test." This is essentially doing 20 meter sprints according to a tape recording of bleeps that go off at shorter and shorter time intervals. Anyway, my level was level six, step four. Nothing notable about that; most did far better than this. (A few mutants were up to level 13 or so.) BUT... I was not the first to drop out, nor was I the second or third... anyway, 46 years of life on planet earth have taught me again and again that I have my very own path and pace.
Anyway, the weather was in the low eighties and nice, and practice was mostly fun. I left early as my legs were growing sore - no sense in killing myself at practice. (Especially since my first match isn't for a month; and then it's an old boys game.)
It was odd not seeing a host of usual WSRFC faces: Parsons, Tom Loesel, Elvis, Princess, Matt Clark - especially Kelly Watkins. There were all sorts of new faces, however, including some who have never played.
Tuesday evening practice, 8/8/02
As I sat in a stretching circle of 37 other guys I looked around and realized that Suburbs is much younger and faster than it ever has been - there are now a lot of lean, fast guys (a lot of backs). I felt dreadfully out of place. Anyway, we did one of Coach Delaney's newfangled restyled "Harpold Fitness Salons," and Kelly Watkins showed up. He and I buddied up and did the HFS, and then did some laps while everyone else had the crap run out of them. It was the most physically intensive fitness session I have seen in four years with this club. I'm pretty sure I couldn't have done it all. So... Kelly has a knee problem. When he walked, I walked. When he jogged I did also. I may not have shown any fitness this evening, but I did show some loyalty. Afterwards, P.J.'s.
No longer the secretary, it seems weird to not be collecting names and e-mail addresses at the end of practice.
Got to get the scrum sled pads fixed fast, or else we'll be doing fitness all summer. I miss the scrum sled.
Tuesday evening, 8/13/02
In a stunning lack of commitment to the game, I didn't go to practice. It was 97 degrees outside when I got home. I reasoned, 1) Rugby practice will be held for the next two and a half months - the pool will only be open for another week and a half, 2) Me and the wife ought to spend sometime together, preferably in the pool, 3) Guys my size and age have heart attacks doing exercise in weather like this.
Thursday evening, 9/5/02
This is the longest stretch in my rugby career thus far I have skipped practice. The Thursday of the week above I had funeral-related activities to attend to. The week after that I was on a business trip to San Diego. Then the week after that I was on vacation with my family in Orlando - where I caught a really nasty sinus infection of some kind, which kept me out of practice on Tuesday of this week. (I am now on anti-biotics.) Coming back to practice on Thursday was a nasty surprise - that sinus infection took more out of me than I had thought. All I did was run laps, but I wasn't even doing that very well. As my son Ethan would say, I was hur-ting. What didn't help (me) is the fact that this club has gotten decidedly younger and faster, and so, for the first time ever, I was the last one around the laps. So... looks like doing two or three twenty minute Old Boys periods is about all I'm up for on Saturday. (However, I felt much better after practice ended than I felt before it started or during it.)
OLD BOYS MATCH WITH THE IRISH WILD GEESE, 7 SEPTEMBER 2002
It was a warm day (85 degrees), and I was gulping plenty of water prior to kickoff. Despite this my mouth was exceedingly dry - making it very difficult to swallow. We were short players and so were the Irish, so we only played two twenty minute halves. As a season opener after nearly a month of not showing up for practice, this match was okay, but on a personal level it was a pretty shabby effort. We did win most of the scrums, but were generally not unified in packing down. I was the second lineout jumper - I don't do that often - but my one good jump opportunity was poorly-timed. Ah, well... we lost 0-12; the first half was pretty competitive and nobody scored, but the second half the Irish made some good substitutions (with one suspiciously young-looking guy in their backline - but, hey, we do that, too). I caught a kicked ball, but was unable to run far with it, getting well-tackled. At one point, about five minutes away from the final whistle, I came down hard on an ankle, but continued to run anyway. But... I'm glad I got out there, glad I played and was glad to have taken some photos of the preceding two matches for the website. Long Live Western Suburbs!
Tuesday evening practice, 9/10/02
Well, it's official now: I am the slowest big fat guy in the club. This particular practice session was notable in that the club looked like it was made almost entirely of young backs. This season has seen an absence of the bigger variety of the genre biggus propus et lockus outhousus. We did some lineout work, but, with the exception of Worf (who is fitter than I), it looked like a gathering of loose forwards. Very demoralizing to me.... I truly feel like I no longer belong. While we were doing pre-drill stretching, Fred Bardot asked me - with a tone of doubt in his voice - "Are you doing practice tonight?" So I ran laps, despite my sore ankle. At one point late in practice, as it cooled off a bit, I sort of caught my second wind and ran and ran. When I got home I was very sore and weary.
I gave Kelly Watkins a Book of Mormon. I don't do stuff like that often - I'm usually wary of it getting misinterpreted as something like salesmanship - but Kelly is different. I put a great photo of me snoozing on a hammock in it.
Thursday evening practice, 9/12/02
I did this stupid old man thing this morning - normally I wear bifocals to read my book on the bus on the way in to work in the morning. I usually remove them when the bus stops; I didn't today. As a result I misjudged the distance from the bus ramp where I was standing to the ground and turned my ankle on an insidious handicap ramp. I wore an ankle brace for practice and quickly found that it didn't help much. So I ran about three laps, walked a bunch more and gave up. That's okay - the club is going to Raleigh, NC this Saturday and I'm not. And my next match will be another Old Boys affair, so I guess I can be lazy awhile longer.
Actually, a turned ankle is kind of metaphorical for the season thus far... just sort of limping along...
Tuesday evening practice, 9/17/02
It was warm and I'd have rather stayed at home with the family and watched my son's new "Monsters, Inc." DVD, but I went anyway. We started off with variations on the New Zealand squares. At one point Cruz threw a ball which I intercepted smack in the face - that was novel, but I hope it doesn't become my signature play. Then the forwards did some rucking drills in which I took part, but then decided to do laps. (My fitness really sucks this season.) No practice this Thursday: I have a back-to-school night to attend.
BLUES/OLD BOYS MATCH WITH ROCKY GORGE "B," 21 SEPTEMBER 2002
The Suburbs Old Boys were supposed to play the Rocky Gorge Old Boys (the "GODs"), but because of low numbers things were rearranged so that the Blues and Old Boys games were combined. I played the first two 30 minute periods. The score at the end of the final, third period was a 21-29 loss for us. But it was a good game for me, one of my best. (Coach Schnauzer says it was the best match he's ever seen me play.) I got my hands on the ball more in this game than I did all last season, which is a surprise because it was a warm humid day, and this was causing me some problems. Anyway, I happened to be in the right places at the right times with hands that actually worked - I did a steal of a lineout ball at one point, and did it again later (only to lose it stupidly by not going to ground and setting up the ruck). Also caught a kickoff. Harpy suggested that I could have been the man of the match in this game, but Jeff Lange (and just about everyone else) played more aggressively and so got the honors. Bully for them.
Early in the first period I took somebody's shoulder into my ribs, but played on. Towards the end of the second period somebody fell on me in the same place in a ruck, and the rest of the game was a matter of painfully waiting for the whistle to blow. As of this writing (Monday morning) my ribs are sore, but nowhere as bad as my first rib injury in Fall '98, when sneezing brought tears to my eyes. This Tuesday I have a back to school night to attend, but will do some practice (maybe non-contact) on Thursday. Cari has a rare Saturday off this coming weekend, so I don't know if I'll make the match in Richmond with United. (Played on the Civil War battlefield site of Dorey Park!)
Thursday evening practice, 9/26/02
Instead of going to practice on Tuesday I went to Julie's Back-to-School night; one of those parental things. Anyway, our last practice of the season at Dunn Loring Thursday was miserable. It was raining and cold. The young'uns ran touch, I ran about 3 miles in laps. I still couldn't keep warm. At the conclusion (we were at it for about an hour), Coach Delaney said, "Miserable night, good heart" - which pretty much summed it up. Next week we're back in the Dustbin. Later we went to P.J. Skidoo's, and somebody said something I found so funny, I cocked my head back and laughed so hard I made myself dizzy and blacked out for a second or so. Coming to was weird. This is happening to me more often - I wonder why.
BLUES MATCH WITH UNITED "B," 28 SEPTEMBER 2002
Matches played at Dorey Park in Richmond, a real Civil War battlefield. The Blacks lost their 4th straight match 10-24. Whatever it was we had in previous seasons, we sure don't have it now. There were lots of guys going out with injuries... which was a problem because we only brought a side and a half, really. The beginning of the match was notable: we all circled up and received a motivational talk by our Geordie captain. Just after it I asked someone, "Did you understand that?" "Not a word!" was his reply. Anyway, we Blues played two twenty minute halves; Coach Cook said it was the best match he has ever seen me play. I figured it to be about an average one. The problem I had is the same I had the week before: a 2/3rd injury. (Bad enough to make it difficult to run and stay in the match, but not bad enough to go out for.) This time it was a bruised left knee. In one ruck my legs were pinned down and somebody landed right on it. The same thing happened again later. (One clown in United said, "He ought to stick with the web site." Har-de-friggin-har-har.) Anyway, I stayed in the match and we lost 5-8. This game was quite evenly matched.
Thursday evening practice, 10/3/02
It was unusually warm and humid this evening; I ran did some warm-ups, skipped the "bleep test" (fitness and me are conflicting notions) and happily participated in some scrum sled work and live scrums, which I always enjoy. At one point, Cookie was instructing tight fivers in how to set up - rear end up, lower back down - and he said, "As you drive, pretend you're shagging the ground," which I got a kick out of. Thoroughly sweated up, I sat out the rest of practice talking to Kelly. I am getting lazy, no doubt about it! After practice we gathered at an unpromising place called the "Hopfrog Tavern" (or some such thing), which is reportedly owned by a Mormon. He ought to give up.
BLUES MATCH AGAINST NORFOLK BLUES "B" (RUGBY TENS) - 10/5/02
There were some unusual features to this match: 1) It was rugby 10's - five forwards and five backs (due to low numbers from both us and Norfolk Blues at an away game) 2) I was the captain in a couple of halves (but didn't make any decisions while exercising this great weighty honor) 3) The score was probably the worst I have ever been involved in for a rugby match: a 0-78 loss (now I know how the Renegades feel) 4) The periods were 15 minutes (or less, sort of ), and I played all three. 5) I propped for the entire game; a first. Anyway, Norfolk's backs were running all over us, so it wasn't really a contest at all. I held my own in the scrums. Jeff Gardner the lock kept chanting a mantra: "This is really fun. I'm playing now because going to miss rugby in the winter. This is really fun. I'm playing now because going to miss rugby in the winter..." My personal opinion is that Rugby Tens suck. It's only somewhat better than Sevens. The a-side lost their match 38-10, so they're 0-5 now. But the Reds beat Quantico!
OLD BOYS MATCH WITH WEST POTOMAC OLD BOYS - 10/6/02
My seventieth rugby match, which we won 19-12. A couple of firsts: 1) I got injured only a few seconds after the kick-off: the ball was flying crazily through the air and I bounced it off of my middle finger, bruising the middle joint. Then, about five minutes later I hit somebody in the back with that same finger, hurting it more. On Monday I went to the doctor, who advised an x-ray; it is bruised, not broken. I've had things like this happen before (notably, when I tried to halt a running Larry Wollach at practice by sticking a finger out at him) but this one feels worse. 2) As we shook hands with West Potomac I noticed one of their backline players was female! (I took no notice during the match.) Anyway, we won the scrums rather easily, and I hoisted Harry Donovan, who was winning all of our lineouts and many of West Potomac's. It wasn't my best game - I got the ball a couple of times to little effect - but it was fun. There were a couple of times when I was within striking distance of my first try, but for various reasons it didn't happen.
Thursday evening practice, 10/10/02
My injured finger has been swollen and hurting, so I didn't practice this evening - I just stopped by to distribute directions to Roanoke for those going. (Not I - I'm taking my kids and their friends to King's Dominion.) It being Martin "Kiwi" Hill's last practice with us before moving to Arizona, we feted him at Hopfrog's - we had 20 guys present for this event!
Tuesday evening practice, 10/15/02
The season continues to suck for the Blacks, who lost 0-15 to Roanoke. If the Blacks keep losing Division II competitive matches and the Reds continue to win Division III competitive matches, we might have to play a intra-club relegation match, Blacks vs. Reds! Anyway, this evening I merely ran a few miles and chatted with the coaches. I'm getting lazier and lazier. I may not even play this coming weekend; I'm told that Severn River has enough guys for one side with some substitutes. If we travel light, or, as I should say, when we travel light, I may well end up playing 10's again - or 7's - or not at all. Since my wife has the day off I just might stay home and win some domestic brownie points. (Which is what I did. I could have traveled with the Reds and gotten in an entire game, since they showed up with 14 guys and Harpy, who played. Who knew?)
Tuesday evening practice, 10/22/02
I ran laps in the darkness on the South Run fields - as I used to do over the winter of 99-00, between seasons. It was quite cold, which caused me to cough. For some reason, while really motivated to do practice (after reading a Rugby World magazine at Border's Friday night) I became bummed out when the first drill was touch rugby. Afterwards, the coach had the club doing full pace, full contact on the hard dirt floor of the dustbin for the remainder of the time.
Thursday evening practice, 10/24/02
The Blacks' match with Happy Valley and my match with USUHS was canceled, so, bummed out, I didn't even bother doing laps; I simply attended and looked on, chatting with Kelly and Harpy. Afterwards, the Hop Frog Tavern. The Reds play an important match this coming weekend, against PAC C; this will determine who takes first place in the Division III rankings. It's only remotely interesting to me. The little c-side matches I play that have no real consequence are far more important to me - mainly because I'm actually playing in them!
At work today I was walking to a meeting while carrying a binder, which I nearly dropped. Fumbling, I dashed my finger against it which made the injured joint throb for a minute or two. The x-ray indicated that there was no fracture, but this is the most painful and persistant finger joint bruise I have yet gotten out of rugby!
Reds match against PAC C - 10/26/02
Not being selected for Reds, and not having a Blues match to play, I drove to Bethesda to watch this one. A very close-fought game; half-time score was 0-0. We were ahead for awhile, but then PAC scored and converted their try, so the final score was a 5-7 loss for us. The Reds' next match with West Potomac will determine if they make the playoffs, I think. As for the Blacks, even if they beat Frederick RFC next weekend (which doesn't seem likely, frankly), they're at the bottom of the pile, having lost all seven games played. Truly, an odd season.
Tuesday evening practice, 10/29/02
Since I won't be at practice on Halloween - my youngest daughter, age 12, still wants to Trick or Treat (which I always look forward to) - it was the last practice session of the season. We started out by playing touch, which I am never inclined to do at all. So Kelly and I went behind the dustbin to remove the pads from the scrum sled; I'll be storing these over the winter. It was a cold (mid 40's) and rainy evening, and, dressed in shorts and a sweat shirt, I got thoroughly chilled. By the time we got the pads put away the guys were still playing touch, so Kelly and I blew off practice for dinner at Glory Days. Jesse, who has been skipping practice due to knee problems, showed up to make it a threesome. I changed into a dry tee-shirt, but, walking back to the car from Glory Days, started shivering violently. That doesn't happen very often!
B-SIDE MATCH WITH FREDERICK "B" - 11/2/02
A fine, crisp fall day in which to play rugby. Unfortunately, however, we all sort of went through the motions but really didn't play rugby. The a-side lost 0-45 and we lost 0-67. The Blues side was an hodgepodge of old boys and teenagers, and the scrums didn't go well at all. Whomever was the eightman wasn't binding me and the other lock together, and the scrums just always seemed to fall loose. Also, Bus, my prop, kept complaining that I was causing him problems while holding on to his waistband - but I have never had this complaint before. I didn't get the ball once. Anyway, we didn't play well against a good club's real b-side, but at least we got in two periods of thirty minutes. It figures... just as the season ends I regain my enthusiam for the game and want to play more.
Good news for the club on the Reds side - they beat West Potomac 5-0 and thereby made the playoffs as the #2 MARFU Division III champion. (There is only two points separating them from the #1 side, PAC C.) So the Reds play again in late April for the second year in a row. Not bad for a new side.
---
End of Season Assessment
Highlights
1. Scott Delaney and Jon Cook, two of our coaches, told me on previous occasions that they have never seen me play as well as in this season.
2. When all is said and done, and my skills and abilities tallied, it can at least be said that I am still playing years after younger and less dedicated guys have quit!
3. Propped for a game. True, it was 10's... but now when I say I do not like 10's it at least comes from experience.
4. On 11/11 a $1,000 sponsorship check from Guinness came in through the mail!
Lowlights
1. Still no first try. As far as try-scoring opportunities is concerned, rugby, for me, is a continuing story of "what might have been" instead of "what was."
2. Getting an injured middle finger in the dorkiest way possible. (Miscatching a ball.) Three weeks after the injury I noticed, while in a shopping mall, that it hurt to hold my wife's hand and interlace fingers!
3. Didn't do much practice, where I really felt like a fish out of water.
---