Lee Cast Takes Off With 'Birdie'
Washington Post online, Thursday, November 21, 2002
Isn't it every teenage girl's dream to meet her favorite pop star? That's what the creators of the 1960 musical "Bye Bye Birdie" and the cast at Robert E. Lee High School, where it's now on stage, would have you think with this Elvis clone of a show, in which a cooing clutch of girls gather to see their heartthrob, Conrad Birdie, depart for the Army.
With his swaying hips and drop-dead good looks, Birdie, played by Matt Lent, has won the hearts of millions of bobby-soxers nationwide.
<![if !vml]>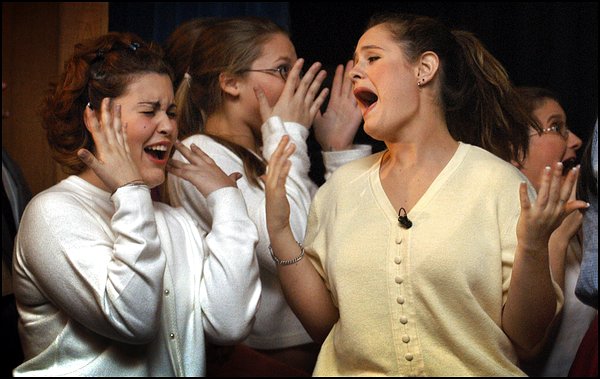 <![endif]>
 Left, as fans of Conrad Birdie, Alex Valentin, Laura Svestka and Jackie Southee go crazy to see their favorite star in person.
Photo Credit: Photos Larry Kobelka For The Washington Post
<![if !supportLineBreakNewLine]>
<![endif]>
In a bid to make one last buck off him, music promoter Albert Peterson (played by Daniel Mustone) and his secretary, Rose Alvarez (played by Gwynn Miller), stage an event in which Birdie will kiss a lucky fan on television.
As it happens, that fan, Kim Mac -Afee (Julie Clark) of Sweet Apple, Ohio, is about to give up her place in the Conrad Birdie Fan Club because of her new boyfriend. Once he hears about the smooch, he punches Birdie out on "The Ed Sullivan Show."
Lee's production gains momentum with the song "Spanish Rose," in which Miller's voice and expressions give the audience a pick-me-up; that's followed by "Baby, Talk to Me," in which Mustone sings into a phone in an attempt to get Rose to come back to him. A chorus of boys at the bar in the back adds a light touch.
The set, which incorporates a turntable to facilitate some hard-to-stage numbers, is very well done and includes the use of colorful boxes to add depth and interest during the song "The Telephone Hour."
The cast smiled its way through intermittent sound problems in the best show-must-go-on tradition, determined to make it a memorable experience for the audience.
Stephanie Morrison
Chantilly High School
Elvis Presley? Tom Jones? Jerry Lee Lewis? No. At Robert E. Lee High School, the girls are going crazy over Conrad Birdie, a national heartthrob about to be snatched from their midst by Uncle Sam, who has drafted Birdie into the Army.
This 1960 Broadway classic, built around the music of Charles Strouse (who took home Tony Awards for this and "Annie"), is most memorable for the songs "Put On a Happy Face" and "Spanish Rose."
The plot centers around music agent Albert Peterson and his secretary, Rose Alvarez, who conspire to eke one more hit out of Birdie before he leaves in order to clear their debt. They devise a plan to have a nationally televised "last kiss" with a 15-year-old girl named Kim MacAfee from Sweet Apple, Ohio.
Peterson, played by senior Daniel Mustone, shines in the lively "Put On a Happy Face," featuring a pleasant dance routine with a pouting teenager. He also clicks well with Gwynn Miller, playing his love interest, Alvarez. Miller has a powerful, almost operatic voice that conveys the message of every song she sings.
Matt Lent, as Conrad, displays all the stylistic idiosyncrasies of a teen idol of the period. Whether it is the hip shaking or the womanizing machismo, he plays the part as if he remembers those days firsthand.
Sophomore Julie Clark, in the role of Kim the designated kisser, has a beautiful voice befitting her timid character.
The "most comical" award goes to Michael Southee as Kim's jealous steady boyfriend. Southee's cracking voice and childish demeanor nail his depiction of the resentful yet lovable Hugo Peabody. One feels for the boy with chronic nosebleeds who loses his girl to the studly Birdie.
The highlight of the play is the innovative two-level set, created by senior David Watkins and utilizing a rotating turntable of professional size and quality. With a spin of the wheel, what had been a bedroom is instantly transformed into the steps of City Hall and a kitchen into a train depot. Watkins deserves tremendous credit for this undertaking.
All told, Lee's production, which continues this weekend [see Curtain Calls listing], has every audience member reliving the '50s. Elvis may have left the building, but he is reborn in Springfield!
Sargon De Jesus
Washington-Lee High School
<![if !supportEmptyParas]> <![endif]>