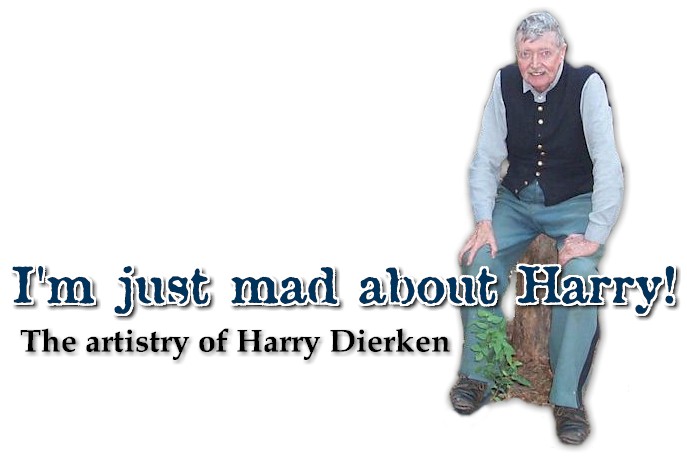 ---
Forget about Gallon, Kunstler, Stivers, Troiani and all those other hacks - Harry Dierken is the Man! An architect by profession, Harry graced the newsletters I edited and produced from 1988 to 1990, creating witty, unique drawings for any text I could throw at him, no matter how weird. (In some illustrations, the "living monument," for example, he far surpassed my expectations!) I hope you enjoy these great little tableaux vivant from the Grand Old Man of Reenacting Art. - Jonah
---
Update: I have received word that Harry passed away in February, 2014 at age 90 (he was about to turn 91). From the obit which appeared in the Washington Post on 2/19/14: HARRY J. DIERKEN (Age 90) Of Gaithersburg, MD on February 11, 2014. Much loved by his children, Christopher, Stephanie Lax, John, and Elizabeth; grandchildren, Michael, Stephen, David, and Meredith Lax; and Joan Dierken Osmond. He served in WWII with the U.S. Army Signal Corps; graduated from The Catholic University in Architecture. He enjoyed Civil War history and was a member of the Washington Blue Rifles of the N-SSA and the 3rd Maryland, Co. A re-enactors. Funeral mass will be held Thursday, February 20, Viewing 10 a.m. until Service at 11 a.m. at St. Martin's Catholic Church, 201 South Frederick Ave., Gaithersburg, MD, Interment at Culpeper National Cemetery, at 2 p.m. Rest in peace.
---
Harry Gets Whimsical
The Letters of Pvt. Amos Anon
Harry's take on the Ken Burns Civil War series
Harry's illustration of the phrase "Living Monument"
The Warlike Determination of General Lee
---
The Battle of the Cornfield - This one requires explaining. My unit attended the very first Monmouth, New Jersey Antietam battle reenactment back in 1990. I thought it was weird to reenact a Civil War battle on a real Revolutionary War battlefield, but what the heck. Anyway, early on Sunday morning, when we all got into the real cornfield, some clowns began to throw ears of corn at the Rebs, who got royally pelted. (Wrong! I didn't take part!) I think the most heartbreaking thing I ever saw was poor Glenn LeBoeuf, the organizer from the 3rd NJ, jumping up and down and yelling "I spend six months of my life organizing this event and you %!#$@%!$s start throwing corn?!?" Hence this drawing
---
Harry Dierken: The Dr. Frankenstein of Reenacting!
---
Harry continues the logic of "Dismounted Cavalry"
The Tubeless Artillery
The Wireless Telegrapher
The Herdless Commissary
The Locomotiveless Railroad

---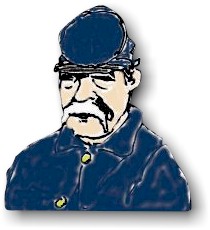 "Inventions That Never Made It"
by Harry Dierken, Jonah Begone and Mal Stylo
The Party Hardee Television's Bob Vila of "This Old House" demonstrates the Party Hardee. A can of beer is placed on the brim, and connected to the thirsty soldier by means of a long sipper tube. Just the thing for those long, arduous marches!
The Blow-Up Rubber Adjutant Seated overnight in front of the headquarters tent to direct late-arriving troops to their bivouac area, this innovation will make everyone think the National Regiment cares for his welfare. Comes complete with a voice-activated tape player to recite directions. Batteries not included.
Hand-Painted Tent Flap This labor-saving device buttons on to one end of the dog-tent; it depicts a neat interior with blankets, clothes, etc. arranged in apple pie inspection order. Masks beer cooler, messy blankets, trash, etc. from the eyes of a browsing public.
Orderly Sergeant's Handbook Looks like an official rollbook but contains 50 pre-selected names written in an authentic manner with a thick pencil in a totally dark room. The First Sergeant simply counts the number of men in his company and crosses off unwanted names. Turned in to the adjutant, it frees the First Sergeant for other morning duties such as sleeping in or early morning browsing on sutler row. Also available on special order: A similar book containing ethnic names for German, Irish or other regiments.
Papier Mache Horses Why put up with abuse from infantrymen and discrimination from event sponsors? Get these papier mache horses to set up in the rear of your position to forever remove the stigma of being "horseless cavalry!" (Standard econo "quarter horse" shown; the optional "full bodied" horse comes with electric motors to simulate sporadic movement, allowing comments like "The horses are getting skittish under fire, sir!" Optional horse also includes an internal cooler for beer: Cans are ejected from horse when the tail is lifted, tap beer is dispensed authentically from elsewhere on horse.)
Papier Mache Campfire Simulated semi-charred split oak firewood arranged on a bed of glowing ashes (break light stick to create glow - light stick not included). Mirthful early risers can position the campfire smack dab in the middle of an adjacent company's street and listen for their officer's temper tantrum. Laffs aplenty! Watch the expression on people's faces when they ask the well-worn question, "That's not a real fire, is it?" and you answer, "No."
---
Harry's Illustrations for Stories
The Strange Dream of John C. Calhoun
The Gaslight Ghost
Maryland Hospitality
The Snarly Yow
Mary Surratt's Heartless Judge
Death Curve!
At the "Home of the Brave"
Seeing the Elephant!
An Incredible Story!
Maryland, My Maryland
Possible Origins of the Word "Potomac"
Was Uncle Tom's Cabin in Maryland?
The Mason-Dixon Line
---