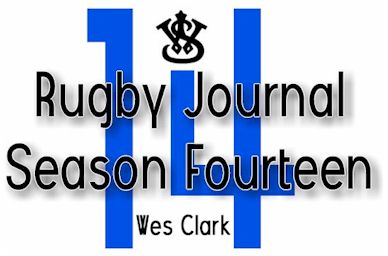 Here are my previous rugby journals: Rookie season, Second, Third, Fourth, Fifth, Sixth, Seventh, Eighth, Ninth, Tenth, Eleventh, Twelfth and Thirteenth.
---
From September, 2004 until August, 2006
Almost two years since my last rugby journal entry... and now I'm fifty.
After "running" that marathon I gave up jogging entirely and, predictably, got fat. I have topped 300 pounds - "three bills." It's a lamentable record: my all time highest weight was 315 in late July. To compare, I finished the marathon at about 280 pounds or so. It's a combination of poor dietary habits, physical inactivity and middle age "spread" (I'm middle-aged if I make it to 100.) Most people are surprised to learn I weigh this much, and, doing me no favors, usually tell me that I don't appear that heavy. But I know better and so does my wife. Every time I look at myself in swim trunks, or get up off the carpet after a nap or a movie, I know better. Most distressingly, I am now on medications to deal with high blood pressure. Medically, I may be well on my way to becoming a diabetic or a heart attack victim or something - I don't know. Aging, like rugby, isn't for sissies.
A further example of this is that my dear wife underwent a bout with breast cancer earlier this year; I am happy to report that she's over the radiation treatment and is doing well. We believe her to be cancer-free. But this was emotionally difficult for both of us, and for a time I was eating for comfort, telling myself that it didn't matter if I gained some weight. Not good.
During this period I played no rugby and didn't even attend matches to watch others play. I did, however, achieve a longtime desire to learn how to play the electric bass, and performed at gigs with my band, "Josiah's Legacy," using my trusty Fender Jazz Bass. So I have that to my credit. I also did a ton of successful genealogical research while away from rugby.
My son Ethan went on a two year church mission to Salt Lake City, of all places, and I was in support of his efforts in my church callings - so that took some energy and time away from my own selfish pursuits. (As it should.)
Oh, yeah, I went to this year's banquet and saw Kelly Watkins get the coveted and rarely-awarded Greg Gregory plaque. Good on him and richly deserved! I attended wearing an El Santo Mexican masked wrestler mask and made a total idiot out of myself. Another notable appearance was at a 2005 club's fundraiser yard sale - I sold a malfunctioning toilet for $1.
Tomfoolery aside, I believe I occasionally suffer from some kind of age-related depression. It's difficult, watching my kids grow up and move out of the house. After being The Dad since 1983, it causes me to wonder what the new me is supposed to be doing. But one thing I can do is fight back and do something physical - hence, Dear Reader, a new season of rugby. Eight years ago I showed up to practice to try out rugby, having never before taken part in team sports. What was a crazy whim then seems a necessity now.
Tuesday evening practice, 8/9/06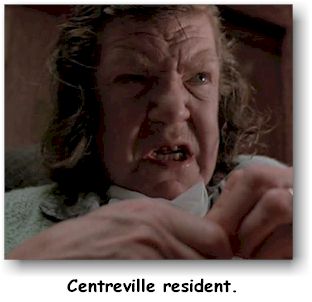 After two years almost entirely away from rugby in any form (save doing the website and becoming a virtuality), it was very, very difficult to convince myself that I wanted to show up for this. But show up I did, much to the amusement of the hardcores. El Jefe thought it such a notable occasion that when I arrived with my kit bag he took a shot with his cell phone camera for posterity. My goal with this season is to lose weight and, hopefully, lower my blood pressure. Fitness and any matches or half-matches I might play are a side consideration. Might even pay dues! Obviously, being fifty means that my priorities are different. I have eleven very active seasons under my 44" belt and so I feel no compulsion to have to play. And I have a couple of nice award plaques for my office wall, so I'm not trying to impress anyone, either. It no longer matters that I do everything that the younger guys do at practice - not that that's feasible right now. Running laps and taking part in drills as I judge I can, is fine. I bring a vibe and enjoy everyone else's.
So... I walked and ran laps for about an hour and left to go float around in the pool afterwards, which is one of the nice things about the part of the season during which the pool is open. Rome wasn't built in a day and neither am I.
Driving to the "Panzer Pitch" - a community field in Centreville - I think I drove into a townhouse neighborhood against a one-way street. A Mercedes hove into view in front of me and the driver - a woman who looked a lot like Momma in the film "Throw Momma From the Train" - started yelling something or another which I happily ignored. I sure miss Dunn Loring. While the residents there never really liked us, at least they weren't scary.
Learned that Kelly "Weanie Boy" Watkins was a surfer. And I saw a couple of faces from my past: Tom "the Colonel" Loesel and Pete "the Rover" Murphy. And dodged stepping in dog doo and deer dung, which seems to be strewn all over the pitch.
My ankles are sore, so I took about 542 ibuprofen tablets. Another number: I weighed 308 pounds before leaving for the pitch. Let's see if I can't reduce that number some.
Thursday evening practice, 8/11/06
Once again, I am physically sore but, spiritually, I feel GREAT! It was cool but very muggy - we all soaked tee-shirts - and I ran a whole lot more than I did on Tuesday. Didn't take part in any of the drills; that'll happen next week, I think. Went to O'Toole's (Suburbs' current watering hole) afterwards, and hung out with my rugby posse. I missed those hammerheads. The big club event, the Boo Daddy's Sevens tournament, is Saturday, but it looks like Cari and I will be socializing with a friend who is ailing physically and badly needs friends. We all need friends. And a posse.
Tuesday evening practice, 8/15/06
This time I took part in some of the drills - it was good to once again handle a ball - and it became apparent to me very quickly that I am in rotten shape! A three year layoff might as well be a five or ten year one, I suppose. I was toying with the idea of playing some at a scrimmage this coming Saturday, but this now seems like a bad idea. Anyway, I never used to take part in August matches even when I was fitter. Practice ran about two hours; I ran out of gas sometime during the lineout practice. (Standing still and lifting - now I can still do that easily.) But... I'll be back Thursday for more of the same. If the past is precedent, by the time October rolls around I should be in good shape. And my weight is down a couple of pounds from last week... an encouraging sign...
Thursday evening practice, 8/18/06
A great practice in that I did all of the drills - with the exception of a "sprint" across the field that I ran out of gas for - for a nearly two hour practice. A real confidence-builder. However, this was made possible only by the fact that we had an extended lineout session. If practice had been composed of all running drills I wouldn't have been able to keep up; my level of fitness will not get me through an entire session. But I'm getting there and it feels great; when we did the final circle up I felt like I actually belonged there. And that makes me feel credible, rather than old, depressed and ailing. The scales in the doctor's office this morning told me that I weighed 302 pounds, but I suspect that's off with the scale I use in my bathroom. If it's correct, however, it means that I've dropped thirteen pounds since late July. Nahhh, I don't believe it. But whatever it actually is, my wedding ring is slipping on and off my finger more easily and my pants fit better. There's still about nineteen practice sessions for me to soak tee-shirts in. By the time early November comes around I should be pulled back somewhat from The Abyss.
Tuesday evening practice, 8/22/06
A physically punishing practice session in that it was almost all contact drills and scrimmaging for nearly two hours. Gobbled lots of ibuprofen. I got a harsh welcome back into the world of rugby tackling when I took a good plunge onto some hard ground during a drill. My left elbow banged down; as I was diagnosed with tennis elbow in that joint last week; I'm hoping nothing comes of it. We did some rather raggedy contested scrums during scrimmaging. I miss the scrum sled practice because it tends to force you into correct posture and alignment, which then becomes instinctive during matches. Anyway, my left shoulder is sore as a result of the scrums. I also stupidly left my scrum cap in the trunk of the car, and as a result my head is sore in places where various front row players' knuckles made contact. It seems that as a 50 year old I'm putting in twice as much effort for half the results I had as a 42 year old - among guys half my age. Whine, whine. I did ride a couple of guys down in scrimmaging... that can't be fun, having me land atop you. And I finally did a couple of (tired) passes at at sadistic new fitness drill across the pitch the boys have been doing. So I did everything with the club in this practice session, save play touch at the beginning - I hate touch. Now the question is, should I be this active? My original goal at returning to practice was to lose weight and gain fitness. Perhaps getting beaten up twice weekly isn't a good plan. (It certainly isn't if I start playing matches every weekend.)
Thursday evening practice, 8/24/06
A practice that was as easy as Tuesday's was hard! Did all the drills. Little contact... after a fitness drill involving crashing down to the earth and getting up again (always a treat for me), we did some ball-passing stuff and scrums and lineouts. And a tackle bag thing. The temp started out at 89 degrees, but soon became overcast and cooler. Humid, though, resulting in another thoroughly soaked tee-shirt for my poor wife to launder. I was happy to take it a little easy during this session as my left arm is sore and stiff from the shoulder down to and including the elbow. Doing seriously opposed scrums after a two year lay-off is tough! Afterwards my posse and I converged at O'Toole's for the best part of practice. I had a turkeyburger and substituted a baked potato for fries - but weighed a depressing 304 on the scale the following morning. The goal of this season is not necessarily to play rugby but to lose weight...
Tuesday evening practice, 8/29/06
As it was very warm and humid, and as I realized that my first match isn't until 16 September (due to a band gig I have on the 9th), I took it pretty easy with this one and merely ran and walked laps while the rest of the club beat on each other with contract drills. I also left early and jumped into the pool afterwards for probably the last time this year. A lazy effort, but I'll do better on Thursday when the weather is expected to be ten degrees cooler. Talked to Art Steffen, who, at 54, has been playing rugby for something like thirty years - truly, the club's senior man. I'll follow up on a lead he has for a pitch. Learned about logistical problems with the club's coaching staff...
Thursday evening practice, 8/31/06
It was delightfully cool (low seventies) with a breeze and lower humidity. Just as well, because that's the only thing that kept me in Borell's running-across-the-field drills. If we had weather like Tuesday I would have run out of gas. So... lots of running. Then forwards and backs split up and we did some lineouts, scrum set-ups, mauling, and the "Gorilla On The Back" drill, where one carries a guy twenty yards or so on one's back. It actually looks harder than it is - unless you've got me on your back, in which case it's a killer. So I hung in there for all the drills and was very sore the next morning. But it's a good kind of sore. Rugby sore. An I'm-still-credible sore. An isn't-this-better-than-poking-about-the-house-and-growing-old? sore. Hey, sixteen of us were at O'Toole's after practice... very cool. Suburbs!
Tuesday evening practice, 9/12/06
Practice was canceled last Tuesday (rain), and I didn't make it Thursday (my son returned from college and we went out to celebrate), so this was the first time back in a week. I didn't attend the match last Saturday because my band and I played at the Burke Centre Festival. In the morning I got a call from my doctor: the lab result was back from a bit of skin removed from my upper left arm and it tested positive for cancer - I had (or have) skin cancer. Not a big deal and not life-theatening, just a carcinoma on the skin that gets cut away and heals. But I will admit, Gentle Reader, that spiritually, the dreaded c-word took the wind out of my sails. My head was telling me things like, "What's a fifty year old with cancer doing at rugby practice?" So I really didn't want to go. But I did. And as I was running my first couple of laps my head was telling me that I really, really don't want to play the Marines this Saturday. I'm unfit, unprepared, too old. And after the first tackle bag drill I was winded. But... my famous second wind kicked in, the blood started flowing and I did okay with the other stuff. Did all the drills, including a full contact bash that led us into the darkness. (The days are getting shorter. Normally we move into a lit facility about this time each year, but we can't afford to this season.) And, as always seems to be the case, I was glad I went to practice. I feel like I can do the match on Saturday, which will be my first after a nearly three year layoff. But... last night I dreamed that my doctor was cutting at me with a scapel... so all is not yet well on the inside...
Thursday evening practice, 9/14/06
Despite the rain thoroughly wetting the pitch we had practice anyway; it was like jogging in a rice paddy. Made my ankles sore. I started practice out okay - a ball-passing exercise and some lineouts - then took an "old boys pass" at the remainder of practice, talking to Kelly and Lew Bunch (whom I have not seen in awhile). I spent the rest of the evening mentally beating myself up about it, feeling old, lazy, uncommitted and not at all a part of the club. I should have done the stuff the other guys were doing. So let this be a lesson to me:
I attend practice to exert myself, not to talk.
I attend practice to exert myself, not to talk.
I attend practice to exert myself, not to talk.
I attend practice to exert myself, not to talk.
I attend practice to exert myself, not to talk.
I attend practice to exert myself, not to talk.
I attend practice to exert myself, not to talk.
I attend practice to exert myself, not to talk.
I attend practice to exert myself, not to talk.
I attend practice to exert myself, not to talk.
I attend practice to exert myself, not to talk.
I attend practice to exert myself, not to talk.
I attend practice to exert myself, not to talk.
I attend practice to exert myself, not to talk.
Good attendance - we had 2 + sides. Went to O'Toole's afterwards but I felt glum and not in my usual celebrational mood. As I have two personal things coming up next week and a trip to California the week after, my next practice session will be in early October. At that point I'll only have 6 or 8 practice sessions left, depending. There's too little time to spend them talking! But... my first match in nearly three years comes up this Saturday, so perhaps then I can redeem myself...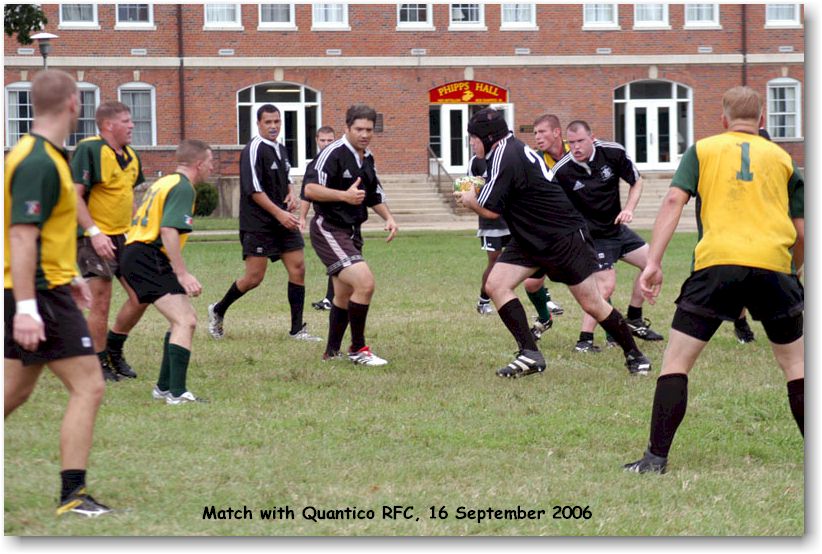 B SIDE MATCH WITH QUANTICO RFC, 9/16/06
My 79th rugby match, composed of two twenty minute periods. The Marines were short on numbers, so we played thirteens... at the end of the a-side match they were tearing down the pitch, but we prevailed upon them to play a second match, and they sportingly agreed. I had considerable butterflies for this, but I had a great time and was very glad to have played! (Mainly because I no longer feel so old and tired.) The shorter periods were a good introduction back into the game, and it being thirteens, it seemed to be more free-flowing and faster-paced. Best of all, we won 33 to 24! I think this is the first time I played in a match where we beat my alma mater. I got the ball three or four times (see Rebecca Findley's photo above), and tipped Quantico's lineout ball to our guys. Also did some good tackles - after one, I saw stars. One of my better matches, actually. What makes it sweeter was that we played guys about half my age. We had a great party at Rooney's, the Marines' bar in Aquia. Setting the tone was a 20-0 victory for our A-side. So it was a good day, and redemption for Thursday's practice session.
B SIDE MATCH WITH NORTH BAY RFC, 9/23/06
No practice on the previous week due to two non-rugby committments: Back to School Night on Tuesday and a "Bunny Man" (a local urban legend) presentation I did for the Upper Pohick Community League on Thursday. On Saturday I drove about 100 miles north to attend this match; North Bay's pitch was in Aberdeen, Maryland, about twenty miles north of Baltimore. There's a military park there where reenactors would hold "Military through the Ages" demonstrations, but I have never done one of these in my reenacting days, so the place was new to me.
After a gratifying win of the a-side, we B's took to the pitch for two 25-30 minute halves. Bay's side was composed of regular players, a couple of huge props and some high school kids. At the beginning of the match the ref - supplied by North Bay - stated that he wanted a fair match... He mostly got one. I played okay. Got the ball once and was immediately thrown down by one of the afore-mentioned huge props; I saw stars when I got up and back into the action. When it was my turn to ride him down to the ground I made sure I did so with all my considerable weight. Our scrums were terrible - we didn't have the pack heft to oppose their pack, and I understand that it was the first match as prop for one of our guys. (Had I known that I would have offered.) Anyway, when very close to the halftime break I painfully pulled a calf muscle in a scrum, and kind of limped around in running from breakdown to breakdown from that point on. Knowing that it would be a very, very long second half in that condition, at the half I asked for and got a sub. I put on a prop's jersey and hung about the sidelines hoping to get back in, figuring that I could probably at least get around slowly. However, the merest of fights broke out at about the ten minute mark, and the ref unexpectedly called the match. As he played the first match, I suspect he simply wanted to get off the pitch to commence drinking. We sure did miss Kevin Corry, who frequently doubles as a good b-side ref. I had the usual burger and Cokes at their watering hole, then I left. A good rugby day - glad I played! As I write this on Monday morning, my right calf still hurts a little, but will be better, I'm sure, for the next time.
The "next time" won't be until early October, however, since I have a business trip and short vacation in California, which will preclude practice and the next match with Happy Valley. October will be a more dedicated rugby month than September was.
Tuesday evening practice, 10/3/06
'Burbs won the match with Happy Valley while I was away and so is in the playoffs. Practice was at a commuter lot! However, the rugby switch was entirely flipped off for this, for reasons having to do with my wife's health. I ran and walked some - that was it. I pulled my calf muscle again when I went surfing on Saturday(!), and so, knowing that I was going to play this coming Saturday, took it easy. As this was one of Borell's two hour sessions, I left early without saying goodbye to anyone. I am mentally troubled and right now rugby seems very optional and unimportant.
Thursday evening practice, 10/5/06
Well, this one was different. Feeling the need to get a run in on a full size grassy pitch prior to the upcoming match (which determines who gets seeded as the #1 club in Division III), we squatted at Braddock Park, where we used to play in the days before Fairfax County started discriminating against rugby clubs. (What were they going to do? Keep us from getting a practice pitch? They're doing that already.) So I did all the drills with the club, being some defensive lineouts and an unopposed ruck and run. Had fun, ran well. The lights were on at the adjacent baseball diamond, so we had enough light to see. We began to notice soccer players lining up alongside the pitch. But as the lights were never turned on where we were at, we assumed that they didn't have a permit, either. When it began to rain we got off the pitch - it was an easy and somewhat shorter practice session. The following morning I got a nasty e-mail from the county telling us not to use the pitch. The funny thing about it was the way it was introduced: "The Park Authority has recently begun gathering information regarding rugby in Fairfax County. We are interested in identifying the current need for rugby facilities in the hopes of developing or redeveloping facilities so that they would meet USA Rugby and IRB Laws for the Ground. Part of that process has included visiting local club websites in an attempt to gauge current participation and estimate future growth." Yeah, right. Proactively looking at rugby websites to improve our facilities. Like I believe that. Anyway, went to O'Toole's afterwards with the gang and had my usual Pepsi, turkey burger and baked potato.
B SIDE MATCH WITH WEST POTOMAC RFC, 10/7/06
Learned that my dear wife is fine after all, so the dark clouds dispelled. The switch is back on!
We were supposed to have this one at Signal Hill Park in Manassas, but rain and a field closure put us at Steve Lough (club president)'s house in Lovettsville, VA - an hour and twenty minutes away. It was weird playing rugby at a guy's front yard. Anyway, the a-side won their game to put WSRFC at the seed #1 position, and we won our b-side game as well. A good Western Suburbs day! This was a match of a 25 minute half and then a 30 minute half (but it sure seemed longer!), and, compared to most b-side matches I play, it was pretty tough. More like an Old Boys match in that West Pot had a big forward pack and the match was quite physical. At one point, when I got the ball, it felt like the tackler got me around the neck and thew me down. I had to lay there for a second to make sure my head and neck were alright. Anyway, it felt like getting hit by a train - very violent. But I got physical myself and got some good defensive tackles in, and well as a lot of "grabby" mauls. We did pretty well in the scrums, considering the size of the pack facing us. Lineouts were bad, though... West Pot has been practicing some interesting moves with those! At one point I nailed Podo - a guy who used to play for us - pretty hard. Somewhere in the second half we decided that our game plan was to always give Julius, a very swift winger, the ball - and that's how we won. My first try was only a pass away: at one point the pack was on the right very close to the tryline, and so I faded left. We were in possession. There was nobody in front of me, with an easy twenty foot run for a try. I called to Elvis, who knew to get the ball to me as soon as it cleared the pack and he got it, but it didn't. Some hammerhead kicked it on the ground instead of passing it, and my opportunity disappeared. But... it was a fun match - one of my better ones, perhaps - and, once again, I'm glad I played.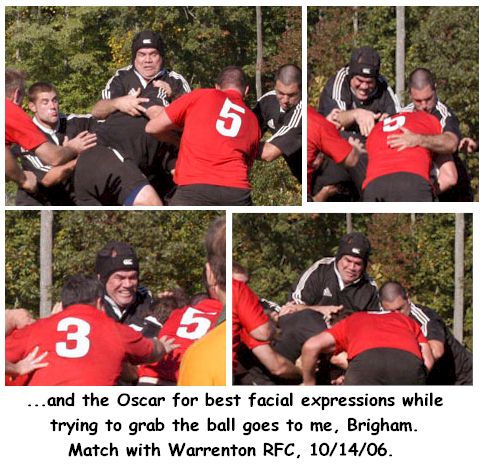 B SIDE MATCH WITH WARRENTON RFC, 10/14/06
Practice is getting messed up. On Tuesday I was caught in a schedule problem between rugby and my band; I was expecting to rehearse since we have a gig on the 21st - but no, that was canceled. When I learned this it was too late to head off to practice, so I did nothing that evening. Drat. Practice Thursday was at a field 35 minutes away, starting at 10:30 PM and ending, presumably, at Midnight. Too old for that. Double drat. But... the match on Saturday was a good one despite missing two sessions of practice. It was with a new club, Warrenton RFC, who seem to be made of skilled and experienced players. A 12-12 tie. Not sure how long the halves were - 30 minutes, maybe. Because of my now chronic upper arms ache (it wakes me up in the mornings) I didn't hoist but rather stood as the last man in the lineouts, which was cool because it allowed me to scoop up an errant ball. I was able to grab one of the opposition's lineout throws and fling it off to our scrumhalf, who got it off to the backs - we scored on it. So my opportunism was the first phase of a try. Also, in a ruck my counterpart (#4 lock) deliberately stepped on my wrist with his boots. "Okay," thought I, "I know who you are and we'll be meeting again in a ruck or maul later in the match." Sure enough, later on he got the ball and I was in position to give him a good slapdown onto the deck. Nothing illegal - it was a perfectly good tackle - but with me landing on him hard. He didn't get up for about thirty seconds. So it was a gratifying match, despite the tied score. I would have liked to have seen it played on for a while longer.
Oh, the a-side did very well in their match with Winchester: 68-0, so it was a great Suburbs Day. Let the playoffs continue!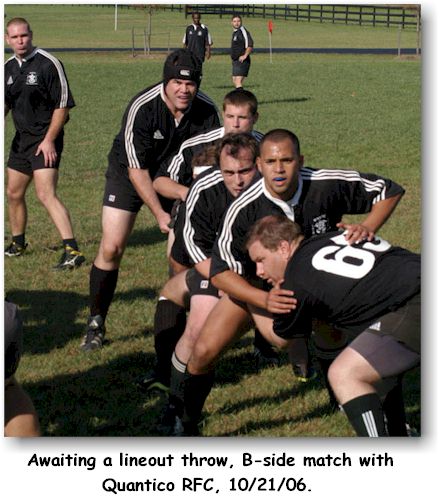 B SIDE MATCH WITH QUANTICO RFC, 10/21/06
Match #83. For the third time I played another match without benefit of practice. Not something I wanted to do, but once again, circumstances dictated it. Tuesday was Cari's birthday, and Thursday, aside from being held again starting at 10:30 PM, was a special family occasion I won't go into here. Once again we played a game Quantico, who traveled all the way to Lovettsville, VA to provide us with a second match. It was a match divided into four twenty-minute periods - I played periods 1 and 3. I played... okay. The problem was that I really didn't have my head in the game, being in a sort of planner/program management mode. That night I knew I had to get to Centreville to play a gig with my band, and so this day, rather than being a Rugby Day, was a mixed mode kind of thing that took away from my full enjoyment and involvement in the game. It was a sort of, "Check that box and now on to the next thing" mindset. Having said that, I didn't play badly - just indifferently. At one point, thinking me and a pile of other guys had moved into our tryline zone, I held up the ball so the opposition player couldn't touch it down. Turned out we were a few feet shy of the line. Was this an infraction of the laws? I 'm not sure. At another point, a large Marine (about my size) somehow wound up with his head between my knees as we fell to ground, and was clutching his head. To add insult to injury, at that point one of his teammates lashed out with a slipping kick that met his head (or appeared to). The big fellow was all right after a brief spell and continued to play. No try, but then I wasn't really expecting one. I made a point of staying near Elvis when I could, as we approached the Marines' tryline, but no opportunity presented itself. So I enjoyed myself and was once again glad I played, but I didn't get the same player's high I got on previous weekends. (It didn't help that I had forgotten how to play the riff from the Beatles' "Day Tripper," and had to relearn it a few hours before getting on the pitch. So there was that lack of focus thing.) We won, 23-22. It's always satisfying somehow when one beats one's alma mater - twice in one season is especially nice!
The A-side won another match against North Bay, making them 6-0. On to the Championship match on 11/4! The B-side is playing better than usual this season, too: 4-1-1 (two matches against a-sides). It's a notable season in Suburbs' history - and I'm a part!
Upper arms are still sore, but not as sore as in previous weeks. I'm gulping ibuprofen like candy.
Monday, 30 October
I did a dumb scheduling thing. My doctor was pressing for me to have some additional skin incised where I had a basal cell carcinoma removed from my upper arm in September, wanting to get an additional "margin" (more tissue). So I set up an appointment with him to do it this morning - not knowing that he'd be removing enough tissue to require stitches. I could have rescheduled, but there I was, sitting on his examination bed, so I figured I'd do it and get it out of the way. But now I can't play the last match this coming Saturday. (Well, technically I could, but it would be a dumb idea. There's enough pounding, pulling and torsion on my upper arms during an average match - especially in a scrum - where pulling the stitches out would be a real possibility.) So the playing season is ended for me.
That's kind of okay. After all, my stated primary purpose in coming back to rugby this fall was to lose some weight. When I stepped on the scale at the doctor's office I weighed 301 - which is 14 pounds less than I weighed in late July/early August. Playing was secondary. But... the pack mentality and allure of the game is strong, and once one begins playing, one wants to see the season through.
So I'll attend the championship match this Saturday to see who takes the PRU Men's Division III title - Western Suburbs or West Potomac. And take photos, and hang out with the club. And heal. (The stitches sting... my upper arms still ache, and I still have the left tennis elbow condition I had starting the season.)
Thursday evening practice, 11/2/06
It was a cold and windy night at the old Redskins training park near the Dulles Airport, with practice starting at 9 PM. The club did rugby stuff; I ran for 30 minutes (5 minutes run, 1 minute walk). This may be the first training run of the Wes Clark Winter 2006/2007 Half-Marathon, but we shall see. I need to do something like this on the off-season, but right now I'm not really motivated to do it. I know the stairs training that Kelly is planning doesn't appeal to me. (I can fight aging, but fighting aging and gravity at the same time is crazy.) Most of the time I talked to Kelly and Jungle Jim - we walked around the track in an attempt to keep warm! A Suburbs tradition for the last night of practice is to drink beer in the parking lot, which was done despite the fact that a cup of hot soup or cocoa would have been a better idea. I left at 11 PM - no telling how long some of them hung about.
Championship match with West Potomac RFC, 11/4/06
Suburbs wins 10-8 for an undefeated (7-0) season and takes the PRU Men's Division III Championship; what a great season for me to stage a come back! I took nearly 700 photos and posted 300 of them to the website. (I figured out some workflow improvements that makes it a far less burdensome task.) Hung out at Kilroy's for the party afterwards, enjoyed the camaraderie, and then said my good byes. The season is over.
---
SEASON HIGHLIGHTS AND LOWLIGHTS (It's a tradition.)
Highlights
1. Making the butterflies go away with my first match with Quantico. For nearly three years a voice in my head was telling me that, as far as rugby was concerned, I was past it and I was probably better off not playing. So score one for me in the personal victory and mental toughness departments.
2. I was involved in not one, but two, wins against Quantico. For some odd reason one always likes to prevail against his alma mater (while I was never in Quantico, I was a former Marine - so they're my alma mater), so this was gratifying.
3. Rugby mates constantly telling me how great it is to have me back. Hey... it's nice to be liked.
4. Being involved in not just a winning season, but a championship season. And the b-side did better than average, too (3-2-1). One tie and one win were against a-sides, so that was gratifying. Normally we just get whipped against recycled a-siders.
5. Speeding up photographic workflow so that sorting through and editing over 300 rugby photos in the last match wasn't a big deal. It is gratifying to be organized and intelligent about process.
6. Gaining some fitness and losing some weight. I no longer dread sweating and exerting myself. (Well, not as much!)
Lowlights
1. Upper arms injury. If I had to point a finger at one specific cause of it, I think it was the opposed scrums during my third or fourth practice session. Doing too much, too soon, perhaps. (Either that or I'm just plain old!) Anyway, my shoulder and arms have ached every since. Sometimes the pain wakes me up in the mornings, and at the end of the season I still have pain and stiffness when I lift my elbows. Once, I poured myself a Coke and it hurt - sheesh.
2. Playing time. What sucks about Division III is that the standard two 30 minute halves b-side match is a rarity. The inevitable question arises: Why attend all that practice for very little playing time?
3. Once again, a missed first try opportunity in the West Potomac match. If only Elvis had gotten a clean ball. The try line was close and nobody was guarding it.
4. Practice logistics. I would have liked to attend more often, but other activities got in the way. And starting at 10:30 PM in Reston just isn't feasible. But... see lowlight #2. Why fret about it?
5. No Old Boys matches. As gratifying as it is to hold my own in a game like rugby in a b-side match with guys half my age, I would like to run with my life peers occasionally. The SOBs have become moribund, either because the coordinator isn't scheduling matches or because there's no interest. Oh, well. Even if they were playing it would probably be on Sundays, which I can't do....
So that's it. Will I return for another season with good old WSRFC in Spring? I don't know. I honestly haven't decided. Having come to know myself better with age and recognizing that I seem to have a need for near-constant entertainment with the novel, interesting and fun, I'm not sure that another season of rugby will supply that. Perhaps something else will come along. But I am very glad that I did this season as it filled social, mental and physical needs.
Brigham out.