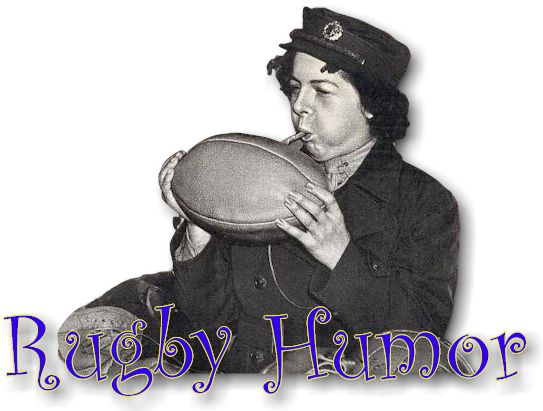 Well, I think this stuff is funny, anyway...
---
Clive, John and God. - A heavenly fable.
Old Men and Rugby - Another heavenly fable.
Chansons de Rugby a la Francaise - Deux chansons malpropre, et une chanson bonne.
I vow to thee my country - The English vs. the All-Blacks.
An Irish hoist - I get a kick out of the expressions of the prop's faces. (They are brothers, by the way.)
The Positions in Rugby - from the New York Vintage Whine Old Boys page. Applies universally to any Old Boys club.
All Manner of Men - Another article about rugby positions, but with a (proper and perfectable acceptable) forward bias.
Rugby Positions - Yet another article about rugby positions, openly contemptuous about backs.
More Rugby Positions - Is there no end to these?
Tournament Scoring's Up - "Try during the day, score at night"
Those silly Pittsburgh ruggers, playing with, well, click here to find out. Incredible.
The Monty Python Flying Circus rugby sketch - Councilmen vs. the All-Blacks
You wouldn't think this would be the result of a groin kick
Feminist Fieldwork in the Misogynist Setting of the Rugby Pitch - Long, scholarly and hilarious. And for real.
The 10 worst haircuts in international rugby - ever!
Female ruggers go topless at the Lincoln memorial.
The Book of the Bokke - For those of you who like Biblical send-ups.
Jockstrap for Auction! - Honest.
Pre-Match Rituals - The New Zealanders have the Haka, other nations have...
A Samoan Finger - From Rugby World. Lio Falaniko at the RWC '99 Scotland-Samoa game.
Partners in Crime - Rugby commemorative prison cell blocks.
China won't be teaching soldiers how to play rugby - Talk about your "sleeping giants!"
The Perfect Scrum - So this is what it looks like. From a 1920 Punch.
1920: Rugby Dream of Bliss - Hey, it can happen.
Gaelic Guinness pub sign - I mean, can this be any more cool? Michael Bolan of the Moscow Dragons pointed out to poor, unenlightened me that this really represents Gaelic footbal, not rugby. (The giveaway is the net between the goalposts.) But... I include it here because 1) Guinness is part of the rugby culture, and 2) It's such a great bit of advertising.
Added Golden Oldies Commandments - At age 44, they look attractive to me!
An Old Boys Tale - Still, they scored 17 points...
Scots and Welsh postcards - Paint something once, why paint it again?
Those English will try anything to win!
A little Welsh tail on display - You can't hide from the camera.
An Anglo-Irish pileup - This one looks really odd.
Is that hand really necessary?
rugby cats - From 1907. Awww. Lookit the little kitty cats playing rugby! One is holding his paw! Awwww...
Rugby after shave - L'eau d'front row.
Rugby corkscrew - The leg-puller with character.
See anything of Muriel lately? - From 1935.
Big bear and rabbits - I am coming over!
Jersey-pulling - From 2000 Six Nations Scotland vs. England match.
the Unofficial Rugby Survival Guide
Spice Girls Haka - They do the haka and piss off some Maoris. Girl power!
Condom and Nookie - Planet Rugby indulges itself in some schoolboy humor.
A Throw In - From an old postcard.
Romsey RFC's website. These guys are demented!
Fatboys! - From Romsey RFC in the U.K.
Cheryl Tiegs, Rugger - When feminism is funny. From a 1982 Virginia Slims ad.
The Guinness RWC '99 training kit - But of course.
Who Makes Up These Laws, Anyway? by Buzz McClain
Friends episode: "The One With All the Rugby" - A transcription. The actual episode is out there somewhere...
Five Andy Capp strips: 1, 2, 3, 4 and 5
Hearty Rugby Songs - No sir, they don't get much heartier than this!
Aye, lad, tha's nae wee jersey!
The All-Blacks Support Van - Okay, Jonah Lomu, Christian Cullen and Andrew Mehrtens want to go out and get a Steinlager. Only they want to take some friends and all arrive at the same time. What to do? Why, take the All-Blacks Support Van, of course! They can listen to the haka on the cassette player.
Picture Post - I got this one from the British rugby writer Master William Webb Ellis, who writes, "Hi Wes, Seeing as you've kindly agreed to let me steal some of your pictures, I thought I'd return the favour. Hope this one is esoteric enough to be included in your Gallery, but I'd quite understand if it doesn't light your candle. I came across this by accident. It's the front cover of 'Picture Post' magazine, specifically the Volume 5, No. 6 issue dated 11 November 1939. Caption not included in the picture reads, 'ONE MORE BLOW FOR HITLER! A girl of the A.T.S. blows up a football at the 'Army Comforts' headquarters in Berkshire.' Army comforts? A woman getting her mouth around some balls? Further comment from me at this stage would surely only lower the tone. All the best, William Webb Ellis."
Kentucky Fried Chicken All-Blacks magazine - Feathers and ferns.
Jedi Ruggers - Use the boot, Luke.
Colella's butt - Whoops!
Proctological rugby - "Interference," indeed.
For pain and fever, not to mention broken bones and stud wounds, take rugby brand pills.
Rugby bedroom - A clever ad from rugbyrugby.com
Take the Rugby Maggot IQ Test!
Some rugger's x-ray - Found it lying around in a doctor's office.
A purse-snatcher's worst nightmare - I'm sure it could be worse, but I'm not sure how. A rare occasion when rugby gets good publicity!
Geological stresses and strains... and rugby - Sure, I can see the link between the two.
There is Always Room - A touching bit of rugby philosophy.

The Jock Strapp Ensemble - Perform the symphonic classics of the Three B's (beer, bareness and body odor).
Rugby brand razor blades - Do yourself in with style!
Orvis catalog - The voice of experience, perhaps.
Faster, Pussycat! Ruck! Ruck! - More lame than erotic.
New Zealand Rugby Cartoons (sent by Johnno of the Keith RFC.): One, Two, Three, Four, Five, Six, Seven, Eight, Nine, Ten, Eleven, Twelve, Thirteen, Fourteen, Fifteen, Sixteen, Seventeen, Eighteen, Nineteen.
Sixteen of Scott Moore's "In the Bleachers" rugby cartoons: One, Two, Three, Four, Five, Six, Seven, Eight, Nine, Ten, Eleven, Twelve, Thirteen, Fourteen, Fifteen, Sixteen.
The Stadium Pal. Note the sizing chart and testimonial from a Scottish rugby fan.
"the Hazards of Casting Spells for Rugby Games" - This guy is clearly no Harry Potter.
Punch Ping Pong - When the meek confront the brave.
Father and sons play rugby with live mortar - Dad's right; it just doesn't bear thinking about.
Rugby shorts - Various mishaps.
Amanda's World - ...and a funny old world it is, too.
Mr. Vodaphone again - Either a great photo or a horrible one.
Vodaphone hears static after stunt hangs up game - Yet another shot of this Bozo.
The Ten Commandments of Rugby.

Being a ref is dangerous work these days.
2002 All-Blacks Team Photo - C'mon, guys, get serious.
This is the 2000 calendar of an Italian rugby club on the "A.S. Lecco" website. The caption translations, provided via an online translator, are almost as funny as the images. The first four months, The second four months, The third four months. Warning! Partial nudity!
Johnno's Photo Quiz - Looks like a hair band from the 80's.
Mostly clothed Irishmen win nude touch rugby test - 39 degree weather. Brrrr.
Steve Scrummage - Curry+Scrum=Bad combination.
Rugby world series cartoon - We're a little arrogant that way.
Where Old Jocks Go To Die - Old Boys Rugby : The Elephant's Graveyard.
Wild in the Streets - Not quite rugby, but certainly not unlike it.
Wormtown Rugby poster. I'm glad they don't play golf.
Male strippers run scared of all-girl rugby team
Rugby Spectator Banned for Urinating on Linesman - Reminds me of an old Marine Corps saying, "'Tis better to be pissed off than pissed on."
Alex comic: England vs. France
Training in the Pub? I'll drink to that. - How to train for the Rugby World Cup.
Congratulations from Wales - Aw, come on. There were at least 14 other guys on that England RWC side...
Three cups, 2003 - From New Zealand, ignoring, for the moment, that they were beaten by the Wallabies in the 2003 Rugby World Cup.
Pom Victoire - A fine vintage of some long-awaited English gloating.
Welcome Home, All-Blacks - Yikes. Good thing the All-Blacks can out-run these guys.
Cheeky Answer to an Attacking Dilemma - Geez, what is it about spectators, anyway?
Holden's Comeback - Of special interest to Old Boys (and aspiring Old Boys).
Humorous Bits from Australia
A (rather lame) Lockhorns cartoon
Rugby leather sofa - Remodeling? Want an item of furniture that betokens your love of all things rugby? Then you'll want the rugby sofa. It's great - you can lay around channel surfing while eating chips and still claim a rugby involvement. Thanks to Ron Mader from Mexico who pointed this out to me.
Rugby fan cut off his own testicles - I at first debated locating this in the "humor" section...
Pardon Me, But Your Teeth Are In My Head
The East Terrace - British rugby humor. (Or is that "humour?")
All Black cries after handbag attack
Mass arrests as police mistake rugby for brawl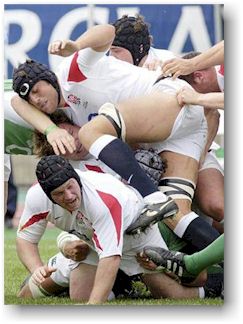 Sports Illustrated "Caption this" #1
Sports Illustrated "Caption this" #2
Sports Illustrated "Caption this" #3
Cross-dressing lawyer skirts dress code
Willy wash and Kiwi bum wash. (Clearly, the people at silverfernz.com know ruggers!)
The Difference Between Soccer and Rugby - Ain't it the truth?
Rugby player had tooth in his forehead for months.
Open Letter to All Women During the 2007 Rugby World Cup.
Is rugby dull to look at? - From Punch
Yeah, right... Soccer tee-shirt
Kelly Ripa Kicks Off High Heel-a-Thon.
What Rugby Can Teach Football (soccer).
Comparative heights of ruggers.
---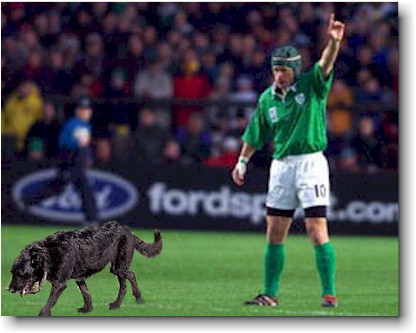 Every dog has his day.
---